Hop, hop, hop! Witajcie!
30 czerwca odbył się Bieg na Górę Żar, a przed Wami moja z niego relacja!
Od kilku edycji żar na Żarze dawał bardzo o sobie znać, tym razem było inaczej, na szczycie było wietrznie i wręcz chłodno.
O godzinie 11.30 rozpoczęliśmy bieg na górę Żar, była to jubileuszowa XX edycja tego biegu, z kolei ja brałam w tym biegu udział po raz czwarty.
Hello!
On 30 June 2018 I took part in a run to the Żar Mountain. Over the last years this run has taken place in hot weather but this time it was different. On the top it was even cold.
We have started our rub at 11.30, it was 20 edition – so big jubilee but I was taking part in this run 4th time.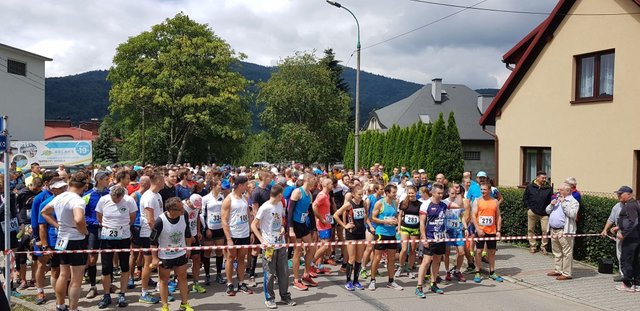 Biegacze na start! Startuję z numerem 283! // Runners on the start! I'm starting with numer 283!
W porównaniu do poprzednich lat trasa tego biegu została nieco zmodyfikowana – tym razem zamiast dystansu 6,8 km przebiegliśmy dystans 8,5 km co przełożyło się na dużo większe przewyższenie niż dotychczas.
When it comes to comparison, this year route has been changed a little and we had to run 8,5 kilometres instead of 6,8.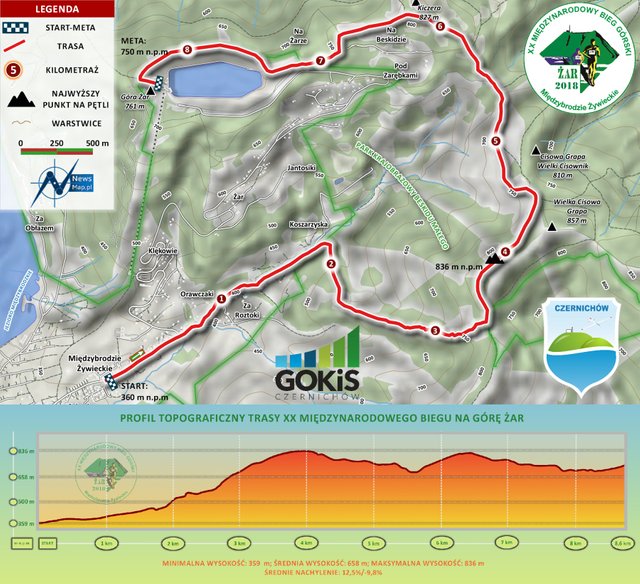 Mapka obecnej trasy – dała w kość! // A map of current route – it gave us a hard time!
Mam wrażenie, że mapa nie oddaje tych podbiegów i zbiegów jakie trzeba było pokonać
A teraz trochę statystyki:
Bieg ukończyłam na 69 miejscu open z czasem 57:10,
5 miejsce wśród kobiet,
1 miejsce w kategorii K20.
Jesteście ciekawi co można wygrać na takim biegu?
Wygrałam bon na pizzę, a także bon do restauracji na obiad, do tego trzecią taką samą książkę o gminie Czernichów (w poprzednich edycjach również i one były) oraz nerkę i mapę.
I get the feeling that the map does not bring out those ascents which we had to conquer.
Now, some statistics:

I ended this run o 69 place open with a time: 57:10,
I took 5th place among women,
I took 1st place in K20 category.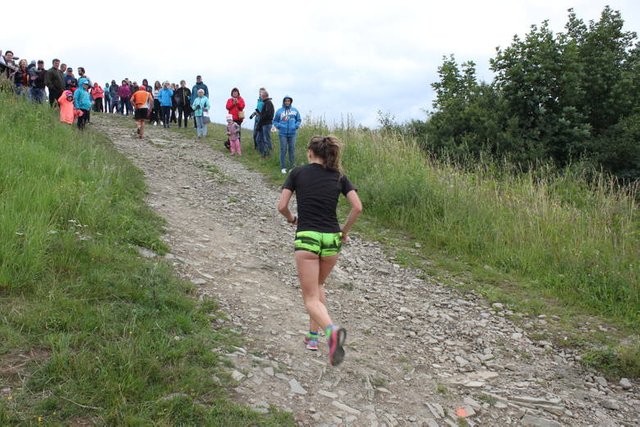 Dawać tę górę Żar! // Give me this top!
Porównując wyniki z poprzednich lat był jednak progres. Trochę żałuję, że trasa uległa zmianie gdyż w tym roku ciężej zweryfikować czy i o ile udało się poprawić.
2015 rok: 43:08
2016 rok: 42:51
2017 rok: 41:08
Wracając do tematu, kiedy biegam w górach przypominam sobie jak ważny jest respekt dla gór oraz ile pokory nabieramy walcząc na podbiegu i wspinając się na szczyt swoich możliwości.
Takie biegi motywują do dalszej pracy!
When it comes to comparison of results form previous years I can see a progress. I regret that the route has been changed as I cannot verify if the result would be better this year or not but it was really good run in my opinion.
When it comes to run in mountains I always remind myself how important is respect for mountains and how much humility we acquire once we fight with ascent and climbing on the top of our possibilities.
Those kinds of races really motivate me to further work!