Our number one marathon legend among man is...
Haile Gebrselassie won several wolrd marathons, two Olympic gold medals (in 10 km), and he excelled on some other distances as you will read later.
Haile Gebrselassie's outstanding achievements are many, but the most known and really amazing is that he won 4 Berlin Marathons in a row!
Not to brag about it but I just have to mention here that, I was running on one of Berlin Marathons (in 2007)... so I was on the same race where he set a world record 2:03:59. The record from Berlin 2007 stood for three years.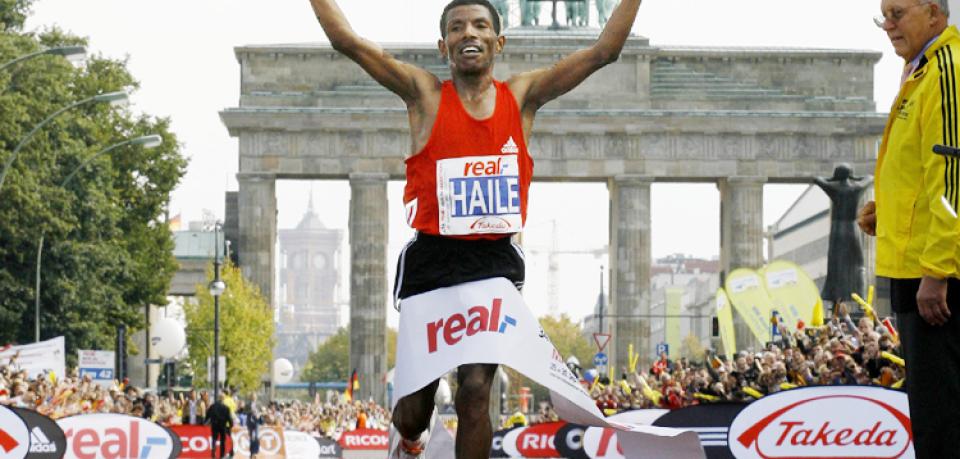 Haile setting world marathon record in 2007 in Berlin Source
Since Haile was over the age of 35 when this record was set that mark still stands as the Masters Age group world record.
(BTW: current marathon world record is 2:02:57 and Dennis Kimetto achieved it also in Berlin in 2014.)
Who is Haile Gebrselassie?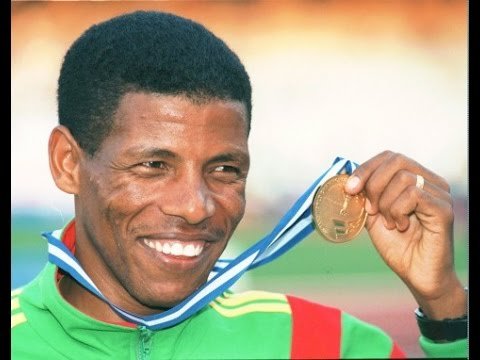 Source
Haile is an Ethiopian. He grew up on a farm as one of 10 siblings in the family. And he was running 10 km to school and 10 km back every day... Some say that this contributed to his typical posture (like he is holding books under left arm). There is interesting, short documentary about his life and sports available if you want to get to know even more details about Heile and his life.
Haile Gebrselassie is one of the most admired long-distance runners of all times!
Most people will think about a Marathon when Haile's name is mentioned. But he also got 2 gold Olympic medals on 10 km and so much more... Let's go through some of his impressive statistics...
Haile's Top accomplishments are gathered here:
1996 Olympics, 10,000 meters, Gold medal, 27:07.34
2000 Olympics, 10,000 meters, Gold medal, 27:18.20
2006 Berlin Marathon, 1st place, 2:05:56
2007 Berlin Marathon, 1st place, 2:04:26
2008 Berlin Marathon, 1st place, 2:03:59
2009 Berlin Marathon, 1st place, 2:06:08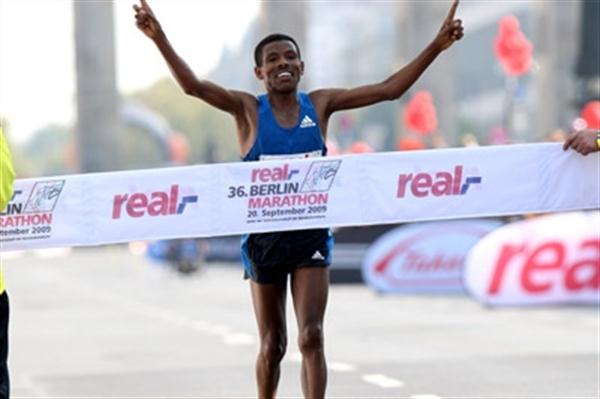 Haile winning his 4th consecutive Berlin Marathon in 2009 Source
Since I am focused on Marathons, here is table of his best marathon perforamances: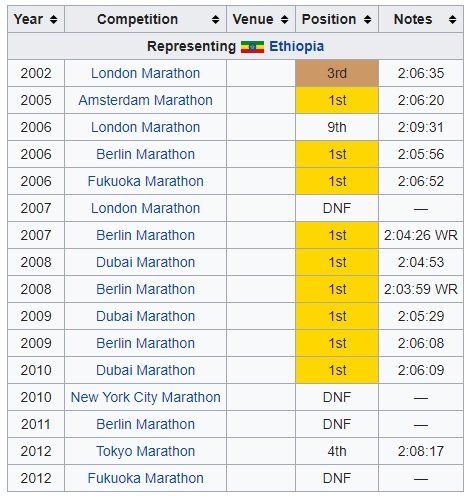 Source
Here is also the table of world records and best performances of Haile Gebrselassie
What has to be stressed again for Haile Gebrselassie is that he was really versatile... he had medals and best times and records on distances from 2 miles to 30 km!!!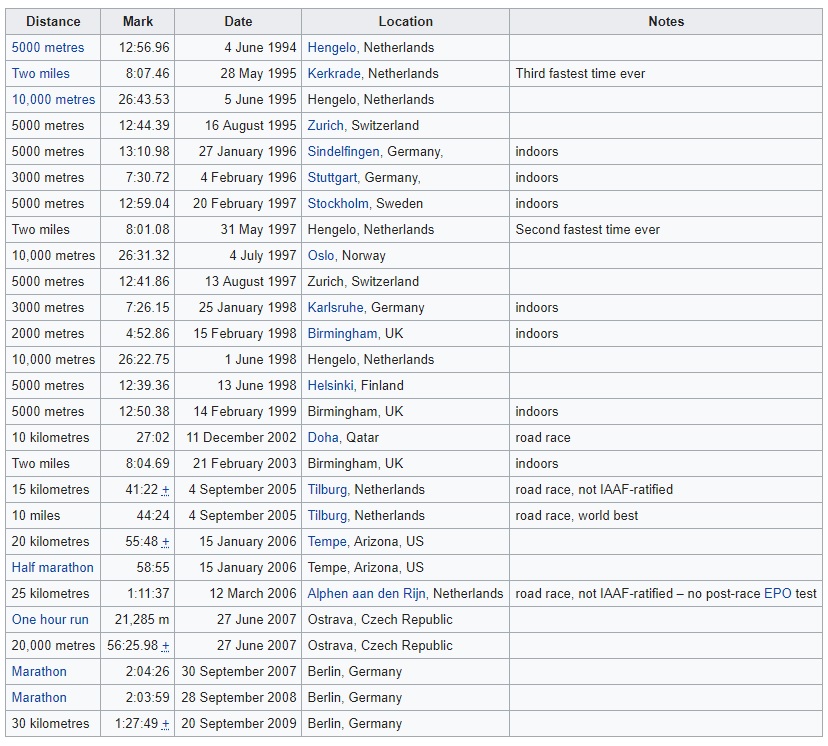 Source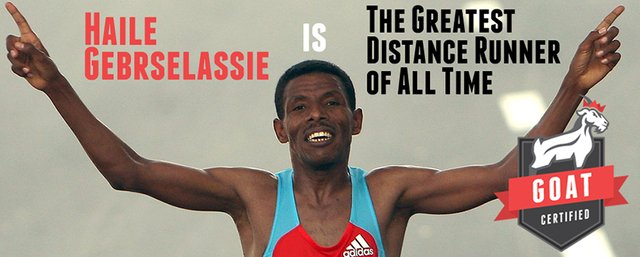 Source
What were the highlights of his career according to him?
His answer was: "One is Sydney 2000 [where he retained his Olympic 10,000m title in a thrilling race to the line with Kenya's Paul Tergat], and the 5,000m in Zurich in 1995 [where he broke the world record by an incredible 11 seconds]. That evening was an amazing world record. I was, I can say, really flying that night."
Source
Even after "his best" years he still was winning!
After 2010 until the retirement from competitive sports Heile struggled to stay in the elite sport. He had some health issues but he still managed to excell on many races.
His major achievements during last 5 years prior to "competitive sport retirement" are here:
winner of Vienna City half marathon in 2011,
4th on Tokyo marathon in 2012,
winner of another Vienna City half marathon in 2013 with a time of 01:01.14.
a holder of first over-40 world record with a time of 46:59 for 10 miles in Switzerland in 2013 and
3rd in the 2013 BUPA Great North Run.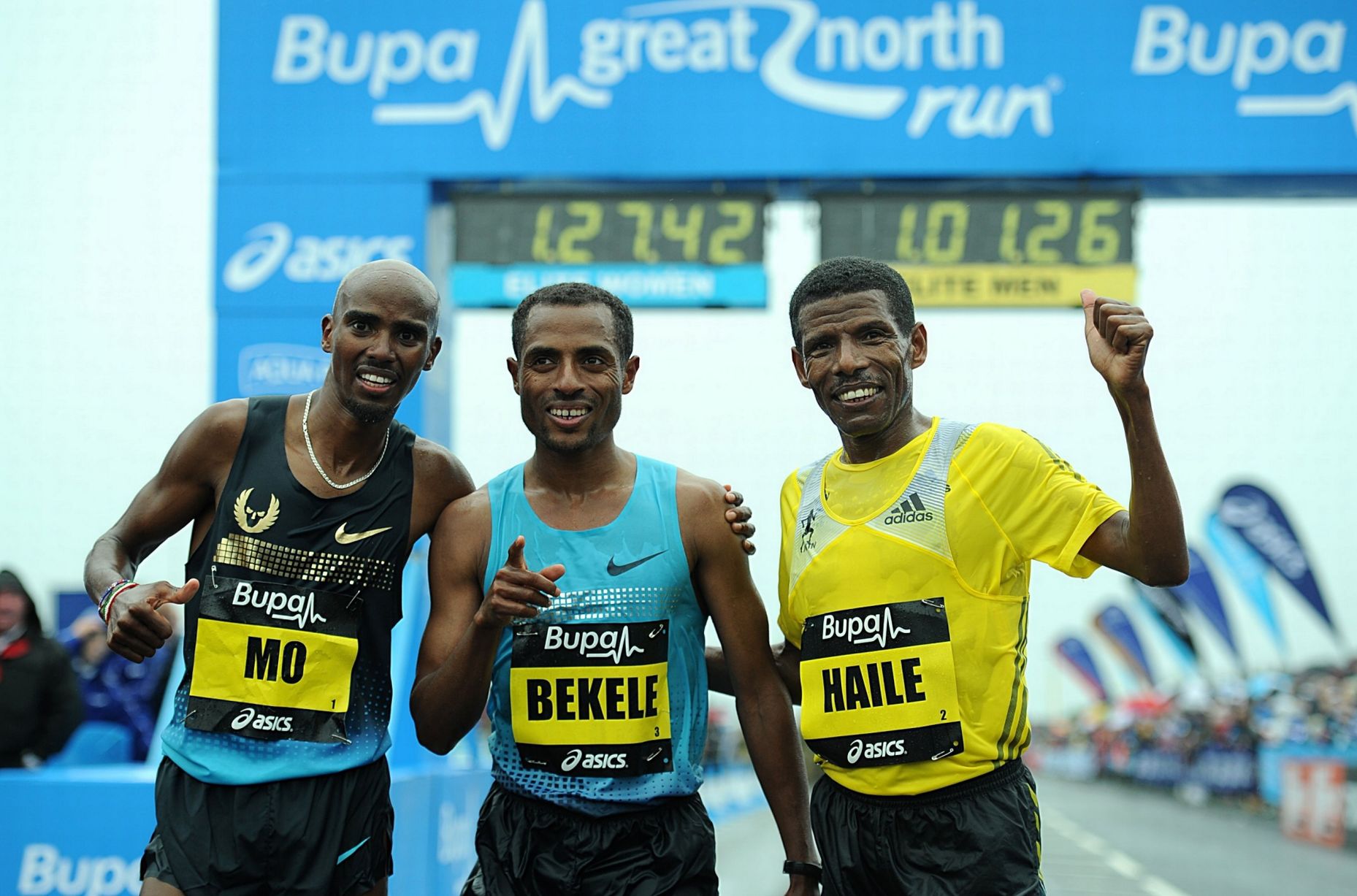 Great Britain's Mo Farah (left), Ethiopa's Kenenisa Bekele (centre) and Ethiopia's Haile Gebrselassie after the 2013 BUPA Great North Run Source
What is Haile Gebrselassie doing now?
He wanted to retire from competitive running already in 2010 when he dropped out of New York Marathon due to issues with his knee. He reconsidered and stayed in competitive sport for 5 more years.
Haile retired from competitive running in 2015.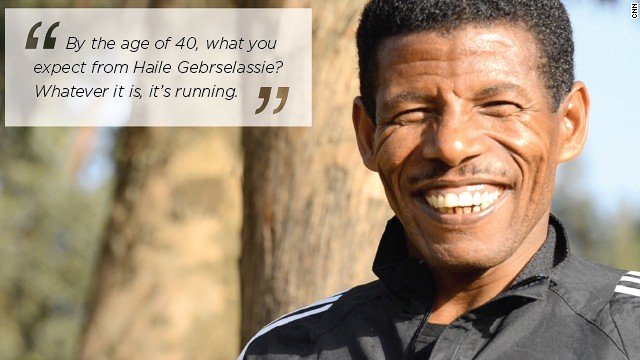 Source
He is one of the most admired long-distance runners of all times - many say THE BEST ONE. He had an amazing 25-year running career in which he claimed two Olympic gold medals, eight World Championship victories and set 27 world records!
Haile remains the world record holder at 20 km, the one-hour race and 10 miles run and also a world record holder for the marathon in his age category.
Currently, Haile is president of the Ethiopian Athletics Federation.
Haile's words in 2015, when he announced the "retirement": "I'm retiring from competitive running, not from running. You cannot stop running, this is my life!
You can follow him on Twitter. There is also a biography titled The Greatest: The Haile Gebrselassie story.

Source1
Source 2
Source 3
Haile Gebrselassie was our second Marathon Legend presented in Marathon Legends Series. Next one is...
---
Stay tuned... next Marathon Legend will be presented soon!
---
---
Thank you for taking time and stopping here.
I do appreciate your comments with added value, upvotes, and resteems!
---

---
If you are a runner, you can join us in @runningproject.
It is a diverse community of runners on steemit. For more information about the @runningproject please read ''The Steem Running Project: Introductory Post'' and The Steem Running Project 8th Status Report: Upvotes Forever in all posts of our Approved runners!.
Kindly invited to apply for an approved runner!