There are many Marathon Legends... it was really hard to choose with whom to start...
If I would start with men Marathon Legends - yes, Haile Gebrselassie would very likely be the first who would be presented. But as a woman, I can say that we go first on this series... since we had to wait for much longer than men to be able to even participate in the marathon races. Joan Benoit Samuelson is the first Marathon Legend I will present in this series. Still asking why her?
Who should go first: a man or a woman?
Well, she was the first women in history who won the official Olympic marathon. And however late in history it seems, so late it was.... women are able to participate in Olympic Marathon discipline since not so distant 1984. Olyimpic marathon was a discipline that started for men with the first modern Olympic Games in 1896. It took almost additional 100 years (1984) before women had an opportunity to participate in this discipline as well... so I start with a woman Marathon Legend.
A record holder or first ever Olympic winner?
There was another dilemma... should I present as the first Marathon Legend a woman who first ran this discipline or the current world record holder in this discipline (Paula Radcliffe)? I still believe that it is not only the pace that counts but also the historical role that the runner had or has. If I would really follow this last statement it is very likely that I should actually start with Kathrine Schwitzer, who had to breach the rules of Boston marathon to even participate the race (this was in 1967)... Hm... obviously I have to set some ground rules...
So the rules of the game...
In this series I will use the following rules in choosing the Marathon Legends:
I start with women, but every second blog will be about a man.
First, I will go through the most charismatic Olympic winners in marathon discipline.
Later in series, I will add also some other long-distance running legends that have not win the Olympic Marathon but made the running history in other important ways.
So after this explanatory introduction, we go back to Joan.
Who is Joan Benoit Samuelson?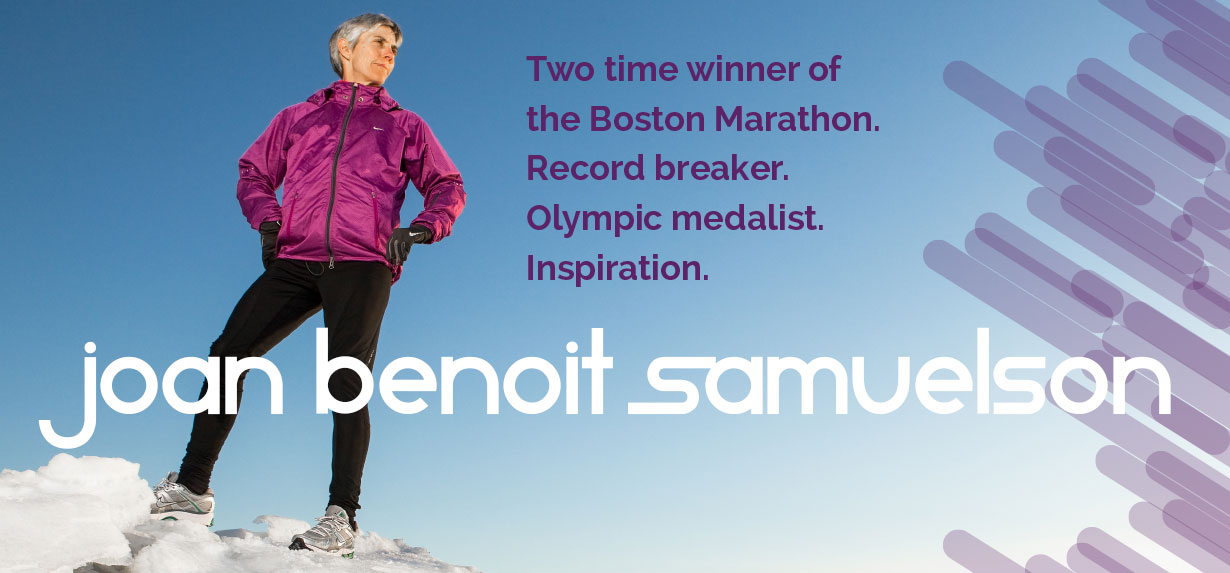 Source
Joan Benoit Samuelson started to run in her youth. After breaking a leg skiing as a teenager, Benoit began running to get back into shape and discovered that she liked it. Her first significant success was winning the Boston Marathon in 1979 (2:35:15).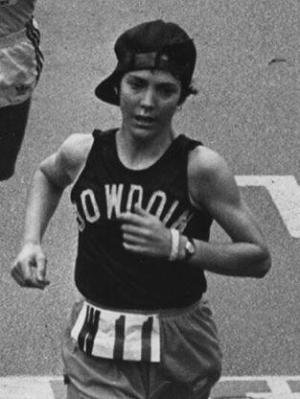 Joan Benoit Samuelson winning her first Boston in 1979 Source
Let me remind you that first participation in this race for women was possible from 1972. Samuelson won the Boston Marathon again in 1983 and this time she broke the world record (2:22:43).
First Olympic Marathon Women winner in history is Joan Benoit Samuelson!
One year later, in 1984, at the age of 27, she won the gold medal in the first women's marathon at the Los Angeles Olympics. I found this wonderful videograsping her Olympic run... enjoy it as I did! Grete Waitz of Norway, who had won all seven marathons she'd entered and had beaten Benoit in 10 of 11 races, was favored to win the gold medal in the first Olympic women's marathon in 1984. However, Benoit took the lead just 3 miles into the race and never gave it up. Her finishing time at first Olympic win was 2:24:52 in August heat.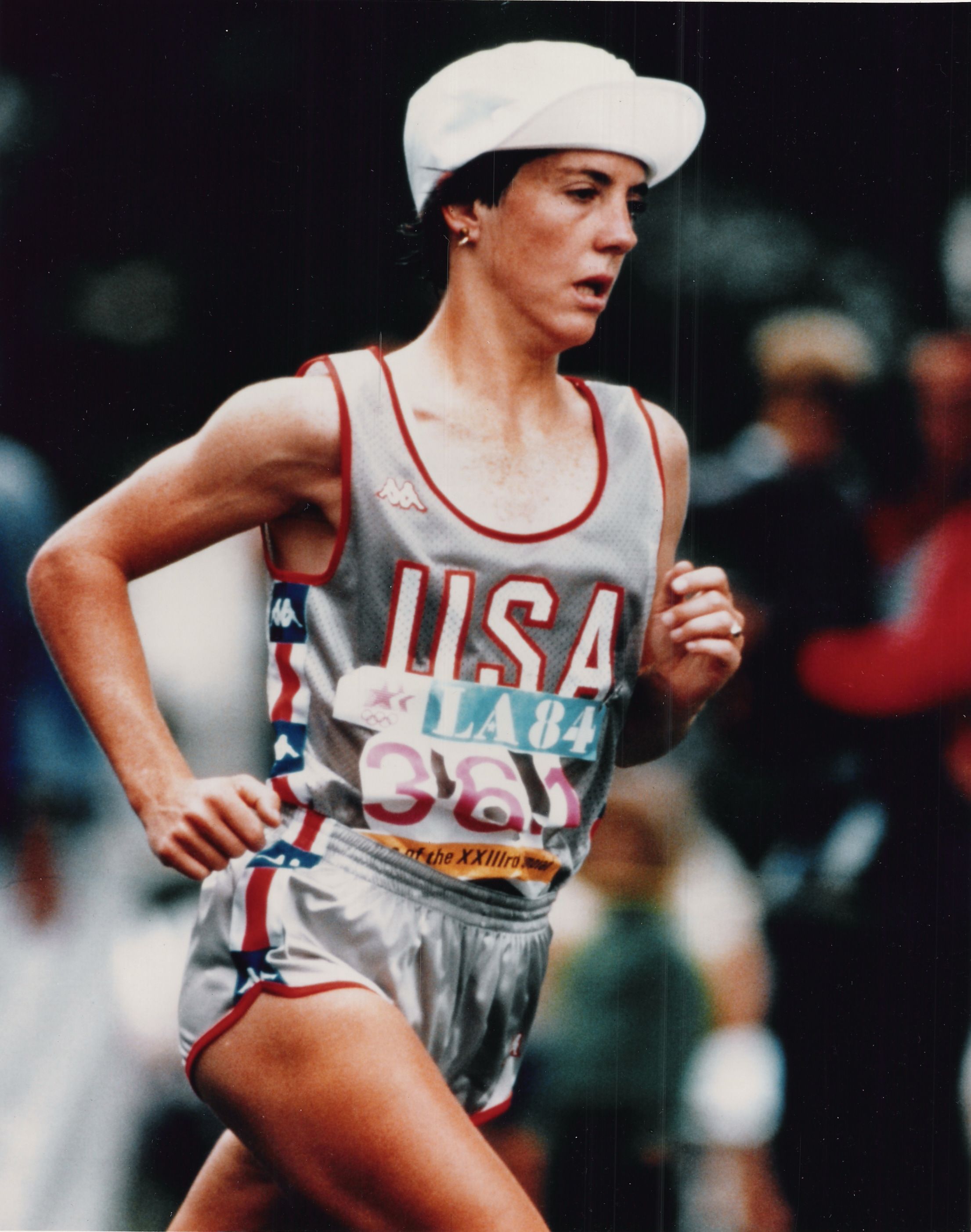 Picture from Joan Benoit Samuelson's Olympic winning race in 1984 Source
She won and excelled at many more races
In 1985, Samuelson won the Chicago Marathon with an American record time of 2:21:21.


Winning Chicago in 1985 Source
And she participated and won many races and you can go to details here, but the most notable marathoning achievements are collected in this table: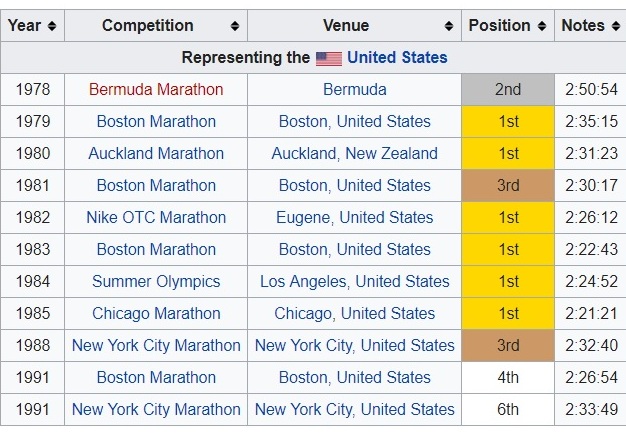 Source
She represents genuine Olympic spirit: it is important to participate...
And she continued to participate in sports even after her elite years were over. I really admire and respect her attitude. Here are a few cherry-pick choices of mine from her later participations in the marathons.
In April of 2008, Samuelson participated in the Olympic Marathon Trials in Boston and met her goal of running a sub 2:50 at age 50!

In 2009 she ran the 40th NYC Marathon which coincided with the 25th anniversary of her Olympic win, where she ran another sub 2:50.



Joan running sub 2:50 marathon in 2009 at age of 52 Source

And here she is in Boston Marathon in 2011.



In 2011 she ran another Boston with time 2:51:29.
She does not intend to stop!
In an interview with the Runners World in May 2017 she said that she would like to break another record: no woman older than 60 ever ran a marathon faster than 3 hours... so she would like to be the first to do so! Fingers crossed dear Joan!
She wrote two books:
Running Tide (Knopf, 1987) - her autobiography and
Joan Samuelson's Running for Women (Rodale Press, 1995).
She is still active as a consultant to sport gear companies and as an experienced motivational speaker and also participates in charity (she is the founder of TD Bank 10 K).
Joan Benoit Samuelson is married with two children, Abby and Anders. She is a devoted wife and mother who has always been able to maintain her commitment to the sport. She also likes gardening. You can follow her on her web page and social media - links here.
She is a strong believer in life-long fitness - and so am I!

Source
Joan Benoit Samuelson was our first Marathon Legend presented in Marathon Legends Series. Next one is...
---
Stay tuned... next Marathon Legend will be presented soon!
---
---
Thank you for taking time and stopping here.
I do appreciate your comments with added value, upvotes, and resteems!
---

---
If you are a runner, you can join us in @runningproject.
It is a diverse community of runners on steemit. For more information about the @runningproject please read ''The Steem Running Project: Introductory Post'' and The Steem Running Project 8th Status Report: Upvotes Forever in all posts of our Approved runners!.
Kindly invited to apply for an approved runner!