いよいよ赤穂義士マラソン当日です。ホテルの部屋で6時に起床、昨日、コンビニで買ったおにぎりを3個食べました。
It's the day of the Ako-gishi Marathon. I woke up at 6:00 in the room of the hotel, and ate three rice balls which I bought at a convinience store.
今日のレースで着るTシャツにゼッケンをとめると、いよいよだなという気になります。
When I safety-pined a number bib on my T-shirt which I would wear in the race, I felt that the time had come.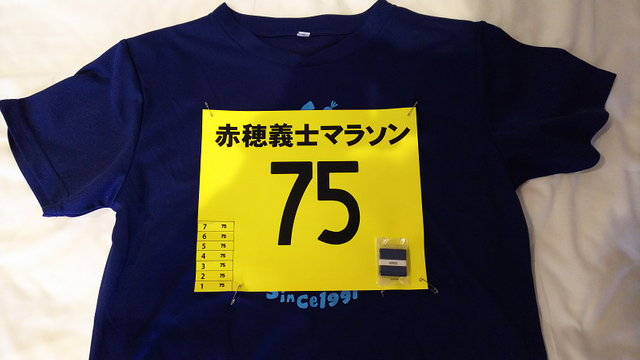 テレビを見ながら部屋の中を片付けているうちに8時半になったので、ホテルをチェックアウトして、会場の赤穂海浜公園へ。
I cleared up the room with watching TV until 8:30, and checked out of the hotel to go to the site of the race, the Ako Seaside Park.
9時から開会式が開催されました。今回は赤穂海浜公園が開園して30周年だそうです。昔は、この公園一帯が塩田だったとのことです。
The opening ceremony was held from 9:00. In the ceremony, I heard that this year is the 30th anniversary of Ako Seaside Park. And I heard that there used to be solar salterns in this area.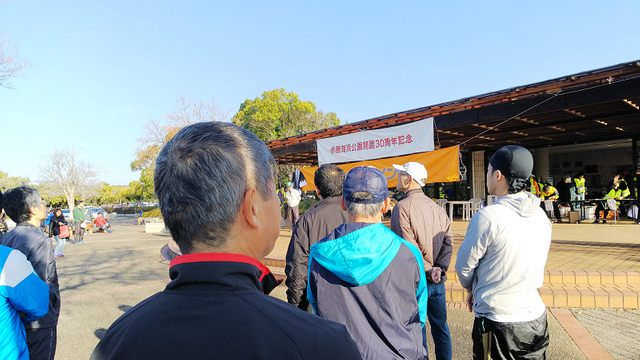 開会式が終わり、管理事務所の中に入って着替えをし、荷物はコインロッカーの中へ入れて準備完了。スタート地点は管理事務所から遠いので、ウォーミングアップをしながら、スタート地点へ向かいつつ、途中の景色を撮影。
After the opening ceremony was over, I went into the administration office of the park to change clothes and set my baggage in a coin-operated locker. I went to the starting post from the office with warming up. I took photos on the way.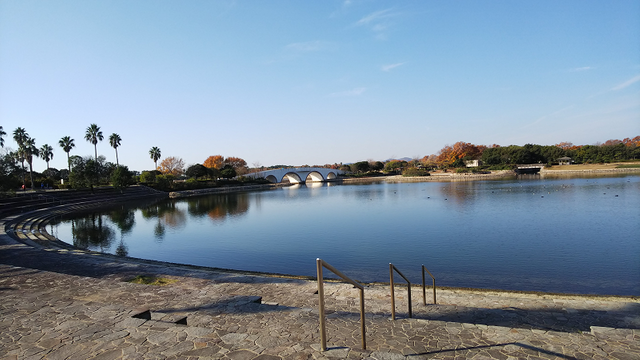 この難破船みたいなのは遊具です。
This thing like a shipwrecked vessel is a play equipment.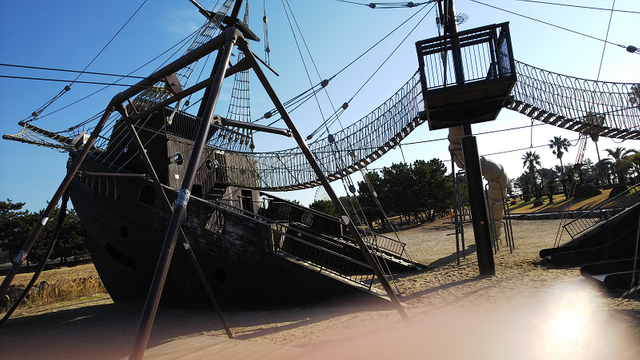 公園の南は海です。今日は気持ちのいい快晴です。
There is the sea in the south of the park. It is so clear and sunny today that I feel good.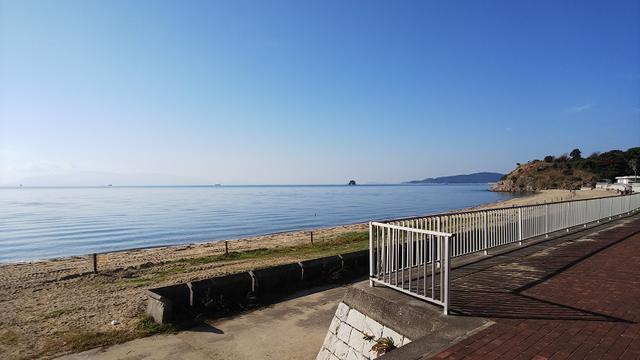 スタート時間が近づいてきたので、スタンバイします。ドキドキしてきます。
As the time to start was coming, I stood ready. My heart began beating fast.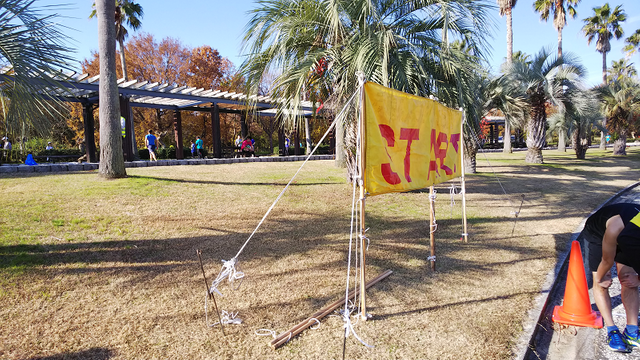 10:00ちょうどに号砲が鳴り、スタート!
The starting gun went off at 10:00 sharp, and I started !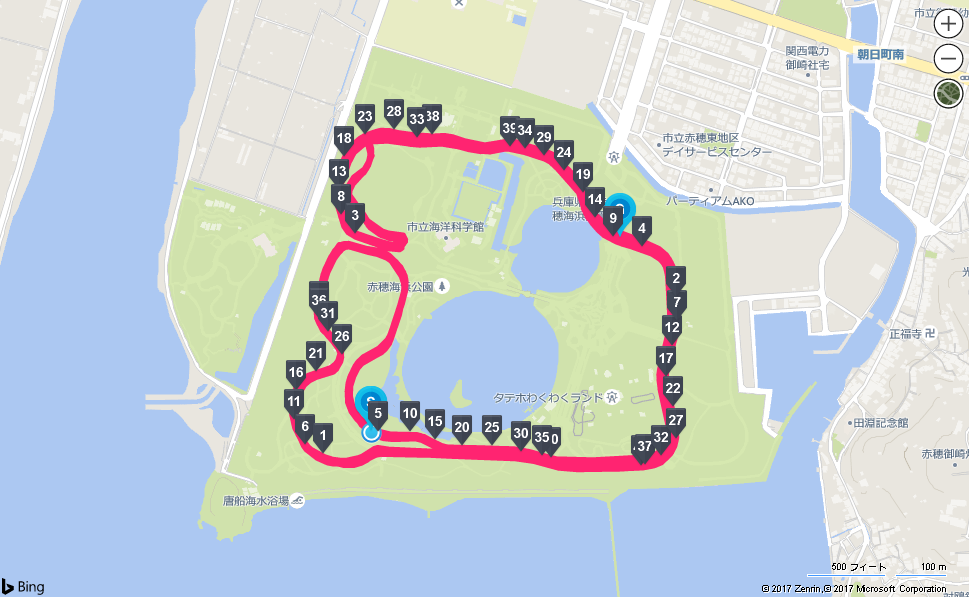 寒すぎず、暑すぎず、風もほとんどなく、最高のコンディションです。公園内の周回コースを8周します。エイドステーションは1ヶ所だけです。最初はキロ5分くらいのペースで入るつもりでしたが、周りにつられてペースが速くなってしまいました。しかし、全くしんどくはなかったので、そのままのペースで行けるところまで行くことに方針を転換。
It is not too cold and not too hot, and not windy. It is prime condition. In this marathon, we must make the loop running 8 times. There is only one water station on the course. At first, I intended to run at 5'00"/km pace in early stage of the race, but I ran at too fast pace along with the other runners. But it was not tough at all, so I reversed my initial plan and decided to run at the fast pace as long as possible.
20kmくらいまではキロ4分20秒前後のペースをキープ。その後、少しペースが落ちて、キロ4分30~40秒前後を推移。30kmをすぎると、両足が重くなってきて、キロ5分を上回るペースに落ちました。
I ran at 4'20"/km pace until about 20km. After that, my pace turned a little slower ( 4'30"-40"/km). When I ran 30km, my both legs began to feel leaden and my pace turned slower than 5'00"/km.
残り5kmの時点で電光掲示板の示す時間は2時間52分でした。残りをキロ7分のペースで走ったとしても目標の3時間30分はクリアできる計算です。このころになると、両足が自分のものでないような気がするくらい重くなってきて、ちょっとくらい歩いてもいいかと思ったりもしましたが、「いやいや、それでは本当の完走とはいえない」と気を取り直し、必死に走り続けました。
With 5km left, the electric bulletin board showed 2:52'. Even if I would run the left distance at 7'00/km pace, I could go above the target ( 3:30' ) by simple arithmetic. At the time, my both legs felt leaden like they were not mine. So I wanted to stop running and walk a little, but I thought "No. If I would walk, it could not be regarded as a true completion." I collected myself and I kept on running desperately.
そして、ついにゴール!ゼッケンについている計測チップが取り外され、すぐに記録証が発行されます。私の記録は3時間21分10秒で、順位は13位でした。(エントリー総数208名)
And at last, I finished ! The measurement tool was detached from my number bib, and the cirtification was published immediately. My time was 3 hours 21 munites 10 seconds, and I was the 13rd finisher.( the number of runners who enter this race was 208)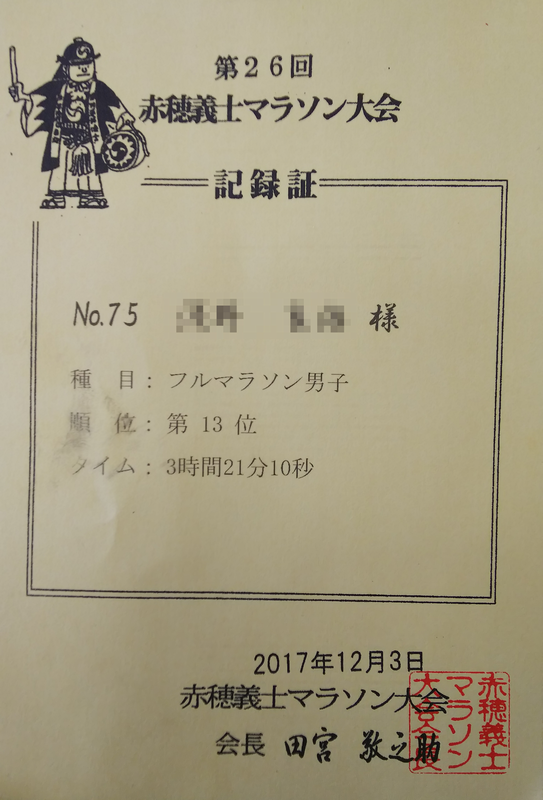 ゴールした後、ゴール付近とエイドステーションの写真を撮影しました。
After I finished, I took photos of the finishing line and the water station.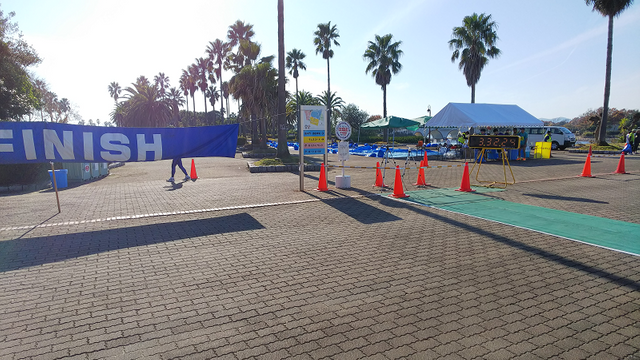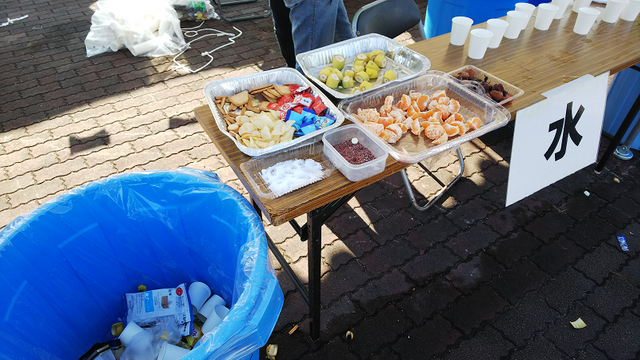 14時くらいから表彰式が開催されました。8位までが入賞です。
The awards ceremony was held from 14:00. The top 8 finishers got prizes.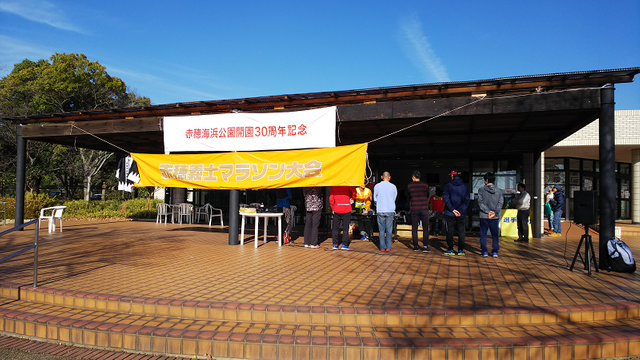 順位表が張り出されたので撮影しておきました。入賞まであと5分でしたね。
As the ranking table was posted up, I took a photo. I should have finished 5 minutes earlier to get a prize.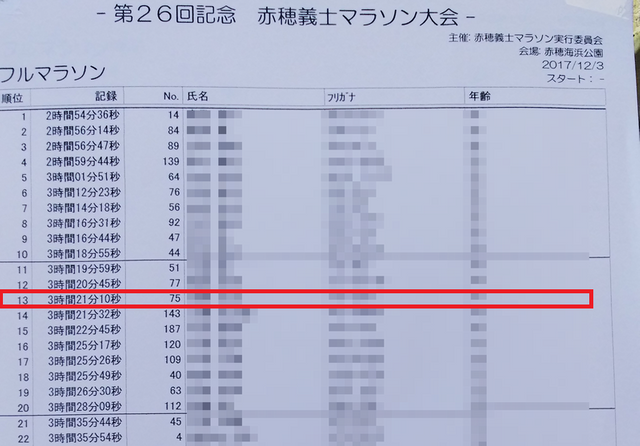 今回は3時間30分を切るのが目標でした。ちょっと厳しいかなと思っていたのですが、ふたを開けてみれば、目標を大幅に上回ることができました。日本と世界中のsteemianのみなさんの声援のおかげで、自身の力以上の力を発揮できたのだと思います。みなさん、本当にありがとうございました!これからもよろしくお願いします。
The target of this race was 3:30'. I thought that it would be a little difficult, but as it turns out, I could go above my target substantially. I think that I could exert more strength than my own strength thanks to the cheering of steemians in Japan and all over the world. Thank you so much, steemians ! I'll keep on counting you.
・・・・さて、明日の朝は早いんだけど、起きれるかな?
,,,,,Well, tomorrow is an early day. I wonder if I can wake up early.