Forest tracks
Waldwege (Deutsche Version siehe unten)
We are lucky enough to live in a small village surrounded by woods and fields. Therefore it is not difficult to use forest
tracks on our running course.
That doesn't mean it's the softly padded paths everywhere with pine needles. These are rather the exception, because mostly they are dirt roads used by forest workers and farmers. There are sections that are quite flat and good to run, but also some with rocks and boulders.
That just so you don't give in too much to the dream of the ideal forest path.
Nevertheless, this proximity to the forest is of course a great thing and running in nature is a real experience. We don't want to complain about some rocks.
Since we were on the way again in the early morning we even saw 2 deer and a rabbit this time, which had all quickly disappeared in the thicket. Too fast for the surprised photographer. So there is "only" one picture of Lydia running.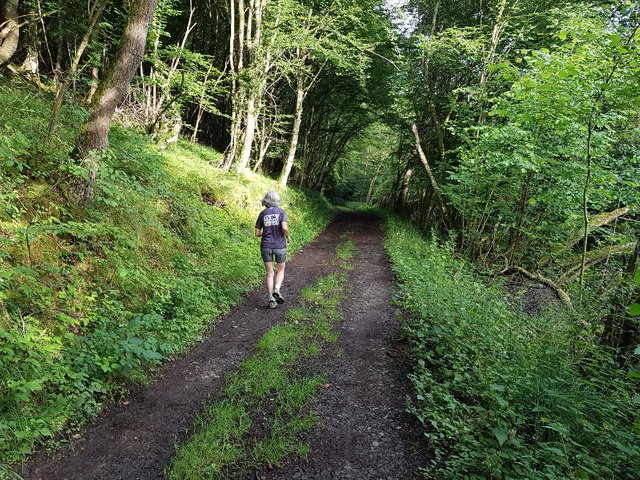 Here also our running course as proof for #runforsteem: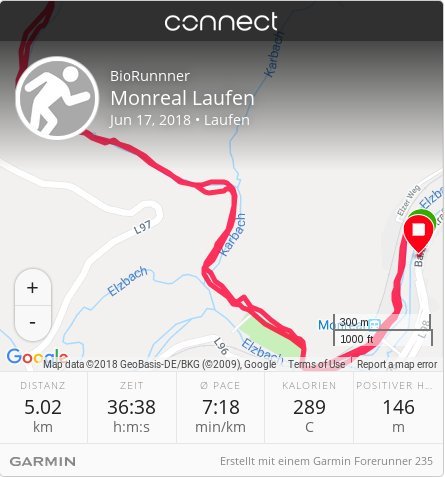 ---
If you are not there yet, you should definitely join @jumowa's #runforsteem. There are interesting running reports every week and a few cents are also in there.
Harald from Team EULE
eule.eifel.com
Waldwege
Wir haben das Glück in einem kleine Dorf zu wohnen das von Wald und Feldern umgeben ist. Daher fällt es nicht schwer auf unserer Laufstrecke Waldwege zu nutzen.
Das heißt nicht das es überall die mit Tannennadeln weich gepolsterten Pfade sind. Die sind eher die Ausnahme, denn meist sind es unbefestigte Wege die als Fahrwege von Forstarbeitern und Bauern benutzt werden. Da gibt es Abschnitte die recht eben und gut zu laufen sind, aber auch welche mit Steinen und Geröll.
Das nur damit ihr euch nicht zu stark den Traum vom idealen Waldweg hingebt.
Trotzdem ist diese Nähe zum Wald natürlich eine tolle Sache und der Lauf in der Natur ist ein echtes Erlebnis. Da wollen wir gar nicht meckern wegen ein paar Steinen.
Da wir wieder am frühen Morgen unterwegs waren haben wir diesmal sogar 2 Rehe und einen Hasen gesehen, die alle schnell im Dickicht verschwunden waren. Zu schnell für den überraschten Fotografen. So gibt es also "nur" ein Bild von Lydia beim Laufen.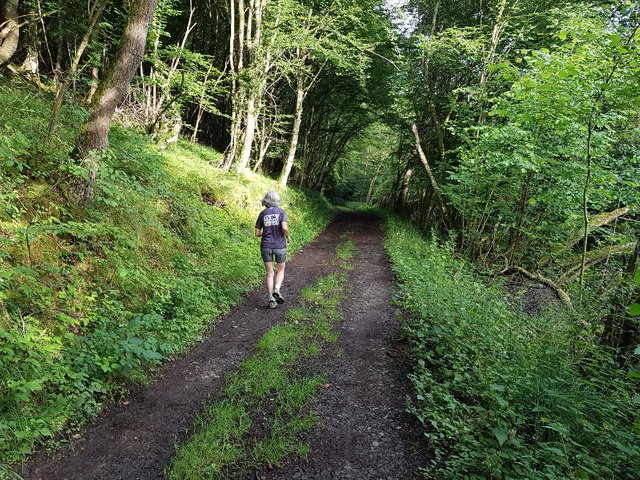 Hier auch unsere Laufstrecke als Nachweis für #runforsteem:

Wer noch nicht dabei ist sollte unbedingt bei #runforsteem von @jumpwa teilnehmen. Da gibt es jede Woche interessante Laufberichte und ein paar Cent sind auch jede Woche drin.
Eurer Harald vom Team EULE
eule.eifel.com