February is here, and it will be a month with lots of great sports events on the schedule. Starting already today is the Six Nations Championship, in which six nations compete against one another in the fantastic sport of rugby!
The Six Nations Championship is an annual event in which England, Ireland, Scotland, Wales, France and Italy compete. It might sound like a minor tournament, but considering the fact that the matches are played at Stade de France, the Olympics stadium in Rome, Twickenham Stadium in London, the Aviva Stadium in Dublin, and two more stadiums, all tell us that these are amazing matches which will draw tens of thousands of people to the stadiums to watch the action!
The first matches will be played this weekend, and it will be an amazing event for rugby fans. And you might think that this is something only for rugby fans in those nations? That isn't so. Rugby fans from all across the world are interesting in finding out how these matches will end, so lots of people are out there looking for ways to stream the Six Nations Championship online. England won the tournament last year, but Ireland is a big competitor, and they will play against one another already on February 2nd.
But, even though the Six Nations Championship is a big event, it cannot be compared to the event that will take place on February 3rd, Super Bowl 2019! This is one of the biggest sports events taking place every year, and in 2019, Super Bowl will be played between New England Patriots and Los Angeles Rams. I am not much into American football at all, but even so, this is an event for everyone, especially considering the amazing half-time show taking place at the final every year. The main artist performing at the event in 2019 is Maroon 5, but there will be other starts showing up as well!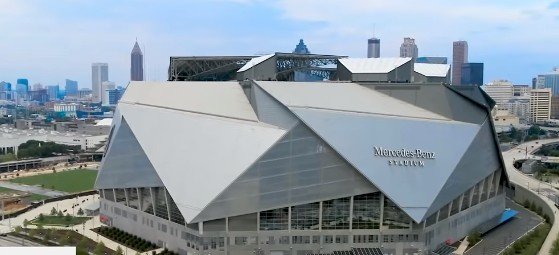 Super Bowl 2019 will be played at the Mercedez Benz stadium in Atlanta. It is a fantastic stadium and above you can see an image showing in part what it is like.
Time for some winter sports
If you do not like rugby and American football, maybe you are a bigger fan of winter sports? February will be a great month for you as well considering the upcoming
Alpine Ski Sports World Championship
being arranged in Sweden between February 5th and February 17th. And then, once the Alpine World Championship is finished, it is time for the FIS Nordic Ski World Championship in 2019. This will last until some days into March, and once it is finished, it is time for the Biathlon World Championships to be arranged!
Time for football
Well, it is only the first day of February, but today is a very important day considering that it is the day for the final in the Asian Cup.
Qatar will play against Japan
, and even though Japan might be the favorites for the title, the tournament has been packed with surprises so far... in other words, this might easily end up with a victory for Qatar.
And if that isn't enough, the Champions League is returning, and the temperature is heating up in the Premier League.
I believe that those in love with sports of all sorts will have a fantastic February month, and that is great, considering that February often is a dark, cold and kind of boring month.
Do you have any sports event that you look forward to in February 2019? I would love to hear your thoughts... And if you are a fan of American football, which team do you cheer for in Super Bowl 2019?