Owen Farrell Knew England Would Beat New Zealand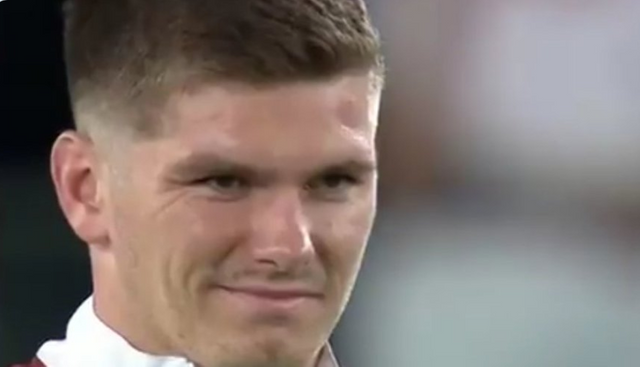 source
He is a bit like Marmite. You either love him or hate him. If you are not English then you probably hate the England rugby captain. He is the master of shithousery and gets to the opposition like no one else. Ladies and gentlemen the above photo is Owen Farrell during the New Zealand haka today.
Being Irish I should really hate him but he is like a pantomime villian and I love them. When I got up to watch the game today I was interested in how Farrell would deal with the haka. Rory Best the Irish captain was shaking during the Irish match. Thanks to the Irish fans they drowned out any war dance. But the English formed a V around the haka and Farrell was priceless with that smirk above. Heres the video of the whole pre match build up.

source
He was looking down on their little dance. He thought it was stupid. Look at his face. He knew that England were going to have the better of them. I was laughing my head off during it. That smirk will go down in history and will be in many memes to come. It was the moment of the world cup. The unbeatable all blacks got humbled. England were the better team. They were class. It is amazing how different the team were from the 6 nations. They can transform to play different styles at the drop of a hat. There were question marks over Eddie Jones last year but there isn't now. It was probably Englands best ever display as a rugby nation. They are through to the final now and in my opinion they will take some beating. I think it is theres now for the taking.