Humor Steemit Nº 7 (Español - English)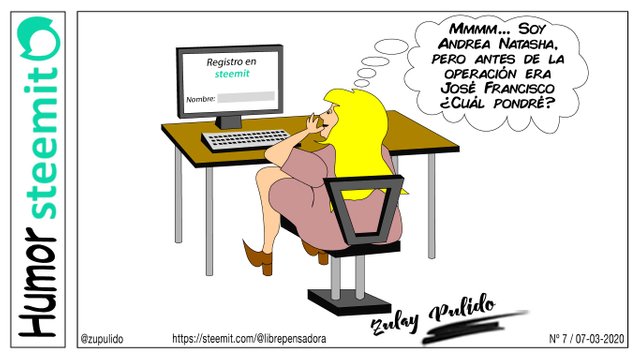 Hola, mi cómico amigo Steemitcómico.
Bienvenido a mi Blog. Hoy te presento a Humor Steemit Nº 7.
Soy Zulay Pulido, Caricaturista con Pensamiento Filosófico.
"La vida hay que tomarla con amor y con humor. Con amor para comprenderla y con humor para soportarla." – Anónimo.
Todas las imágenes publicadas en este artículo son de mi autoría.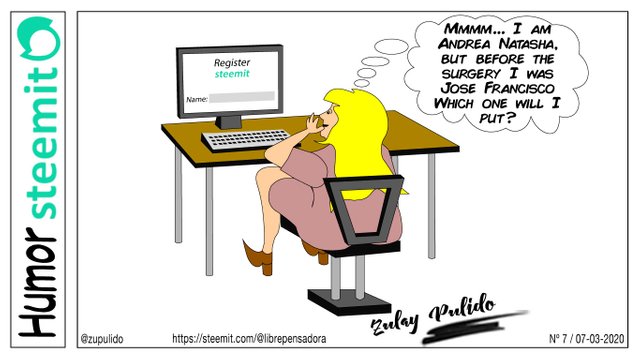 Hello, my comical friend Steemitcomic.
Welcome to my Blog. Today I introduce you to Humor Steemit Nº 7.
I am Zulay Pulido, Cartoonist with Philosophical Thought.
"Life must be taken with love and humor. With love to understand it and with humor to endure it." - Anonymous.
All images published in this article are my own.

Aquí estoy de nuevo, fastidiándote con mi Humor Steemit.
Hoy, las abuelitas están de viaje, por lo que aproveché de traer a una gran amiga que me cuenta cosas muy graciosas.
Ella es Andrea Natasha, una extraordinaria persona. Tiene muchas anécdotas que contarnos. Ya la veremos más adelante.
Steemit es un campo maravilloso para explorar nuevos horizontes. Espero que no te sientas ofendido(a) por este personaje, ya que la intención es solo tomar la vida con humor, salirnos de tanta complicación y dejar el estrés atrás.
Te dedico una Gran Sonrisa, ya que has sido capaz de soportarme este mes y medio que llevo en Steemit.
Comencé a hacer mis publicaciones bilingües, ya que estoy en el Rally 500 y hay muchos compañeros que no entienden el español.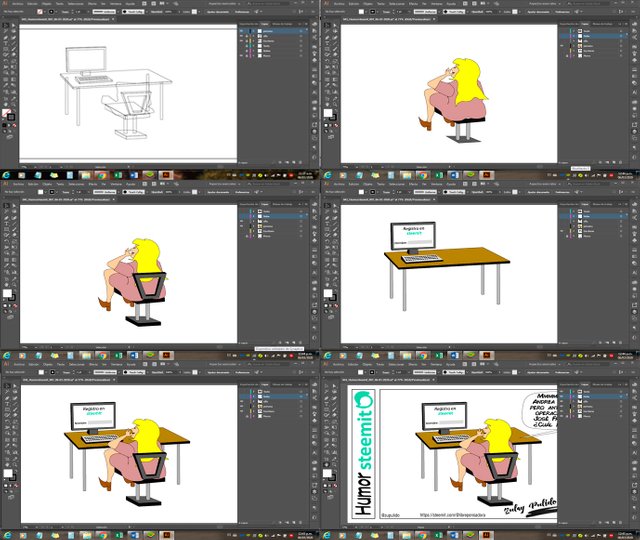 Here I am again, annoying you with my Humor Steemit.
Today, the grandmothers are traveling, so I took the opportunity to bring a great friend who tells me very funny things.
She is Andrea Natasha, an extraordinary person. She has many anecdotes to tell us. We will see it later.
Steemit is a wonderful field to explore new horizons. I hope you do not feel offended by this character, since the intention is only to take life with humor, get out of so much complication and leave stress behind.
I give you a Big Smile, since you have been able to endure this month and a half that I have been on Steemit.
I started to make my bilingual publications, since I am in the Rally 500 and there are many colleagues who do not understand spanish.

Tengo mis Redes Sociales personales,
Facebook: https://www.facebook.com/zupulido,
y Twitter: https://twitter.com/zupulido, pero no las uso con frecuencia.
Sin embargo, las de la FAVTachira,
Facebook: https://www.facebook.com/FAVTachira/,
Twiiter: https://twitter.com/favtachira
e Instagram: https://www.instagram.com/favtachira/,
sí se actualizan constantemente.

Si te ha gustado mi caricatura de hoy para Steemit, te agradezco dejar tus comentarios, consejos o recomendaciones, para mejorar mi actuación en esta innovadora comunidad.
Recuerda, puedes encontrarme en https://steemit.com/@librepensadora
Un gran abrazo desde Venezuela, el país donde nos reímos de Todo.

If you liked my cartoon today for Steemit, I thank you for leaving your comments, advice or recommendations to improve my performance in this innovative community.
Remember, you can find me at https://steemit.com/@librepensadora
A big hug from Venezuela, the country where we laugh of Everything.