For the @steemfest pre-fun @anomadsoul challenged us to write a weekly post on our 'Road to Steemfest'. In the first week I shared some insecurities on dealing with my physical challenges in combination with visiting @steemfest - and I have to say I got so many lovely comments and offers for help already! That made my day :-) This week is a nice and light topic where we all share '3 fun facts', so I thought it would be a nice moment to join in posting in the #roadtosteemfest tag again :-)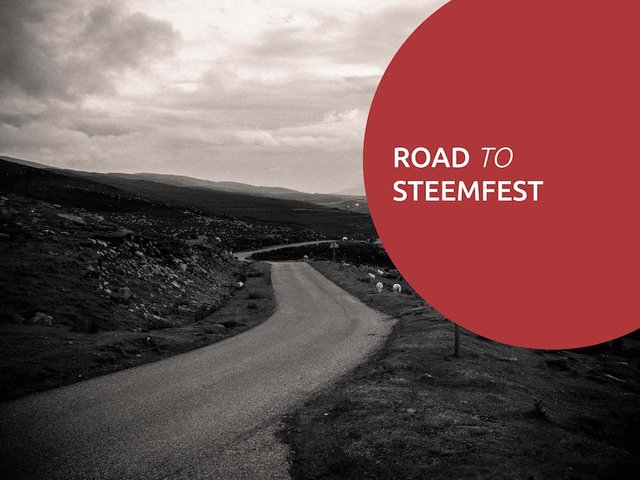 Here are my three 'facts'!
#1 I used to dance ballet but didn't want to wear pink
---
At the age of 9 I started ballet class. 20 girls in pink ballet clothes, pink skirt, pink tights, pink legwarmers, pink ballet shoes... I remember buying all those pink clothes in a store in my town and having mixed feelings. I was proud to wear these 'pretty' clothing items, and I knew it was going to cost my mother a lot of money, but when I was asked at home to show the outfit to my father I remember I just simply felt - uncomfortable. Cute, and proud because I was suddenly part of 'a club', but at the same time it felt very much not like me.
I felt pretty much naked and like I was literally being forced to show a side of myself that just wasn't there.
So when I grew out of my pink clothes and went shopping again I bought: a bright yellow pair of shorts, a matching bright yellow tanktop, black tights, black leg warmers and black ballet shoes.
A photo of me being yellow-black like a bee standing between 19 pink clothed girls exists somewhere in the analog photo realms. Yesterday evening when I thought of sharing this story in this post I went on a detective style search and found the e-mail address of my ballet teacher (who now apparently owns a ballet clothing store!) and I e-mailed her if she somehow can retrieve that picture.
If she does I promise I'll share it here on the Blockchain. I feel like me being yellow between all those pink girls is pretty much the only picture that has to exist of me - ever.
#2 I studied psychology but never became a therapist
---
I studied psychology because basically I find people the most interesting thing in the world ;-) Behaviour, motives, struggles - I try to observe them and not judge them. I let people be, which is why I often receive feedback that people feel comfortable near me. In return I expect people to let me be me as well, not happier than I am, not more dramatic then I feel, just let me be. If you try to force me into being someone else I'll just turn my back and let you be you ;-)
Even though by studying psychology it would have made sense I should become a therapist I never did become one. The mental health care system in the Netherlands works is not the worst, but also not perfect, and I don't like treating people as if I can fit them into questionnaires with check boxes, so working within that system just doesn't fit how I would treat people.
I do believe all my knowledge of people and my observation skills are the recurring theme through all that I do. I've done huge projects with people with autism, interviewed them and created websites for them to use throughout all aspects of their lives. I wrote health-care educational material for people in therapy, therapists could use 'my' texts and homework assignments to use in their treatments of people with all kinds of disorders or temporary challenges. I am working with underprivileged kids who need some extra guidance in life to become disciplined citizens. Even in my photography I use my observational skills to show behaviour I see. I also did a huge project last year where I interviewed 30 women about being 'a woman of thirty years old' which left many people emotional after I showed their portraits and life's challenges in an exhibition.
I just love people, and studying psychology was a way to fill in the expectance that I would do a university level studies, but it was never my goal to become a therapist. I still don't know what I will actually become when I grow up ;-)
#3 This is my 15th year of blogging and doing meet-ups
---
I wrote an extensive posts of my experiences as a first-time blogger, starting on 'another' platform just like Steemit, and how that old community blogging platform compares to blogging on here. I thought I would share this fact in this post just for those who are just getting to know me. Blogging on platforms like Steemit is only natural to me, I was already drawn to it for years and also looooong before you could earn money - crypto - STEEM - anything with your blog.
I also joined meet-ups with 'strangers from the internet' way before that was acceptable - haha! So I come prepared, I have years of training guys! If you have a nervous break-down I have both the hands-on experience as well as a professional grade to guide you through all of it. But here comes the good news: I've found throughout the years that the impressions I have from people online often very much match the person I see 'in real life'. Personalities do kind of come across a screen well. Plus: almost all people have a huge bag of unrealistic but very real insecurities. So I'll have them, you'll have them, and in that we are all the same.
PS: Just before posting I see @anomadsoul already put up a nice compilation post of other @steemfest visiting Steemians with their three facts! Hop on over and give them some love as well. See you in November!