Road To SteemFest - My Catching Up Post!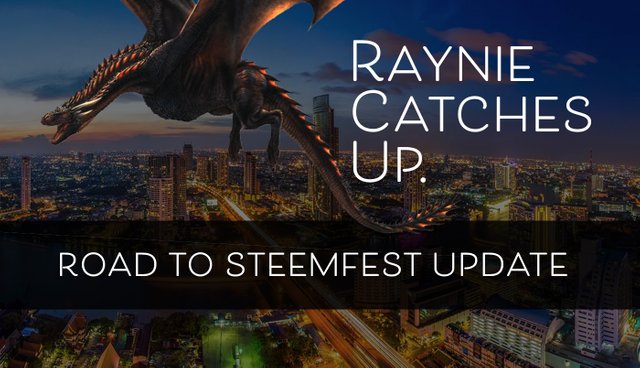 Hello!
So I found this post by @anomadsoul on catching up for Steemfest!
https://steempeak.com/steemfest/@anomadsoul/the-road-to-steem-fest-or-catching-up
I figured I better post something!
This is my first time going to Steemfest. My family and I fly out of San Francisco this Thursday! Time is running out for sure to get everything done!!! So let's dive in.....
PLANNING, WANTING, DOUBTING
I have always wanted to go overseas. Except, I had no passport! For Valentines Day, my sweetie gifted me an opportunity to get passports!! So, yeah, I jumped all over that!
Then Steemfest was announced for Thailand a month later ..... and we thought that would be a great opportunity! Of course I couldn't leave our two youngest behind.... so we had to get them passports as well. I have this fear of not being able to return back to the States. I can't leave the kids behind!!
With that all done, the planning stages began! Numerous Youtube videos, movies,books, maps, etc. I have a travel obssesion and want it all detailed and planned out day-to-day. I am not really a "wing it" type. It's part of my OCD/Anxiety disorder. Heha.
WHO WOULD YOU LIKE TO MEET?
I am not really a social person. I am more of an observer. I do want to meet @aggroed! I also want to meet all of my Immortal Gods guildies who are attending from Splinterlands!! I guess any Splinterlands players will be fun to meet in person!
BUDGETING
Ha! We have been budgeting for this trip for about 8 months!!!
Saving, saving, saving!!!
I have booked and re-booked Hotels from Agoda- saving a ton of money! We booked everything in advanced. We also got great deals on flights.
However, our newest obsession has been Amazon. My sweetie keeps adding crap to the cart!! I mean crap we don't need. He thinks we need it. Something has shown up everyday for about 2 months!!! He keeps buying all the electronics and travel accessories, and I keep buying all the compression travel bags!! Those things are amazing!!! I thought our purchases were done on Sunday..... but nope! We added more stuff!
There's a funny story behind one of our purchases.
It started with watching Youtube videos on how to use a Thailand Toilet. If you haven't watched... you should! Anyways, the problem is that in some areas the toilet is just a hole in the ground. You have to squat. Now we are all freaking out, and the kids don't want to go anymore. Also we hear that in particular locations, there is no toilet paper.
Sweetie thought it would be a good idea to buy biodegradeable wipes. So we ordered some. They arrived and are super heavy. Then he said he wanted "Dude wipes". That he had bought the wrong kind. So then he said he wanted something flushable. Back to Amazon we go. Now we have so many wipes!!
So now I am freaking out about the squat. I found this device for females that lets you stand up while peeing! I thought that was cool, so of course I buy it.
This was a mistake.
I tried it out, and oh man! The pee went everywhere!!! Down my leg, all over the floor etc. it was awful! I need more practice. I think I will leave it at home.
I am sure my sweetie will post more in detail about all the cool crap he has bought for this trip. Needless to say, Amazon has ruined our budget.
FUNDING
Anything free is awesome! Upvote my posts so we can buy more wipes from Amazon!! heha.
THE THAI LIFE
I am mostly looking for a real adventure going to Thailand!!! I can't wait to visit all the Temples in Bangkok, Explore Islands in Phuket, and trying street food!!!
I want our family to walk away feeling as if we got to really experience something new and different! We have been practicing our Thai greetings- Sawatdee-krap, and Sawatdee-kah, and the "wai" gesture. I also would love to see some monkeys!
BUSINESS OR PLEASURE
I am going to Steemfest for pleasure.
THE ACTUAL ROAD
Leave San Francisco Thursday Oct 31, flying into Guangzhou, China arriving Friday Nov 1st at 10:10 pm. We will have a 14 hour 25 min layover, (with all of my research I found out that our airlines will give us a free hotel room for the night!).
Fly out of China on Sat Nov, 2nd at 12:35 pm. Arrive in Bangkok at 2:30 pm.
Our next flight will be flying to Phuket at 8:oo pm the same day. I gave plenty of time for delayed flights, clearing customs, baggage claims, rechecking in etc... exchange currency, buy Sim cards.... all that fun stuff.
We will stay in Phuket from Sat Nov 2, until Wed. Nov 6th.
The plans for Phuket are Fantasea excursion on Sunday evening. Then leave early Mon until Tuesday for an overnight James Bond Phi Phi Island boating excursion.
Fly to Bangkok on Wed. Check into the Prince Palace, and Steemfest begins!!!
On our DIY for Saturday, I have this planned:
Grand Palace, Wat Pho for the Reclining Budha, Thai massage, and eat at "The Sixth".
From there, head to Chatuchak Market. The only purpose of this will be to look at the pets for sale! Then most likely, head back to the room and freshen up. leave to visit Wat Arun right before the sunset (great photo op!).
Hit up Asiatique Night Market. Head back to Wat Pho at nighttime. It is supposed to be amazing!
Head over to Chinatown, Yaowarat Road. Ride on a Tuk tuk.
The last thing I want to do is The Bangkok Flower Market- the best time to go is 3-4 am..... supposed to be amazing!!! We shall see!
Rest on Sunday- work, pool time, laundry, pack etc until the Dinner Cruise.
Check out on Monday- go to Koh Chang until Friday morning.
I only reserved the hotel and transportation to and from Koh Chang. As for activities planned we would like to go snorkeling, explore waterfalls, there is a hidden Mangrove that would be cool. Explore everything, oh and watch the Firedancers at night!
Fly back to Bangkok on Friday the 15th. Originally, we had a flight home at 6:55 pm. It has recently changed until Sat Nov 16th at 2:10 am. So I booked a cheap hotel room to drop off our luggage and shower, work, rest etc.
For activities, this day we will explore The Jim Thompson Museum, Terminal 21, and eat! We might go back to Siam Paragon to watch a movie IDK.
So that's the plan!
THREE TRUTHS AND ONE LIE
This one is hard. I don't like playing this game, but I will try.
I have a guildie playing my Splinterlands account to do my daily quests for the guild while I am away! This person is amazing!!!

I have rare blood, the government tracks me.

Star Wars is my favorite movie.

I love planning trips!
FEARS
I have many fears about this trip:
Airlines loosing our luggage.
Being bitten by a monkey, snake, jellyfish, or a diseased mosquito.
Getting locked up in a Chinese or Thai prison.
Being detained in China.
My children getting kidnapped.
Having an emergency and not being able to find The Embassy.
Not having enough disposable wipes.
Whew.
Well, okay...I think that "catches me up"!
It's the end of the season in Splinterlands, so I need to go play!
Bye!
~Raynie!