English - German
Introduction
In the fifth part of the shaman attributes we now turn to the headdress. My execution will be limited to invocation.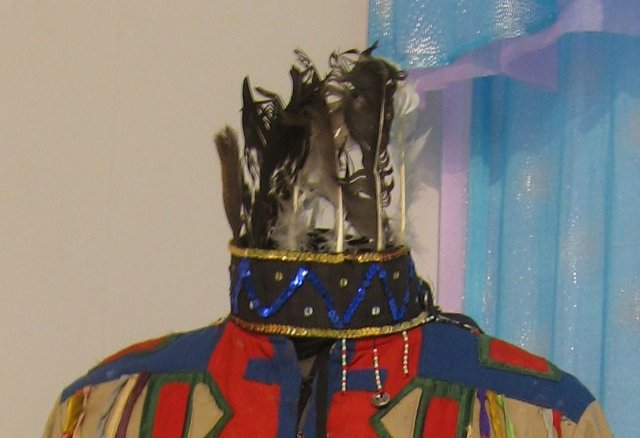 Headdress
Each shaman had to make his headgear as best as possible from his allies (power animals). In shamanic folklore as well as folk songs, the theme of the headdress of a shaman occupies a prominent place. This suggests that the Tuvinian tradition of singing the headdress goes back to ancient times. Shamans often wrote poetic songs about the material from which the headdress was made. An example of how the Tozhu Shaman (a people in the north-east of Tuva) turned to his headdress:
Example
My hat with outstretched feathers,
with subjects like sun and moon,
my seven-leaf hat is a cascade,
how are you?
We'll fly right away, fly away together!
Example
My yellow hat is swinging so gently
he is made of feathers of an eagle.
My yellow cap shimmers
it is made of feathers of birds,
my hat made of bird skin
extends to the sky.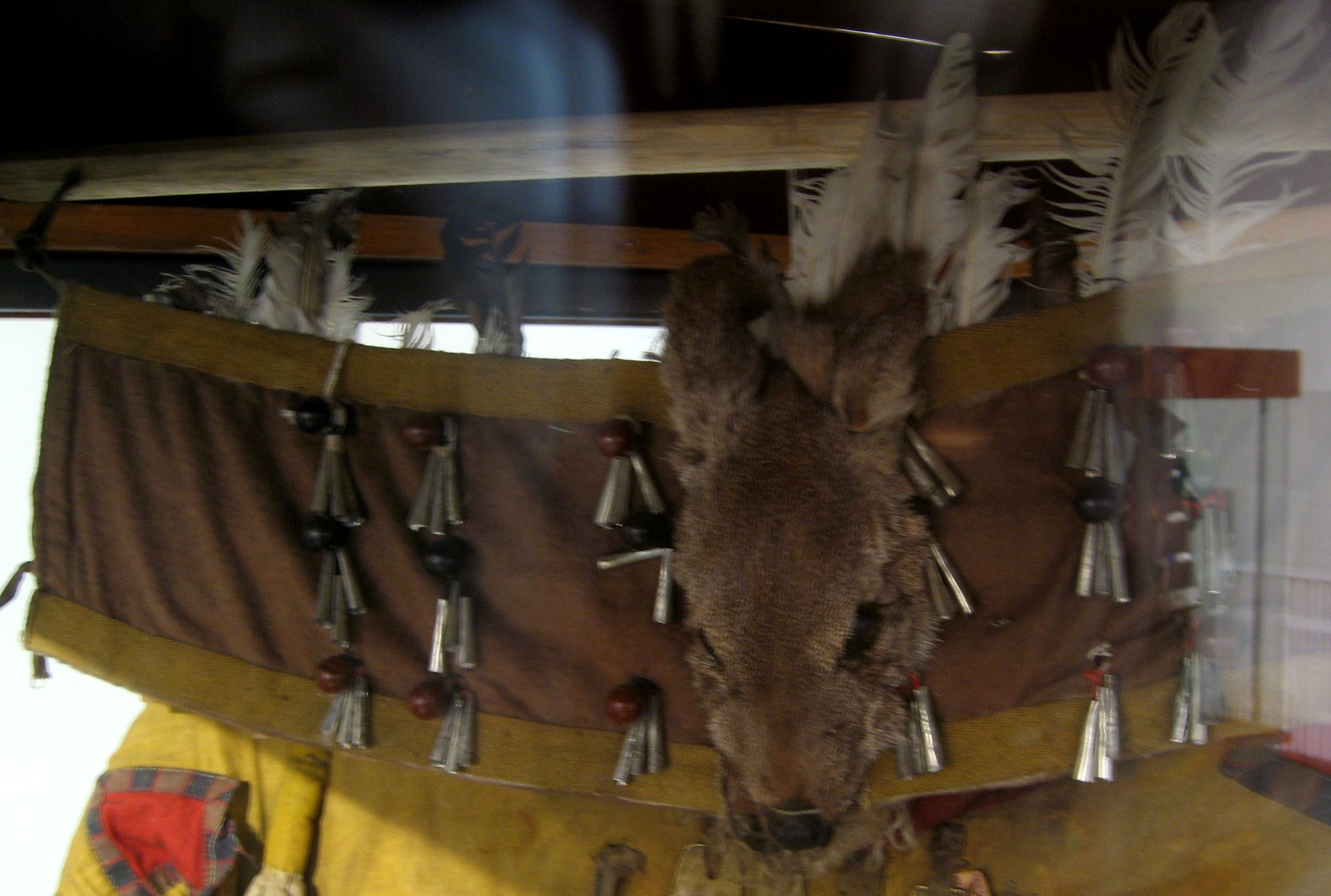 Meaning
The two songs about the headgear, one from Tozhu, the other from Khemchik, in a word, from completely different regions of Tuva show the characteristic for the headgear of all shamans of Tuva: the typical use of bird feathers. If a headdress of an eagle or an owl is on the head of a shaman, he can fly and even reach the sky.
Source
The information comes from the Russian book "Tuvan Shamans" by Kenin Lopsan, the living monument of the shamans, they have been translated by me and edited so that it is understandable. Photos by @schamangerbert from the National Museum of Tuva.

Einleitung
Im fünften Teil der Schamanattribute wenden wir uns nun dem Kopfschmuck zu. Meiner Ausführung wird sich auf die Anrufung beschränken.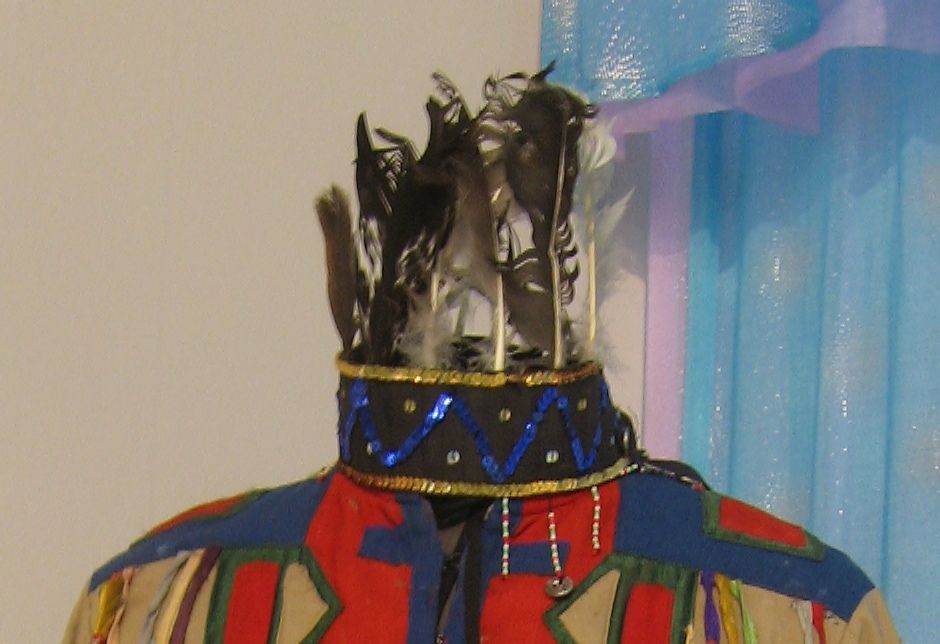 Kopfschmuck
Jeder Schamane musste seiner Kopfbedeckung nach besten Kräften aus seinen Verbündeten (Krafttiere) zusammenstellen. In der schamanischen Folklore sowie in Volksliedern nimmt das Thema des Kopfschucks eines Schamanen einen prominenten Platz ein. Das deutet darauf hin, dass die tuvinische Tradition, den Kopfschmuck zu besingen, bis in die Antike zurückreicht. Schamanen schrieben oft poetische Lieder über das Material, aus dem der Kopfschmuck gemacht wurde. Ein Beispiel, wie sich der Tozhu-Schamane (ein Volk im Nord-Osten Tuvas) seinem Kopfschmuck zuwandte:
Beispiel
Mein Hut mit ausgebreiteten Federn,
mit Fächern wie Sonne und Mond,
mein siebenblättriger Hut ist eine Kaskade,
wie ist dein Befinden?
Wir fliegen gleich weg, fliegen zusammen weg!
Beispiel
Mein gelber Hut ist so sanft geschwungen,
er ist aus Federn eines Adlers gemacht.
Meine gelbe Mütze schimmert
sie ist aus Federn von Vögeln gemacht,
mein Hut aus Vogelhaut
reicht bis in den Himmel.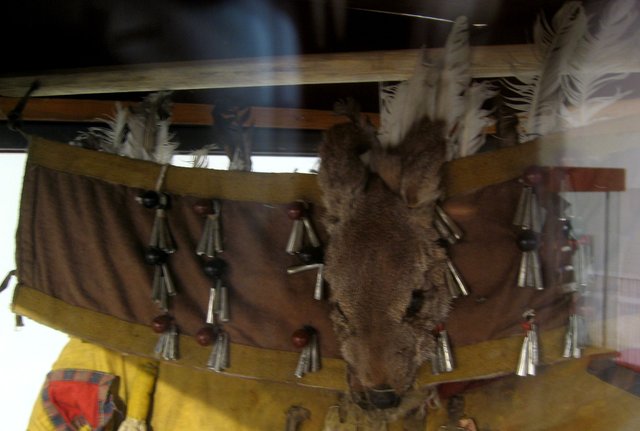 Bedeutung
Die beiden Lieder über die Kopfbedeckung, eine von Tozhu, die andere von Khemchik, mit einem Wort, aus völlig verschiedenen Regionen von Tuva zeigen das charakteristische für die Kopfbedeckung aller Schamanen von Tuva: die typische Verwendung von Vogelfedern. Wenn auf dem Kopf eines Schamanen ein Kopfschmuck aus Federn eines Adlers oder einer Eule steht, kann er fliegen und sogar den Himmel erreichen.
Quelle
Die Informationen stammen aus dem russischen Buch "Tuwinische Schamanen" von Kenin Lopsan, dem lebenden Denkmal der Schamanen, es wurden von mir übersetzt und soweit bearbeitet dass es verständlich wird. Fotos von @schamangerbert aus dem Nationalmuseum von Tuva.

See you next time! / Bis nächstes Mal!
Thank you for your attention! / Danke für Deine Aufmerksamkeit!
Original content by