This Cool AR App is Paying 1.5 Million Geon Coins for Visiting Places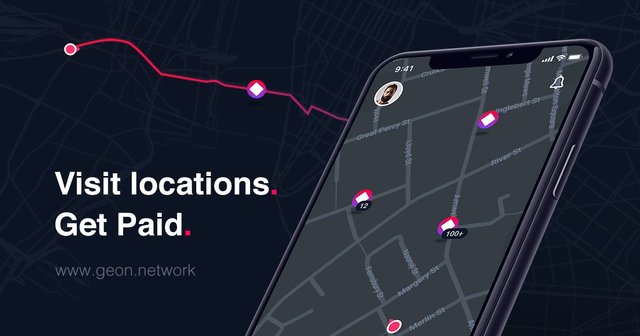 Since the day I came to know about this Geon App offered by Geon Network, I've been fascinated by this concept and the offering. But its low user base and popularity in the early days somewhat mitigated my enthusiasm in keeping myself hooked to it.
Recently on a visit to State of the Dapps ( a website that keeps track of stats and ranks hundreds of Dapps across various blockchains), I found Geon App ranked at No. 3. It was buzzing with a lot of activities and transactions:
These re-invigorated my enthusiasm for this app.
What's so interesting about Geon?
Geon app is a location based Augmented Reality mobile application on a blockchain, that helps you collect Geon coins, transfer, create new Geons or shop through these Geon coins for discounts and more.
Geon app basically gamify certain boring tasks and makes them more engaging and rewarding. It can be used for location-based marketing, to promote consumer footfall at a given location or event, impact funding/charity, spread brand awareness or just for games and fun things.
With Geon app, businesses earn the consumer attention at a given place and users are rewarded with Geon coins. Theere is an in-app Geon store where you can redeem the value of Geon coins for Steam gift cards, Random Steam games, PayPal Gifts, Netflix vouchers and many more discounts and rewards planned for the future.
Watch this short two minute video by Geon Network:

Get started with Geon easily
The Geon App is available for both
Android
as well as
iOS
platforms. Follow these links and download the app.
Now look for the nearby Geon beacons on the map in the app and visit them. GPS will guide you to the exact location. As soon as you get to that location, you can collect the Geon coins put in that beacon for free. Now you can redeem these coins or you can create your own beacons to distribute Geon coins to serve your purpose.
Innovative and fun mining technique
Geon Network has introduced a very innovative mining system where no heavy power is consumed or any specific hardware is needed. Anyone can easily mine Geons with just their mobile phones.
Geons are virtual reality objects of value that are scattered all over the world on a global map. Using the Geon App, any user can see the beacons on the map loaded with Geon coins put on various locations . When you visit that location and fulfill the specified conditions set for it, you can grab the Geon Coins available in that beacon. This is termed as Geon mining..
There are 1.5 million Geon coins to be mined by just visiting various places by looking for them on the map in the Geon app.
My misadventures with Geon
Although I'm all praise for Geon app, my experiences weren't good with it. I live in a small city and I wasn't expecting any Geons here but I downloaded the app anyway. I was pleasantly surprised to find a few beacons in my city too. Excitedly, I went to those locations but boy, it wasn't so easy to reach those exact locations.
Some beacon was on a hill in the middle of nowhere ...I mean there wasn't even a trek route to that place. On another occasion, I was led to some private property and beacon was inside that property. I dared not to move further. On another attempt, I was directed to a very congested and obscured street and I reached a dead end of the street but beacon was still a few meters away.
Unsuccessfully trying to overlap a beacon on the edge of a lake in my city
The distance and the marking is also not very accurate and keeps on changing with an error of few meters. You can also
read about my first misadventure with Geon app here
. Even when I completely overlapped over a beacon, I couldn't get any Geon!
Despite my bad experiences of Geon mining, I'm all praise for this app. I understand that these Geon coins were scattered without actually visiting the real world places so there can be a high chance of error. This could be the reason that not many coins have been mined till today. But I believe that if some user actually creates a beacon after visiting the location himself / herself, it will get easier to collect and redeem Geon coins by visiting that place.
So I'd still rate this app as 4 stars out of 5 stars.
However, I feel that the developers should focus on more publicity for mass adoption of this app as without that it doesn't make much sense in keeping this app alive in my phone. So far, I don't know any other person in my city who is using this app. So even if I create a beacon out of my Geon coins, it will be a futile effort for me. So the key to success is to create a large community of Geonians first.
Apart from mining there is another way to accumulate some free Geon coins. You can get some as gift by opening the app once a day. Interestingly, this gift reward is also gamified where you get more if you get lucky. I often use this feature and have accumulated enough coins to compare myself with top 25 miners. So happy Geon mining everyone!