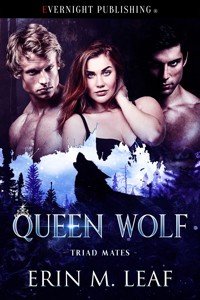 Check out the highlights on our official review of QUEEN WOLF by Erin M. Leaf!
QUEEN WOLF is the first book in the Triad Mates series, and we start off with a boom!
Avery has decided to burn her ex's old porn magazines, and takes great delight in doing so.
Although part of a pack, Avery doesn't feel like she belongs, for a number of reasons.
I love Erin M. Leaf's books, and always look forward to reading them. This book was no different.
I loved the world building in this book
coupled with strong characters and no editing or grammatical errors means I thoroughly enjoyed this story
can't wait for the next book in the series. Absolutely recommended by me.
Rating: 5 Stars
Reviewed by Merissa
for TheRomanceReviews.com
Catch the full review and details on The Romance Reviews website.
Now available on Amazon.com.
Photo credits: TheRomanceReviews.com