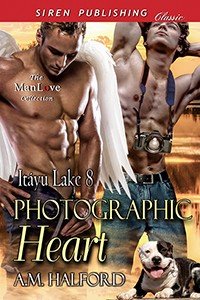 Check out the highlights on our official review of PHOTOGRAPHIC HEART by A.M. Halford!
PHOTOGRAPHIC HEART is the eighth book in the Itáyu Lake series
Brannon is the nephew of the two angelic aunts who have been featured in previous books.
He has had his vision and knows he will meet his mate soon, and a rough idea of where, hence why he is back at Itáyu Lake.
Kyle has been sent to the Lake by a friend, who knows his friend will love the scenery there.
This was a well told story, making it an excellent addition to the series.
This Lake is so well known by now, the author is able to concentrate on the connections between the mates, and everyone else who lives there.
With lighthearted moments as well as heartbreaking ones, this book has something for everyone.
I would recommend reading this series from the start, just so you know who is with who!
A great read, and recommended by me.
Rating: 4 Stars
Reviewed by Merissa
for TheRomanceReviews.com
Catch the full review and details on The Romance Reviews website.
Now available on Amazon.com.
Photo credits: TheRomanceReviews.com