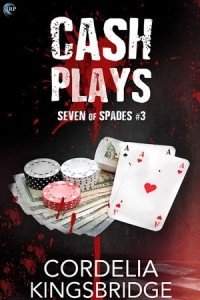 Check out the highlights on our official review of CASH PLAYS by Cordelia Kingsbridge!
CASH PLAYS is an outstanding third installment of a series that is delivering a great mystery plot, keeping the reader guessing and on the edge most of the time.
It was a perfect mix of action, love and a serial killer who is taking justice in his hands.
I had an amazing time reading this book. I just couldn't stop reading.
It was thrilling. I loved every bit of it.
One of the things that I found more interesting was getting to know little details about The Seven of Spades, not enough that the mystery is gone but also not too little that we are in the shades about him.
The mystery is again the strongest part of the story and even though it didn't lack romance, this has been, sadly, the less romantic of the installments
the relationship between Dominic and Levi keep being an important part of the plot and I enjoyed so much the moments they share.
As much as I loved their moments together, I also loved the struggles they had. I love their flaws
magnificent book
The author's writing is amazing and I wouldn't hesitate in recommending the book to any reader who enjoys reading mystery.
Rating: 5 Stars
Reviewed by Ana
for TheRomanceReviews.com
Catch the full review and details on The Romance Reviews website.
Now available on Amazon.com.
Photo credits: TheRomanceReviews.com