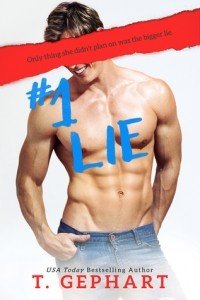 Check out the highlights on our official review of #1 LIE by T. Gephart!
#1 LIE was so much fun
I totally enjoyed Ms. Gephart's take on the sitch
Dave was absolutely fabulous…what a sweet, flirty, sexy dude that one was
Jess, the little liar, amused and frustrated me.
I did adore them together however, no matter how stupid Jess's life choices were
the sex scenes, while few, were well written and lip bitingly delicious.
But her family? Loved. Them! They might've been the best part of #1 LIE, with their wacky attitudes and gossipy personas.
a lighthearted and funny read that I recommend to anyone who loves sexy romcom stories!
Rating: 4 Stars
Reviewed by Delta
for TheRomanceReviews.com
Catch the full review and details on The Romance Reviews website.
Now available on Amazon.com.
Photo credits: TheRomanceReviews.com