A couple of weeks ago I was able to watch the sequel to the movie Trainspotting.
In summary, a good sequel!
I think less controversial then the original one published back in 1996. Less hardcore drug influenced scenes. Less controversial since the topic drugs is getting less taboo by now. 20 years has passed for this sequel to be created. As a result, all main characters of the original movie also left 20 years behind with each one their own story. From a continuous drug addict, to a long jail timer, to a small time criminal and a one with a family in Amsterdam. All with there histories, destiny brings them together again causing omw fire again!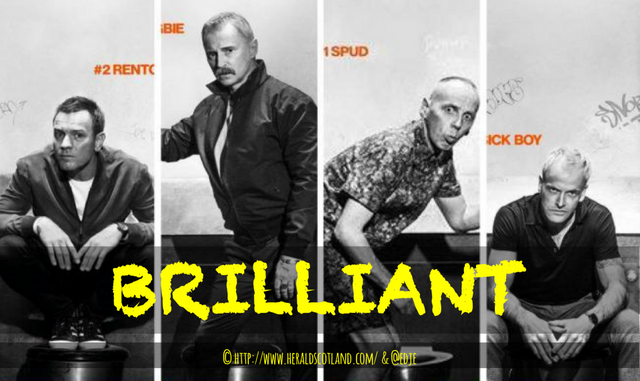 I still remember very well when and where I watched the first Transpotting. It was in a cinema in Slovenia. Original voices and Slovenian subtitles. At that time I was not very experienced in the English language, therefore all the strong dialects in the movie was terrible for me to follow. When back home, I had to re-watch the movie, but certainly this was not an issue at all. It was a pleasure to watch the movie again, a great movie!
Also the sequel is a movie I can watch another time! And I certainly will do so! I have it on my (free) on demand movie channel at least for another half a year, a lot of time to go far a couple reruns :)
My advise: Watch T2 Trainspotting at least ONE time!
Little further down this post I share with you the soundtrack of T2 Trainspotting. It is a mix between electronic and rock music with names such as Iggy Pop, Queen, Prodigy, Frankie Goes To Hollywood and Underworld part of the playlist. All tracks I listened to many many many times and love to see them combined on a soundtrack like this one. Simply classics! GOOD classics! :)
For the fun of it, I also share another playlist created by a YouTuber with the title: "The Complete Fantasy Playlist". A playlist in similar music style to the original soundtrack of T2, but with total different bands and tracks.

Artist: Various
Album: T2 Trainspotting OST
Year: 2017
Country: UK
Tracks
Iggy Pop - Lust For Life (The Prodigy Remix)
High Contrast - Shotgun Mouthwash
Wolf Alice - Silk
Young Fathers - Get Up
Frankie Goes To Hollywood - Relax
Underworld And Ewen Bremner - Eventually But (Spud's Letter To Gail)
Young Fathers - Only God Knows
The Rubberbandits - Dad's Best Friend
Blondie - Dreaming
Queen - Radio Ga Ga
Run-DMC Vs Jason Nevins - It's Like That
The Clash - (White Man) In Hammersmith Palais
Young Fathers - Rain Or Shine
The Fat White Family - Whitest Boy On The Beach
Underworld - Slow Slippy
Music
---
...and the mentioned alternative "The Complete Fantasy Playlist" version

Artist: Various
Album: T2 Trainspotting "The Complete Fantasy Playlist"
Year: 2017
Country: UK
Tracks
Lust For Life - Beki Bondage
White Man In Hammersmith Palais - Alixandrea Corvyn
Song To The Siren - Alixandrea Corvyn
Personal Jesus - Tim Barton
Golden Brown - The Strangers
Dreaming - Peroxide
Bad Blood - Cemetery Girls
I Fough The Law - Gene October
Love Is A Losing Game - Calli Malpas
Wont Get Fooled Again - Pussy Revolution
Sultans Of Swing - Sultans
Johnny Too Bad - Ethiopia
Radio GaGa - THE BOHEMIANS
My Boy Lollipop - Minnie Bobby Brown
Cant Take My Eyes Off Of You - Tina Charles
Killer - Karlie Simon
I Still Haven't Found What I'm Looking For - The Previews
Atmosphere - Facked
Rebel Rebel - Pussy Revolution
Running Up That Hill - Jem