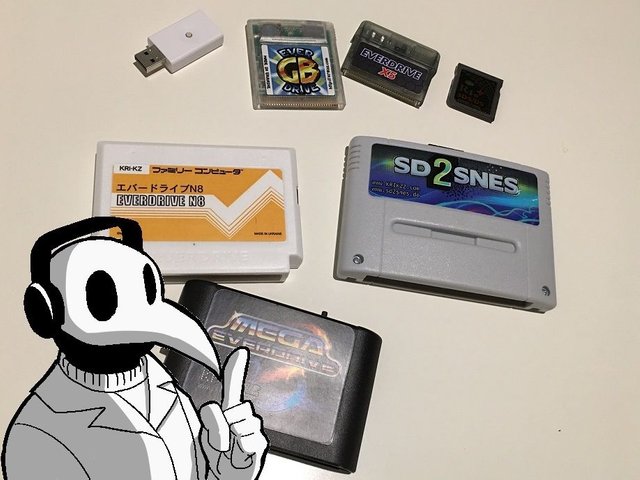 Source: iPhone, Tigerfog
Please scroll down for English version below
Français
Vous vous demandez sûrement comment est-ce qu'une cartouche flash peut être bénéfique pour le marché des jeux vidéo rétros s'il est possible de charger les jeux dans ces cartouches et y jouer sur une vraie console sans payer pour les originaux. Ça peut paraître surprenant mais même si moi-même, je possède des cartouches flash, j'ai remarqué qu'au contraire, j'ai acheté plus de jeux qu'avant. Voici mon opinion sur le sujet.
Il y en a qui veulent jouer sur la console originale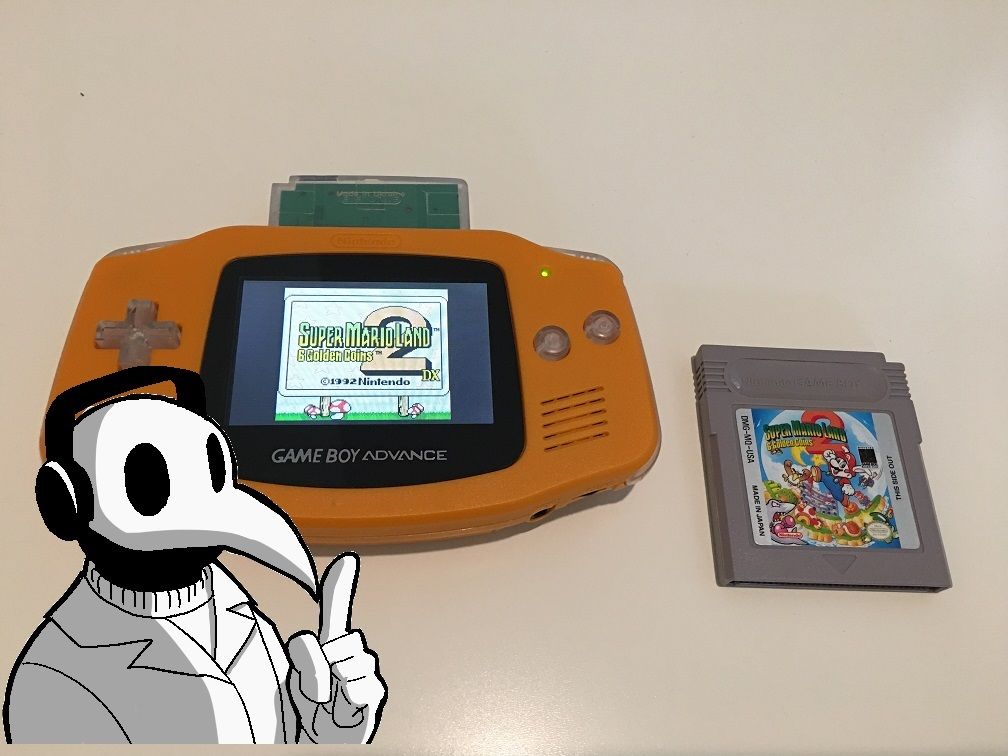 Super Mario Land 2 version couleur - Gameboy Color
Super Mario Land 2 Color Version - Gameboy Color
Source: iPhone, Tigerfog
La moitié du plaisir de jouer aux jeux vidéo chez beaucoup vient du fait de pouvoir insérer la cartouche ou le disque dans la console, de l'allumer et de voir l'écran-titre s'afficher avec une vraie manette entre les mains.
C'est vrai qu'avec un peu de recherche, c'est très facile de télécharger un jeu et d'y jouer sur un émulateur et je dirais même que c'est ce que beaucoup de gens ont fait quand ils étaient plus jeunes avec beaucoup de temps libre mais pas autant d'argent. Dans ce cas, en quoi ça aide le marché des jeux vidéo? Tout simplement que cela permet aux gens d'essayer ces jeux avant de les acheter à une époque où il n'est plus possible de louer des jeux vieux de plus de 20 ans dans des clubs vidéo qui ont aussi presque disparu.
Même s'il y aura toujours des gens qui ne paieront jamais pour ce qu'ils peuvent obtenir gratuitement, il y aura aussi toujours des gens qui voudront posséder le jeu original pour y jouer. De toute façon, certains jeux ne sont pas jouables à 100% sur émulateur ni avec une cartouche flash comme Lagrange Point sur Famicom où le son est encore imparfait à cause de la puce VRC7 ou Super Mario RPG sur SNES qui n'est jouable sur aucune cartouche flash à cause de la puce SA1.
C'est pratique pour les collectionneurs qui ont plein de jeux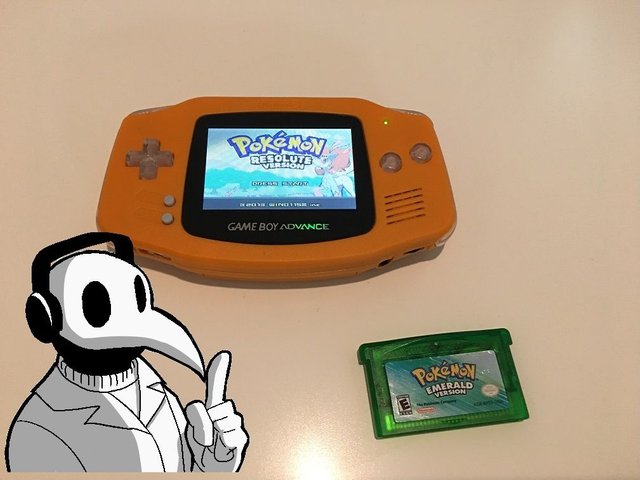 Pokémon Émeraude (Version Resolute) - Gameboy Advance
Pokemon Emerald (Resolute Version) - Gameboy Advance
Source: iPhone, Tigerfog
Juste parce qu'une personne possède une grosse collection de jeux, cela ne veut pas dire que ça l'amuse de passer des heures à chercher dans sa grande bibliothèque le jeu qu'elle voudrait jouer. En fait, c'est possible que ces collectionneurs achètent moins de jeux pour minimiser le temps perdu à chercher un jeu spécifique, surtout s'ils rangent leurs jeux dans leur boîte d'origine car ils ne font que mettre plus de temps pour sortir le jeu de sa boîte avant d'y jouer. Avoir ses jeux dans une seule cartouche flash évitera ce genre de perte de temps et poussera peut-être même les collectionneurs à acheter d'autres jeux qu'ils pourront ensuite extraire et copier dans leur cartouche flash.
Ça donne l'occasion d'essayer des hacks (jeux modifiés)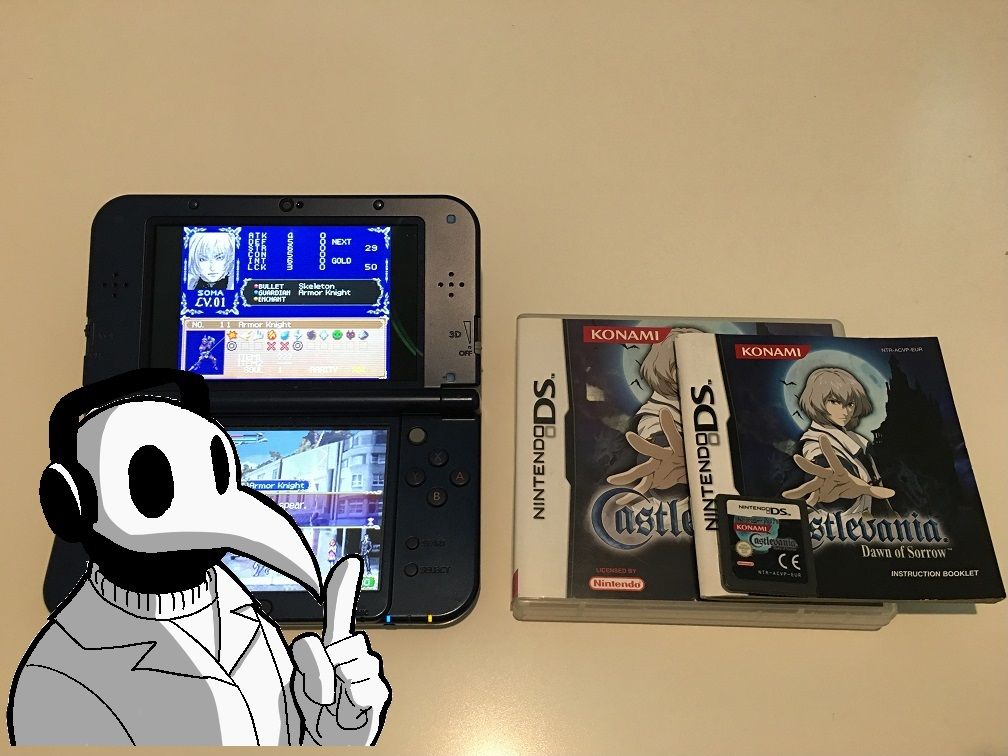 Castlevania: Dawn of Sorrow (avec les illustrations de type gothique au lieu de l'animé) - Nintendo DS
Castlevania: Dawn of Sorrow (with gothic artwork instead of anime) - Nintendo DS
Source: iPhone, Tigerfog
Il y a beaucoup de gens créatifs sur Internet qui ont modifié des jeux existants pour en faire des nouvelles versions et il existe même un marché où des copies physiques de ces jeux modifiés sont vendues. Malheureusement, certains de ces jeux ont été sacrifiés pour créer ces nouveaux produits. Même s'il existe maintenant un moyen de fabriquer sa propre cartouche avec un circuit imprimé vierge, certains jeux nécessitent des puces spéciales non disponibles en boutique (ex: la puce SDD-1 pour Street Fighter Alpha 2 sur SNES) et le seul moyen de les fabriquer et de remplacer la puce EEPROM d'un jeu original contenant la puce spéciale par une puce EEPROM contenant le nouveau jeu à fabriquer d'où le sacrifice d'un jeu existant. C'est pour ça que l'existence des cartouches flash permettent à ceux et celles qui ne désirent pas forcément de posséder une copie physique de leurs jeux modifiés de pouvoir y jouer sans détruire des jeux existants.
Ça permet de jouer à des jeux importés dans la langue de son choix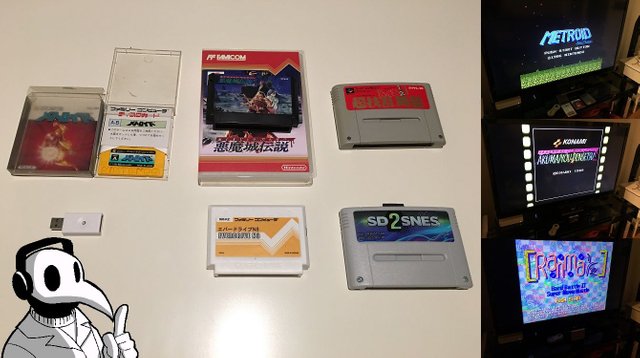 Metroid - Famicom Disk System
Akumajou Densetsu / Castlevania III: Dracula's Curse - Famicom
Ranma 1/2 Chougi Ranbu-hen / Ranma 1/2 Hard Battle II - Super Famicom
Source: iPhone, Tigerfog
Cela suit le même raisonnement que celui dans la section précédente sur les jeux modifiés mais ici, cela s'applique aux jeux qui sont simplement traduits.
Pas toutes les cartouches flash sont recommandées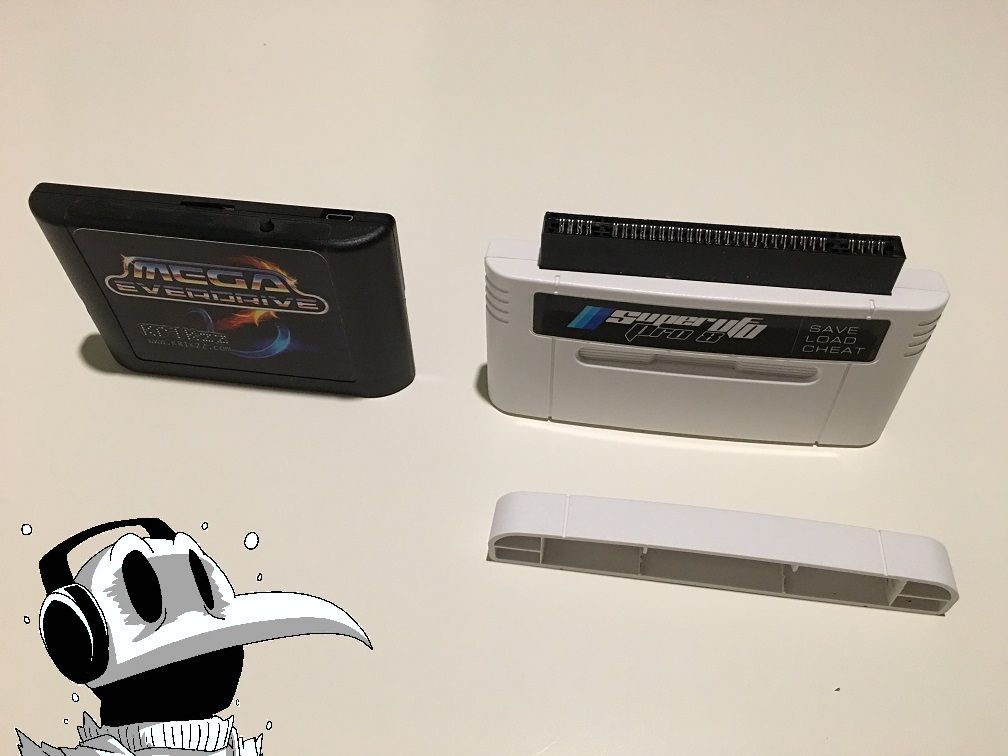 Mega Everdrive X7 (v2)
Superufo Pro 8
Source: iPhone, Tigerfog
Malheureusement, il existe des cartouches flash qui peuvent endommager voire détruire à long terme votre console à cause d'un défaut de conception de la part du manufacturier. Dans mon cas, je n'ai appris tout cela qu'après avoir reçu une Superufo Pro 8 pour la SNES et acheté une Mega Everdrive X7 (v2) pour la Genesis/Megadrive. J'ai donc arrêté de les utiliser et c'est vraiment dommage car la Superufo Pro 8 me permettait de créer des backups de mes cartouches SNES et Super Famicom et la Mega Everdrive X7 était le modèle le plus avancé qu'offrait son créateur, Krikzz.
Pour plus de détails concernant les risques que certaines cartouches flash peuvent poser à votre console, voici l'article en anglais par René de db-electronics:
https://db-electronics.ca/2017/07/05/the-dangers-of-3-3v-flash-in-retro-consoles/
Si vous avez aimé cet article, n'hésitez pas à l'upvoter et le resteemer et pour être au courant des futures publications, suivez-moi sur Steemit. Merci d'avoir lu et à la prochaine.
English
You're probably asking yourself how a flashcart can be a good thing for the retro video game market when it's possible to load games into these cartridges and play them on original hardware without paying for the original copies. This may seem odd but even though I own a few flashcarts myself, I noticed this has led me to buy more games. Here's my take on the subject.
Some will prefer to play on the real console
Half the fun of playing video games comes from actually inserting the game cartridge or disc into the console, turning it on and watching the title screen while holding the original controller in your hands.
It's true that with very little effort, it's easy to download a game and just play it on an emulator and I believe that's what a lot of people did when they were younger with loads of free time but not as much money. If that's the case, how is this helping the video game market? It's simply by allowing people to try out games before purchasing them during this day and age where it's next to impossible to rent games out of a rental store let alone find one that actually lets you rent 20-year-old games.
While there will always be people unwilling to pay for games they can find online for free, there will also be people wanting the real official game carts to get the genuine gaming experience. Besides, some games aren't 100% playable on either an emulator or with a flashcart like Lagrange Point on Famicom where the sound is imperfect because of the VRC7 soundchip or Super Mario RPG on SNES which isn't playable on any flashcart because none of them support the SA1 chip.
It's convenient for collectors with truckloads of games
Just because people have a humongous game collection doesn't mean they take pleasure in spending hours going through their big shelves trying to locate the game they want to play. It may be possible some of them actually buy less games so they'll spend less time going through their collection. Also, having a CIB (complete in box) collection will only cause them to spend more time than necessary opening the box, taking the game out, inserting it into the console and turning it on. Having their collection in one flashcart will greatly reduce the time spent looking for games they want to play. It may also encourage collectors to buy more games and back them up into the flashcart for later use.
It allows you to try out game hacks
Many creative people on the Internet have modified existing games to turn them into alternate versions and there's even a market for physical copies of these reproduction carts. Unfortunately, some of these games have to be sacrified in order to create newer products. Even if there's a way to create reproduction carts using only brand-new material like a blank PCB (printed circuit board), some games require special chips that aren't sold in stores (e.g. the SDD-1 chip for Street Fighter Alpha 2 on SNES) so the only way to make your own reproduction cart is to replace the original EEPROM chip on the game PCB with the one with the hack in it thus destroying the original game. That's why flashcarts allow people who aren't interested in having physical copies of game hacks to enjoy them knowing no game was sacrificed for it.
It allows you to play import games in your own language
This follows the same reasoning as the one from the previous section with game hack but here, it simply applies to translated games.
Not all flashcarts are recommended
Unfortunately, there are some flashcarts that can damage or even destroy your console in a long run because of a design flaw on the PCB by the manufacturer. In my case, I only learned about this long after I received a Superufo Pro 8 for the SNES and bought a Mega Everdrive X7 (v2) for the Genesis/Megadrive. I've since stopped using them and it's a shame since the Superufo Pro 8 allowed me to backup my SNES or Super Famicom games and the Mega Everdrive X7 was the most advanced model by its creator, Krikzz.
For more details concerning the damage some flashcarts can do to your console, check out this article by René from db-electronics:
https://db-electronics.ca/2017/07/05/the-dangers-of-3-3v-flash-in-retro-consoles/
If you liked this post, please consider upvoting and resteeming it and to be further updated on future posts, follow me on Steemit. Thanks for reading and see you next time.