Space Invaders Championship (1980)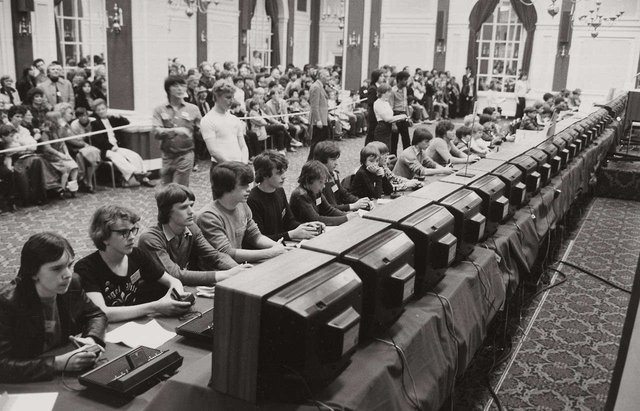 Source: http://www.megalextoria.com/wordpress/index.php/2017/04/18/atari-space-invaders-tournament-1980/
Space Invaders was one of the first true blockbuster video games after Pong. In Japan, where the game was developed by Taito in 1978, it even caused a shortage of 100-yen pieces (the coin used in arcade machines there). The game was no less popular in the U.S. so of course there was a port for the popular Video Computer System (Atari 2600). It became the first killer app for a video game console and was responsible for quadrupling Atari 2600 sales.
In 1980, the year that Space Invaders was released for the Atari 2600, a tournament was held to determine the best Space Invaders player. Four people were picked from four regional competitions to compete in the final in New York. A total of 10,000 people participated from all of the regions combined. It wasn't the first video game competition but the Space Invaders Championship was the first such event on a large scale and is the predecessor of today's eSports.
---
Thanks for stopping by and check out some of my other recent retrogaming posts below!
Daytona USA: Championship Circuit Edition (Sega Saturn)
https://steemit.com/retrogaming/@darth-azrael/daytona-usa-championship-circuit-edition-sega-saturn
Sega Game Gear
https://steemit.com/retrogaming/@darth-azrael/sega-game-gear
Atarian Video Game Magazine (August 1989)
https://steemit.com/retrogaming/@darth-azrael/atarian-video-game-magazine-august-1989
Tempest 2000 (Sega Saturn)
https://steemit.com/retrogaming/@darth-azrael/tempest-2000-sega-saturn