Let's help Rocky! // FINAL UPDATE!
Rocky is happy to be back!
---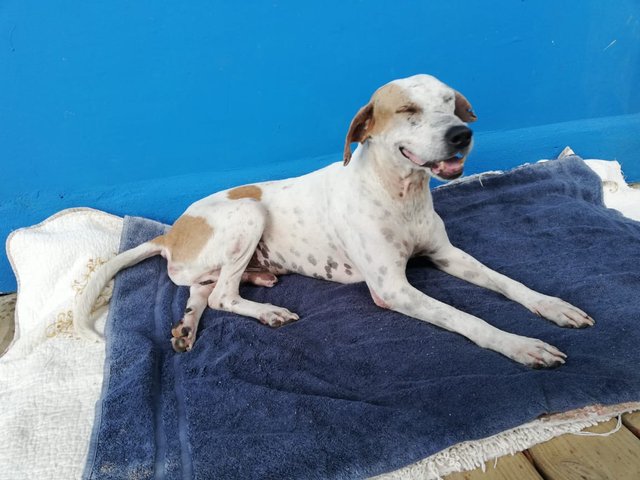 ---
I wish I knew what Rocky was thinking when we were traveling back together in the boat, from mainland to the island. Him in his kennel, staring at me and trying to get a grip on my fingers I managed to pass through the kennel.
---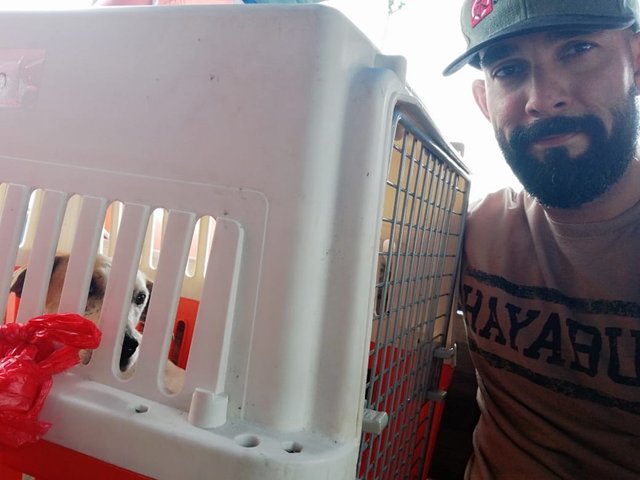 ---
---
And also all the previous updates:
---
I was so happy to see him again. Poor Rocky had a long trip back, from Costa Rica (Pacific Side) to the border, then from the border to David City. From David City to Boquete in the mountains where he spent the night at the Boquete Dog Camp. The following day, from Boquete he travelled all the way to Almirante in the Caribbean side. I went to pick him up and then we took a boat to come back to Bocas Island. He travelled for about 6.5 to 7 hours.
---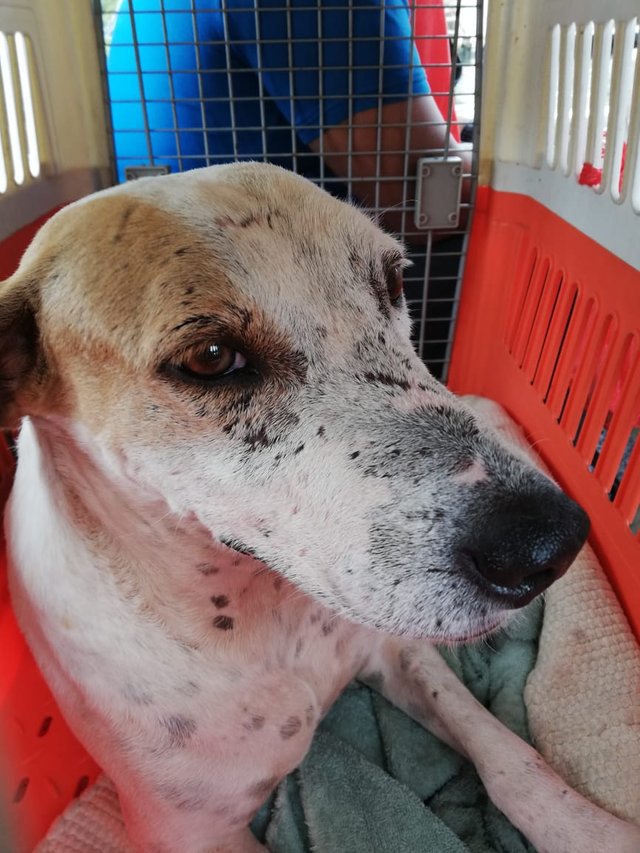 It is impressive how a lot of people have showed solidarity with Rocky, the Bocas Transfers people that brought him from the neighbor province decided not to charge me.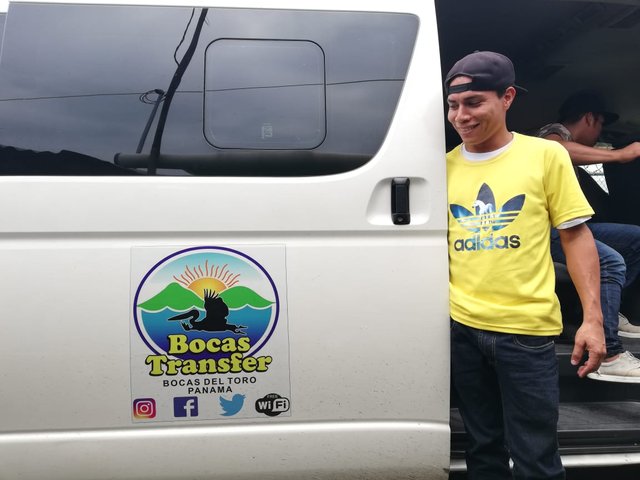 He is currently with Miss Marcela, the lady that is helping take care of him, she will continue with his therapy and medications until we find a new home for him. The good news is that Marcela and her husband already told me that if we don't find a home for him, they will keep him, which is what I think will happen.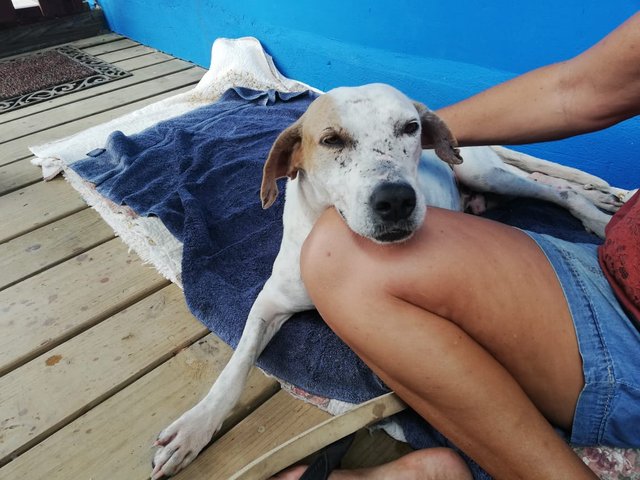 ---
The Vet's Report:
Rocky spent almost a month with Dr. Tello, who made ultrasound tests to see if Rocky had any compromised organ, luckily he didn't.
The Vet continued Rocky's Erliquia disease treatment, which is already cured.
With the X Rays, the vet was able to identify where the internal damage was: at the end of his spine and the beginning of his tale, in one of his vertebres where there is a nerve. This is the reason why he had problems with the mobility of his legs.
Rocky received medications and therapy sessions. When Rocky arrived there he was dragging himself to move around, but after a month now he is able to at least walk better on 3 legs.
It is important to mention that Rocky will still be on medication for at least 2 weeks, therapy and massage sessions. And that his time recovery will continue for at least 6 more months.
---
Donation status
Total Donation collected:
STEEM = 130.338
SBD = 25.04
BTS = 1,100
WLS = 12,972
BTC = 0.07840924
USD Cash = 25
USD Paypal = $513
Plus the rewards of @evecab's. @karinxxl's and my steemit post = $69.50
Remember I sent 1,000 WLS from my wallet in advance as equivalent of part of the post's rewards? I still have to send a little bit more WLS from the post's rewards, currently waiting for the power down to finish. This will go also into the pot as well for animal rescue opportunities.
Exchange and conversions:
On a previous post I wrote that I had to convert all crypto into BTC, using more than 1 exchange and pairs, to then sell fractions for fiat.
STEEM + SBD = $52.40
BTS = $67
WLS = $871.57
BTC = $300
USD Cash = 25
USD Paypal = $513
Total = $1,828.97
---
Updated Expenses list:
Local Vet Clinic = $226
Dr. Tello Clinic = $220
3 Ferry Transports = $120
Gas for transportation = $70
Boat rides = $10
Taxi from border = $30
Transport from David to Boquete = $15
Taxi from Dog Camp to the pickup point (back to island) = $5
Take into account that during the following months, Rocky may need more medication, especially for the pain and obviously he will need food. So Miss Marcela will have for now on her side $287 for these expenses.
Total expenses so far = $980
I have to say that I did not expect that Dr. Tello was going to charge us only $220 for everything he did with Rocky. All the care time, X Rays, tests, medications food for 1 month, etc. Clearly he is another good vet that shows solidarity when taking care of an animal in need without owner.
---
My friend @thebugiq mentioned to me that he wanted to buy for Rocky a special bed and some toys. With this post I wanted to also say that he doesn't have to buy these, and that we will use part of the money to buy a nice bed for Rocky and some toys, because he deserves it. As soon as we get this done, I can bring some nice pictures.
Everything collected that is left, not only will be used for Rocky, but also we will use it to help more street dogs. There are a few in town I have identified that need to be fixed. I will also keep you guys posted on this.
---
@choogirl thank you so much for using your Rife Machine on Rocky. Please if is not too much to ask, keep sending those good vibes to Rocky with it, his recovery will take time.
---
Thank you guys for also initiating the 500WLS pledge on whaleshares: @thebugiq and deranged-witness.
Thank you @organduo for helping me sell the WLS besides also donating.
Thanks to all the people that have supported with your votes / shares and crypto / cash donations.
Like I said before, I could have NEVER done all this for Rocky if it wasn't for all of you!
Also I feel grateful for all the trust you have deposited on me.
---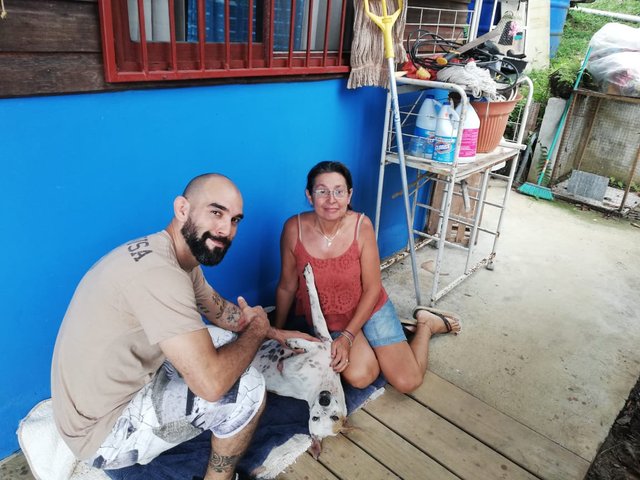 Marcela, Rochy and I.
Thank You!