The Story:
When driving to work one morning, I saw a dog sitting on the side of the street in a weird position, as if he was doing his necessities and with a very sad face. I was in a rush, so I did not look in detail.
The following day, I passed by the same place with my family, we were going for dinner and I saw him again, same spot same position. I asked about him to two locals that were sitting on the sidewalk talking, they did not know who that dog was and that he has been like that for some time there.
Since he had a red collar, I thought… "maybe the owner is living in any of the houses in front and he likes to hang there".
The following morning, I was driving to my office and saw him again, that is when I decided to pull over and have a close look at him, and what I found broke my heart.
---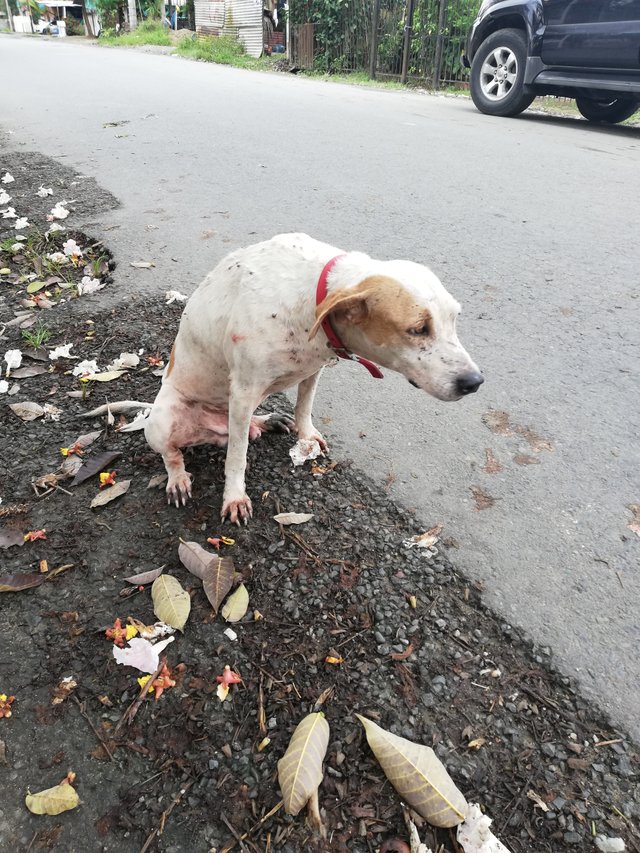 ---
He could not walk, he was dragging himself in pain, he had a lot of big dark gray things in his entire body, which looked like warts.
I went to ask the neighbors if they knew who the owner was, but nobody could tell me. It was very sad to see how he tried to follow me in his pain and crying. I was wondering how many days he has been there suffering in pain with no water nor food, under the rain.
I could not take it anymore, so I grab a blanket I had in my car, covered him and lifted him carefully. I was worried that he was going to bite me, but I was not going to leave him like that.
In that moment I did not care about work or anything else, I was not going to be OK knowing that he was going to die there slowly. I do have to say that for the first time I almost cried while driving him to the vet clinic, I was thinking how come so many people pass by on their bikes, cars or walking, and noone, literally nobody gave a shit. I was angry as hell.
---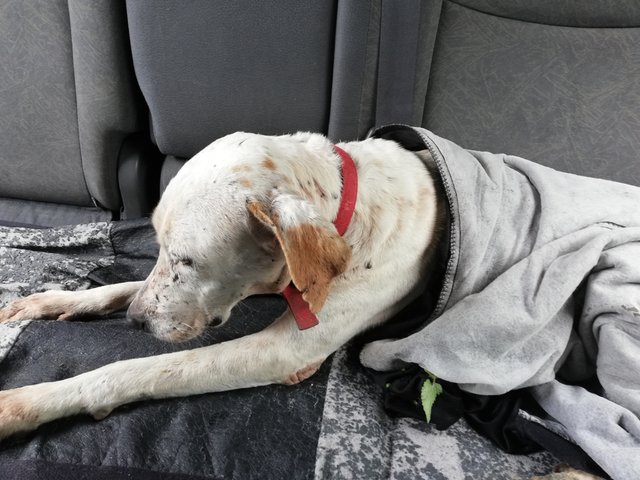 ---
Maybe nobody looked at him because of his collar, and when a dog has a collar it means he has an owner. I also thought about looking for that owner and file a legal complaint against him. But the priority in that moment was to save Rocky.
---
At the Bocas Vet Clinic:
Once we arrived, the first thing we did was to give him water. The Vet took a close look at him and did some tests.
According to the vet, Rocky is approximately between 7-9 years old. What I thought it was warts was in fact a bad infestation of ticks (about more than 89% of his coat including ears, nose and perianal area were covered). He was in a lot of pain, but now he is on pills. We believe that he was also hit by a car since it's hard for him to move his back legs.
He is very affectionate and grateful, and started the treatments without a problem.
The results of his test came back positive of SNAP 4 DX and the blood test for Ehrlichia canis.
He was injected with Vitamins and a liver protector. He is on Doxycycline treatment for 22 days, an he had as well an oral dewormer. The vet also gave him a NEXGARD tablet.
After sitting in the streets in pain not able to move for many days, he had to drag himself to move which also scraped his skin. He was not eating or drinking for several days.
Thankfully, Miss Marcela, another animal lover, she is also willing to do the grooming for streets dogs and prepare them for adoption. I contacted her and Rocky is now staying with her under proper watch / care until he recovers enough to go to another city for X rays.
---
What's next?:
With Rocky we have to go by the day. I am so lucky to get to know other really cool humans that have been willing to help and give part of their time, energy and money for this situations.
Since where we live, we do not have an X ray machine, we need to transport him to another city (5 hours away by boat and road), take him to the border where there is another doctor that can analyze him and see what is wrong with this hips / legs. Hopefully he won't require surgery, but if he does, he can have it there in that clinic.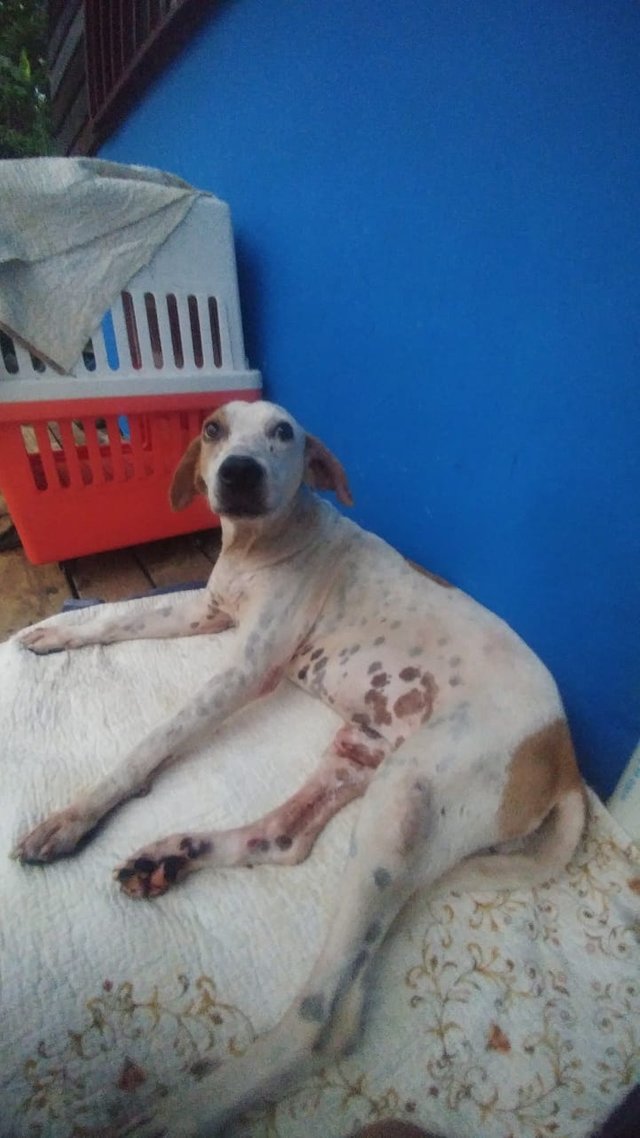 We are still trying to find who can adopt him. It is not easy to find new homes for 7-9 year old dogs with a disability, but I am sure I can do this, although this is the most complicated situation I have experienced when saving an animal.
---
Rocky needs you too!
I never ask for donations for myself or anything else, there is ONLY ONE reason for me to ask for donations, and that is when we are helping the an innocent animal.
In the past I was able to help other animals, and many of you will remember when we were able to help Coco the Pup, many of you supported me on this platform and some even sent me some Steem.
For you to have an idea of expenses:
For clinic treatments, medicine, vitamins, injections = $226
estimated cost for x rays around $75 - $100
in case he needs surgery, this will be around $200
plus all expenses that his transportation will required or any extras.
How can you help or donate:
Help to boost this post
I am going to donate ALL the SBD rewards of this post to the cause.
You do not have to resteem if you don't want to, but your upvote will count a lot!
Help with donations:
Bitcoin: 1LJZmH2WvvGDhDSVyVtCkA6PV9dsiFBLA2
Ethereum: 0x4e35A87dA6508e365Ac2D7b9F95552908B807FC2
Litecoin: LemdxfVvugRV94WWkFbyr1ycPTywbeyvdm
EOS: elcryptociar
Via paypal: mraphaelbr@gmail.com
Or if you feel like sending SBD or Steem, I will be able to exchange it for fiat to help with expenses.
---
I will be posting updates about Rocky's advancement and will come up with a final post result of him.
Please send us your best vibes, because finding a new home for him has its level of difficulty.
Here I went to visit him, he was very happy to see me and I was very happy to see his progress:
Thank you so much for reading this!
Rocky thanks you as well!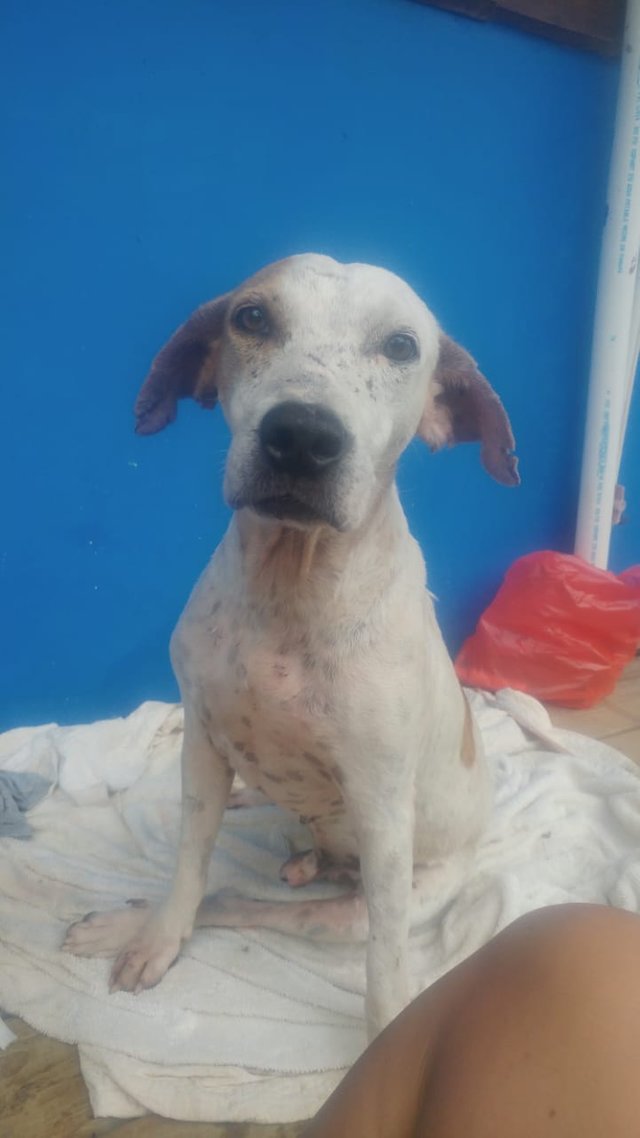 ---