Thank You For you Help, Still More to Do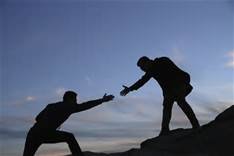 My reputation is still very low, but not for lack of trying and people's help. -6 is very tough to come back from.
I'm now aware of why I've been given a low reputation. I was downvoted about 2 weeks ago by @berniesanders before the reputation system was created. It has been my only downvote and it came when I was new to the platform and wasn't aware of the unofficial rules. I tried to advertise a post too aggressively. He or she saw this and voted my comment down.
I carry no animosity towards the reputation system or the whale that gave me a downvote. However, I would really appreciate your help and your upvote. I'm sure you can understand the frustration involved in effectively being banned from the platform, since my posts and comments are so hard to find. I didn't get put into this situation by insulting anybody or acting in an uncivilized manner. I did something minor that the whale didn't approve of. If you would like to see for yourself before you decide if helping me out is worth your vote, you can look on steemstats.com and type in my user name.
Thanks in advance,
Michael