​​Hello Steemians!
We are at it again! You know how it has been, how it is and how it will be.
WLW— Worry less Wednesday is bringing to you it's 8th episode.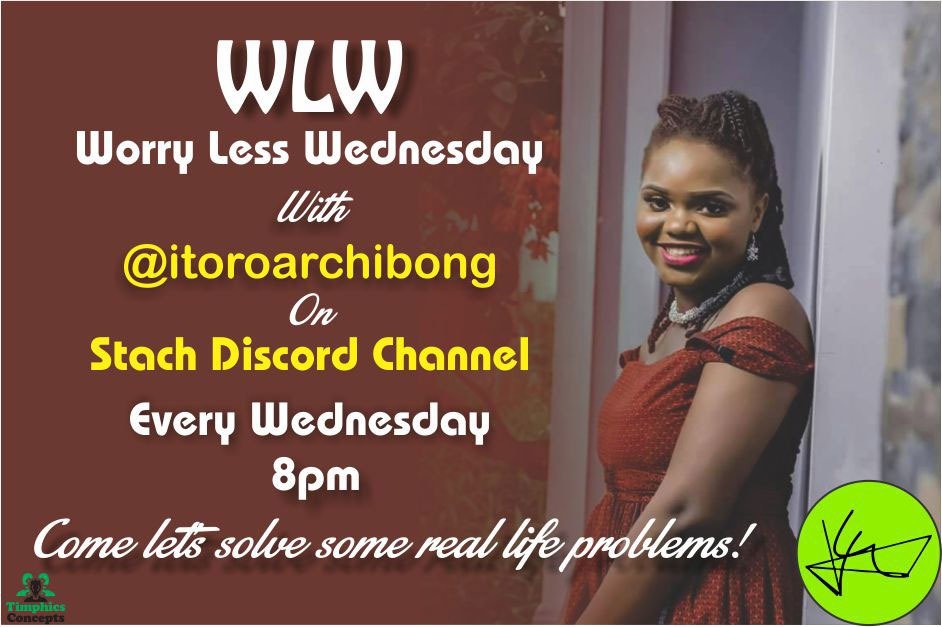 Image by Itoro Archibong
It is obvious now that there are some inevitable existence that keep coming to us. The more you try to deviate from them, the more they come into your lives.
Give us the opportunity to deliberate on all these and tell you the little step you had skipped.
Yeah that is what we do here!
Last week, we looked at the issues of;
The sister who felt over protected who would be losing her trip to Ghana.
The class representative who created a PAC and is about losing all his powers to the PAC by the same PAC.
The photographer whose friend was the master mind of the recent robbery attack that almost made him lose his career.
This week I present to you the following;
WLW1
Itoro Please keep me anonymous. My parents are separated and I don't think this could cause me this problem. I am a student of Heritage Polytechnic in Eket.
I am obsessed with worldly possessions. My mother sends me allowance with my dad separately but I lack proper management skills.
In a week, I consume the whole money.
I actually thought it was a matter of time and tried to adjust. Anything that comes my way must be purchased be it clothes, house equipments, snacks and alot of useless items that I regret ever buying when I end up not using them.
I have prayed about this but I can't help it. I can't even think of fasting about this because my mouth must get chewing.
This has made me borrow things from people when I go broke and time not reached to ask for money from my parents.
What do I do? How can I escape this dangerous spirit of squandering?
WLW2
My mother is a trader and most times I go to the market with her. She is dying and it's serious. Now here is my story.
My mother's neighbour who sells crayfish is dubious.
A long time ago My classmate told me she came to our shop to buy things and the lady attended to her. My mother then said she never gave her any money for such sales. When we got to the market the next day she argued that she had given my mother the money. My mother concluded that she must have forgotten. I know my mother, she doesn't forget about money. There is no way my classmate would come to our shop without telling the seller to send regards to my mother coz she knows my mum very well.
Another day, I counted 13 plastic bottles of red oil and I did not sell any oil that day. On closing, I saw only 12. She left early that day before I closed in a haste claiming emergency came up immediately I returned from easing my self.
Another day, a packet of star Maggie was missing and she closed 30mins earlier when I had a lot of customers. And on a normal day she would assist us at that late period before market closes coz customers are always too many.
I got home and told my mother. We planned that the next time she would try to go home early, we would conduct a search on her.
Finally, another day came and she wanted leaving early. I stopped her. My mother was not around. I told her to open her bag, after arguing the marketers told her to open her bag then she said she only had a packet of suppy Maggie inside her bag that she had bought earlier. Oya come and show us the shop you bought it from? We sell Maggie and you went far to buy Maggie.
The next day with my mother's influence, she was moved from that position she stays at a shade by our shop.
She has been coming to my mother saying where she is there's usually no sales because our customers usually patronized her and we had alot of customers. My mother shouted at her and she hasn't been back.
She went about broadcasting and convincing people that because we are rich we manipulated her. That the Maggie was hers.
That one is not even my problem, the problem now is that my mother has been seriously ill. She cannot move and I had a strange dream recently. This woman came to our shop recently to ask for my mother and the next thing she said was how was my mother's health?
Could she be the one causing all these?
We don't know what approach because we are Catholics and the prayers have not changed anything about my mother's health. Should I bring the woman back to the shade to see if my mother would recover? I'm just confused.
My Father would not allow us to take her to a native doctor claiming a saint. My mother is dying!
WLW3 — Report from previous week!
It's the photographer. The other day at a sitout we,(my other friends and I) created a drama amidst the guy I suspected. The drama was like this; they were begging me not to do what the jujuman instructed. One of my guy friends started crying that if I do that the person will die. That I shouldn't kill someone because of just laptop and camera. They were like I should not stab the knife on the ground as instructed by the jujuman.
While this was ongoing, you need to see as the thief was shaking. His face was very red. His voice was shaking. So I left pretending to be mad that I won't heed to their advice.
When I met my good friends later, they said that the thiefguy was asking of which jujuman they met and they called one man like that well known and he left immediately. Since that day we haven't seen this guy. His mother even asked of him. He is not at home. I don't know if the fear has killed him or if he is hiding against what?
Just to let you know that he has been confirmed as the thief by his actions. But since no evidence, the case has been closed. I believe that soon my family and I will be relocating to a new apartment.
Thanks for your concern.
---
And here we are at the bottom... You know where we talk and solve? Stach discord channel by 8pm every Wednesdays. Come today, come prepared, there's alot of blessings in helping others. I will be waiting...
---
Authored by @itoroarchibong and edited by @winarobert on behalf of the Stach community
---
---
STACH is a physical Accelerator Hub dedicated to decentralizing the offline by breaking the barriers to accessing the internet like light, internet and conducive working space.


Steem Accelerator Hub... decentralizing the offline!