OK! Steemians!
@itoroarchibong is here again as that designated host in charge of taking off your worries every Wednesday!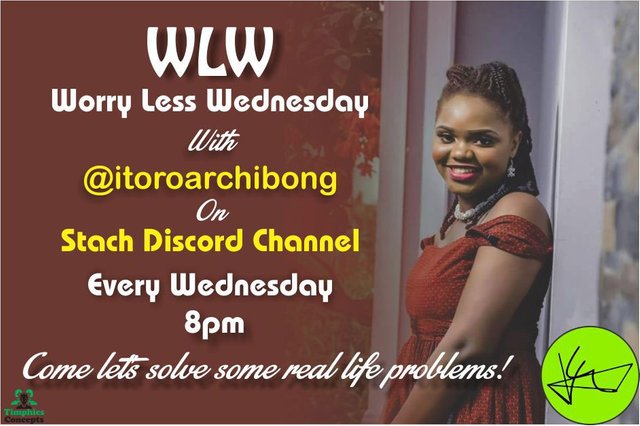 Image by Itoro Archibong
If you look around you, you will find people undergoing emotional dismay.
You see friends hurting each other.
You will see people falling apart due to the uncontrollable circumstances around them.
Girls shedding tears all about.
Men developing strong hearts due to bad circumstances.
Life is not a bed of roses!
This show invites you to come, let's join hands, heads and thoughts in solving some real life problems that come to our official desk...
Last week on the stach discord channel, we talked about the angry tenant and the annoying landlord, the student whose best friend/future bed mate had bad body odour and the slay queen who is becoming unslayable!
This week I present to you the following threatening issues:
WLW 1
Please keep me anonymous. I am a staff at a small good earning private firm. My job generates daily tips for me and I could create time for myself. My boss was owing me 2 months salary (100k) and everytime I asked him, he kept saying things are hard that I should hold on and equally we've not been earning much as usual. Then in a conversation at my street it came to me that he bought his side chick not even real girlfriend a laptop worth 250k. I couldn't believe this and had to do proper research and confirmed it.
Afterwards I reminded him of the salary that I had to renew my rent. He angrily ranted and gave me only 30k.
Now it's getting to month end and during a conversation I playfully reminded him of the 70k, he shouted that if I wouldn't exercise patience, I was free to resign. On getting home another rumour came to me that he bought his side chick a TV.
I want to take this case to the police but even if I recover the money, I will lose my job automatically.
I love my job because of the tips and the time I have for myself but I also need my money and also need my boss to stop owing me because I know he has the money. Please I need your advice.
WLW 2
Aitee I saw your flex on the real life stuff... wow... you are going places... I have a very serious problem. I was the Treasurer of my church and had to hand over 213k to the next administration. I have deliberately stayed back from church claiming to be Ill because I don't have the money complete.
Last week I was able to raise the money complete and on my way from the bank I was duped by these trade fair 419 criminals. Believe me I fell for them.
**_I had to stay back from church again and sent a text message to my chairman explaining what befell me and he replied me with this,
"For a month plus you were sick, now trade fair tomorrow what? The Lord shall punish you and the police station will double your punishment"._**
I haven't slept at home since then, how do I do this? What kind of church chairman sends such text? How can the church think of arresting me? Please do I talk to my pastor or keep hiding?
SERIOUS WLW
I lost my phone in a shop opposite my house. There was this guy we accused but he denied. He was the only one who unplugged phone before I came in. Angrily, I visited a witch doctor with names of suspects but none was identified by him as the thief. I later got home and realised I wrote a wrong name for the major suspect. I went back to the witch doctor and he was confirmed by the man as the thief.
I came home and told him to give me my phone he still denied saying that I had no concrete evidence. He followed us to the witch doctor who casted a spell that the thief would fall sick after 3days and gradually lose his life if the phone is not returned and if he doesn't come back to the shrine to pay some money.
After the guy left, the witch doctor told me that he had protected himself against any attack and that he had sent whatever should have befallen him to attack me. Then the witch doctor gave me some task to carry out to reverse the whole situation and I did.
3days later he was doing well, 4 days more I learnt he was seriously sick and now that guy is becoming sicker.
He has refused to admit he stole the phone, he could die! I don't wanna have blood on my hands.
But I need my phone and the money I've spent at the witch doctor's shrine.
It seems like this guy is tired of his life, do I let him die and live with the guilt forever or I go to plead the witch doctor with money to set him free?
---
I guess you do not want to miss out on the tacklings and solutions formation of these situations!
Let's take the trip down there... I will be waiting for you by 8pm at stach discord channel!
Catch ya!
I remain Itoro Archibong... 😘😘😘
---
Authored by @itoroarchibong and edited by @winarobert on behalf of the Stach community
---
---
STACH is a physical Accelerator Hub dedicated to decentralizing the offline by breaking the barriers to accessing the internet like light, internet and conducive working space.


Steem Accelerator Hub... decentralizing the offline!