My big milestone in @reggaesteem - future plans.
Amidst all the chaos and uncertainty of the last couple of weeks on STEEM, I hit a major goal of mine that I'm finally getting around to posting about.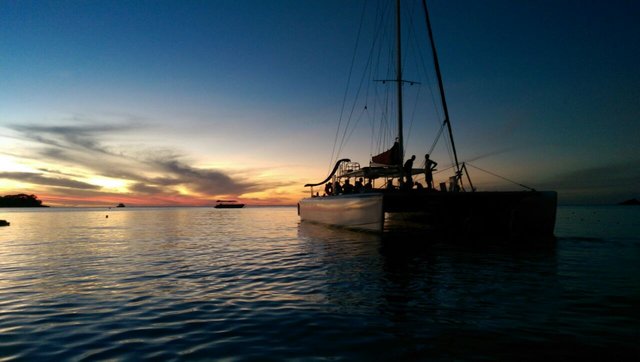 Image source: Reggaesteem website
---
100,000 JAHM!
My goal when joining the @reggaesteem tribe was to reach 100K and get a JSNS token. Well mission accomplished. My initial target was by the end of 2019, but I didn't quite make that goal. Still my first (of many hopefully) 100K is in the bag.
JSNS
Last week, the @reggaesteem team reviewed my stake and activity and awarded me the JSNS token. I have learned that this is only the second one issued, with @shanibeer being the first person to receive one. There are a couple of other tribe members who would probably have qualified, but they haven't been requested or issued yet.
For those that don't know, a JSNS token is redeemable for accommodation at a number of Jamaican resorts and hotels. Full details can be found at the tourism link on the Reggaesteem.com website. This is a unique use case for tribe tokens, and crypto in general and an awesome initiative.
There are also benefits for JSNS token holders who attend the upcoming JAHMFEST event. As for my JSNS, it will probably not be in use this year, as I am not in a financial position to make the trip from Australia to Jamaica. If someone makes me an offer I can't refuse, I may be willing to sell it - hit me up if interested and we can talk.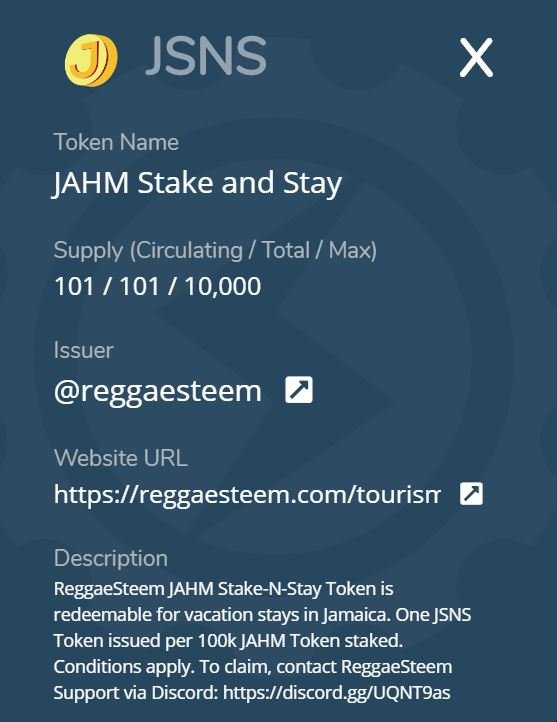 Image Source: Steem Engine
---
Future plans:
I plan to try and increase my involvement here in the Reggaesteem tribe. I'd like to post more often, but Reggae and Jamaican content is not really a strong point for me. All future posts, comments and involvement will come from this account (@jk6276.jahm), not my main account.
No more Auto votes. The only auto-votes I have left in place are for the founders @donald.porter, @dmilliz and @miyard, the @reggaesteem and @jahm.syndicator accounts. Everything else will be done manually. I will attempt to be here daily curating, commenting and voting, but make no promises. I think my stake will help the tribe more if I manually curate, and move away from personal curation maximizing, which I have been guilty of up until now.
All votes will be based on personal preference, my feeling for content quality and contribution to the tribe. I personally won't be paying attention to the ways people use their stake - If you stake, great, if you sell, none of my business. I haven't got time to worry about how people are managing their JAHM, and will base my votes on the content and engagement occurring, as best I can.
EDIT: I have decided to also remove auto-votes from the founders - nothing personal at all. I just saw a comment from @dmilliz along these lines, and have had a rethink and will stop all auto-votes completely from now on from this account. 100% manual.
My hopes:
I would love to see more JAHM content, more engagement and a growing community here. I think this tribe has so much potential, and I plan to actively assist any local Jamaican businesses or community groups that appear here.
I really hope Steems drama's settle and in particular SMT's happen. I'm not sure of the @reggaesteem teams plans regarding swapping to an SMT, but I personally think it would be a great idea. SMT's will open the door to external exchanges, and more opportunities.
---
A tune to finish with.
Nattali Rize is a performer I am following. She started out in an Australian Reggae group called "Blue King Brown" and is now forging a solo career. She has been touring the US recently with her album Rebel Frequency. The latest relaese from that album is "Warriors". Enjoy.