Beginners guide to staking with Reddcoin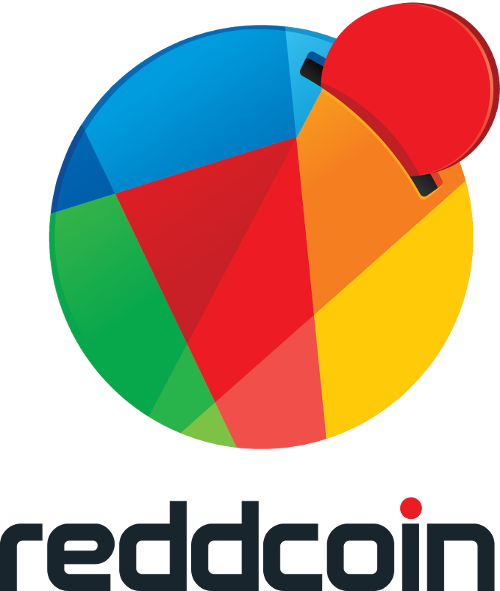 Source: Reddcoin.com
Thanks to my earnings from posts here on Steemit, I have had some spare 'coin' to play around with. Having a growing interest in different cryptocurrencies I wanted to grab a bit of a few and get to grips with exchanges, wallets etc.
One coin I settled on is Reddcoin (no relation to reddit!).
This claims to be a 'Proof of Stake Velocity' algorithm, which also seems to have (in my experience) FREE transactions.
Staking vs Mining
A noob's perspective, mining = getting rewards for solving complex problems, whereas staking = getting rewards for owning the coin.
With Reddcoin, you stake by keeping your wallet unlocked (for staking) and having some RDD in your wallet. The wallet takes part in validating transactions on the network, this is how you earn your rewards.
The more RDD you have in your wallet, the more often you stake.
What wallet?
I grabbed the wallet download from the home page, though they have a redesigned one available too.
Installation was simple and painless, wallets are available for Windows 32 bit/ 64 bit, Mac and surprisingly Linux too.
You need some coin
I transferred SBD to Bettrex.com and converted that to Bitcoin, THEN converted that to Reddcoin. True to form I bought near Reddcoin's high, so my coins are worth somewhat less now but such is life 😒
After that it was a simple task of generating an address from the Request tab, then sending a small portion from Bittrex to my local wallet.
Stake me!
3 things need to be true before you can stake
Your wallet needs to be caught up with the blockchain
You need coins in your wallet
The coins must have 'matured' for at least 8 hours
It took 2 full days for my wallet to catch up, this is after I downloaded a file with some history in it.
I waited till it was caught up to send some coin, then unlocked my wallet for staking and got this screen;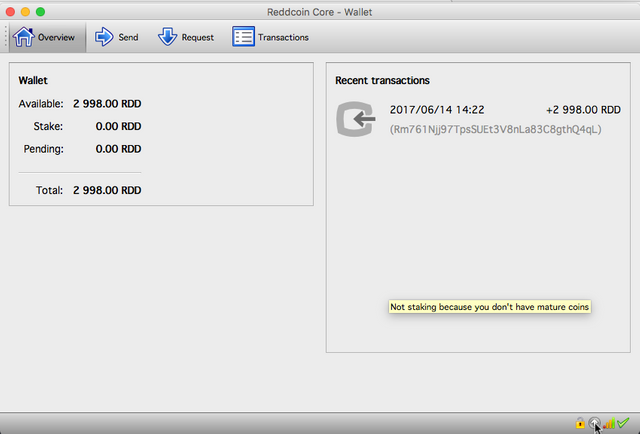 I grabbed a screen shot with the message, as you can see I had 1 and 2 in place, but the coins had to mature.
After my coins had matured I could see my weight vs the network weight, and realised with my paltry sum it would take weeks to get a stake in.
I found a handy tool that you can use to work this out before getting your own Reddcoin and wallet etc. Visit Reddcoin stake calculator and put an amount in to see how it goes.
Instant gratification
So I left my wallet open on an old notebook running Ubuntu for 3 days, then got impatient, so sought an alternative.
I found that BTCPOP.co stakes with the coins in it's POS wallets and distributes the coin to the people who have a balance (minus a fee for maintaining the wallet)
Here's a banner, feel free to go direct to https://btcpop.co if you don't like referral links 🙃

(Referral link)
So far this has turned out great, I started getting the staking rewards from the day I sent my coin there, generally there are a few rewards per day. This makes me think there are a few people on BTCPOP that have quite a bit of RDD in their wallets!
With staking you should get an average of around 5% per year, which matches up very closely with what I see on BTCPOP, meaning their fee is not high at all.
Conclusion
I am glad I moved my coin to BTCPOP, I think I would still be waiting to stake if I had kept it locally, added to which I would be paying electricity and fretting over whether the wallet was staking or not.
I am hopeful for a price increase in Reddcoin, it seems as if they have had developments 'in the works' for some time though, so we will wait and see.
I am posting what I managed to piece together, if you know more or spot a mistake, by all means leave a comment and let me know.
If you fell like leaving a 'tip' here is my Reddcoin address: RqxLTcygUHzLTbHrmBvAo5uyvJ7TM33Ftr
Thanks for reading!