Review- RecordsKeeper: Ultimately Secure, Immutable Data Storage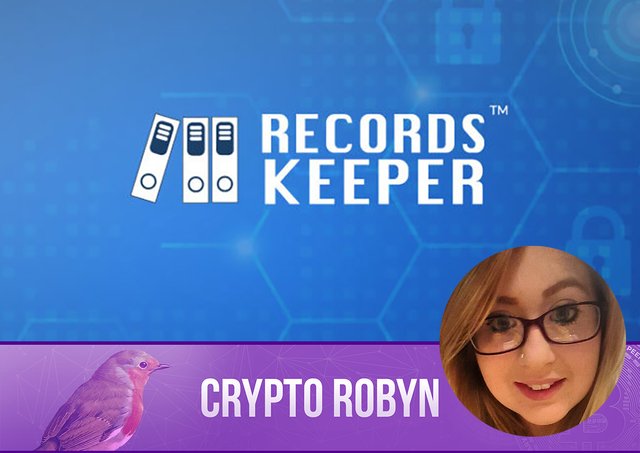 Hey guys,
Today's review is focused on RecordsKeeper, wo are looking to provide a decentralised platform for the secure and immutable storage of data of all varieties on the blockchain.
Quick disclaimer: this project, like all I review, is new to the scene and is still under development so please always do your own research. Also remember this is my opinion and not financial advice; my content is for educational and entertainment purposes only.
Let's jump right into it!
INTRODUCTION
Protection of confidential data is essential in the modern world. However, the fundamental weaknesses of technologies used for storing and transferring data mean that improving and securing data is one of the main challenges facing modern information transfer technologies. Professionals around the world are working hard to improve data storage and data transfer security, for the good of the innumerable businesses and individuals who use the internet every day. Equally, opportunists on the other side of the divide are also constantly working hard to exploit insecure users. This is where Records Keeper comes in, with a proposition which could improve data security on a fundamental level.
Essentially Recordskeeper project is an open, public mineable blockchain platform that provides effective and efficient record keeping and data security. The Recordskeeper project aims to create a whole decentralized ecosystem which handles comprehensive data exchange and verification.
RECORDSKEEPER'S SOLUTION
Records keeper is powered by advanced encryption and blockchain technology; this enables the user to create fundamentally verifiable and immutable records in a way never before possible with the technologies sweepingly relied on today.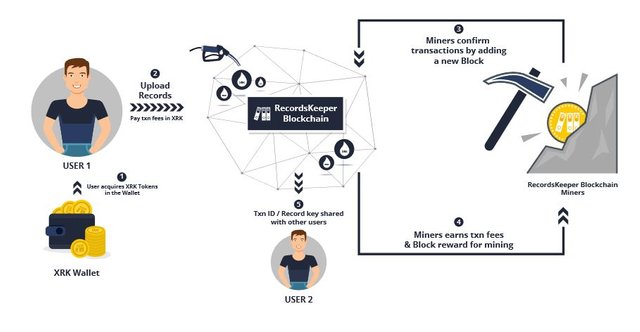 Using the RecordsKeeper platform is very easy. The interested customer only needs to complete registration before creating his or her account. They will then be required to create a unique XRK wallet to be used within the platform. Once a user purchases XKR tokens, he or she can then upload data in exchange for a fee, which is of course paid using RecordsKeeper's native XRK token.
The price paid for each upload is due to be usually 0.1XRK per KB. An upload limit of 8MB is usually set per transaction. Finally, the miner would then confirm that the transaction has been successful, resulting in a new block being added to the blockchain. The miner would thus receive a transaction fee and a block reward for mining.

SPECIAL FEATURES
The special feature of RecordsKeeper is the possibility of providing fundamentally secure and immutable records. This is not possible in already existing technologies like My-SQL, Oracle, MSSQL, etc. Creation of such permanent records would help generate proof of existence and guarantee authenticity while verifying the integrity of a file, record, document or certificate on the blockchain network. In the current market, immutability is expensive to achieve, to the point of being unfeasible for many. Recordskeeper is aiming to help users obtain immutability at a lesser cost.
RecordsKeeper, as a decentralised solution, is inherently non-discriminatory and is open to anyone who wishes to contribute to the platform. The platform is equally user-friendly, and users are able to effectively and securely complete transactions without necessarily understanding the mechanism behind the Recordskeeper platform; the entire process is handled seamlessly from within. A user on the platform can also easily give access to other users without being directly involved in the process.
TEAM & TOKEN SALE
A seemingly capable group of professionals is behind this project. They include Toshendra Sharma- Founder and CEO, Rohendra Singh- Founder and CTO, Pankaj Bhatia-VP sales and marketing, Mayank Vigh-lead developer and other notable personnel and partners.
The project is currently in their private sale stage, which is due to last another 30 days at the time of writing. Accepted currencies are Bitcoin and Ethereum. More details can be found on the RecordsKeeper website.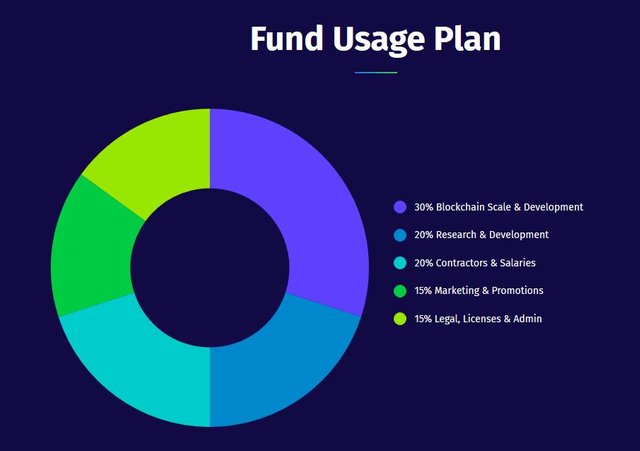 CONCLUSION
Broad access to immutable and highly secure data storage is in my opinion part of the next step of our digital evolution.
Records keeper is a pioneer in fundamentally effective and immutable public record keeping and data security. It will help improve the immutability of records for individuals, businesses and even government. Such technology has the potential to truly revolutionize record keeping and information transfer around the world.
By offering blockchain-based data storage, records can be fundamentally secure and immutable, whilst widening access to such technologies by being able to offer a cheaper rate than current solutions for attempted immutability. All powered by and thanks to blockchain!
I will see you guys again very soon for another in depth project review!
LINKS
Website : https://ico.recordskeeper.co/
White paper : https://www.recordskeeper.co/whitepaper/RecordsKeeper-Whitepaper-English.pdf
Telegram: https://t.me/joinchat/B4T_PxInGAjiXLz1N66t3Q
My Bitcointalk account - datniccy97 -https://bitcointalk.org/index.php?action=profile;u=2099905