This article is exclusive to Steemit, and is my own intellectual property.
---
Wikileaks' motto states, "We Open Governments." It should be no surprise that those who wish death on Assange are members, beneficiaries, and supporters of the same corrupt power structures that Wikileaks has so deftly exposed. The publisher's Editor-In-Chief are under continual attack, not for committing crimes, but for exposing the crimes of the powerful. For engaging in the most effective brand of journalism of the modern era, the publisher has been branded a hostile non-state intelligence service and compared to terrorist groups.
In late March, the Ecuadorian government under President Lenin Moreno cut off Julian Assange's communications with the outside world. However, silencing Assange hasn't satiated the blood-lust of the establishment.
Christine Assange recently joined Twitter in order to more effectively advocate on behalf of her son after he was relegated to effective solitary confinement. Shortly after Christine Twitter debut, a slew of anonymous and verified accounts harassed and mocked the mother of a politically imprisoned journalist.
Cassandra Fairbanks of The Gateway Pundit reported that Caroline Goode, a former UK Counter Terrorism Detective Superintendent was among those who took to Twitter to bully Christine:
"Goode was the Senior Investigating Officer in the Metropolitan Police's Counter-Terrorism Command (SO15). She also happens to be the one who was in charge of Scotland Yard's investigation into Edward Snowden... During her time with the department, Goode used an anti-terrorism law to detain David Miranda, who at the time was the domestic partner of journalist Glenn Greenwald. The department held Miranda for nine hours and seized his electronic property."
One anonymous user, using the Twitter handle "DrumfGo," left repeated abusive remarks in reply to Christine Assange, advocating for her son to be shot by a "firing squad," just days before Mother's day. Images of the abusive posts are available below.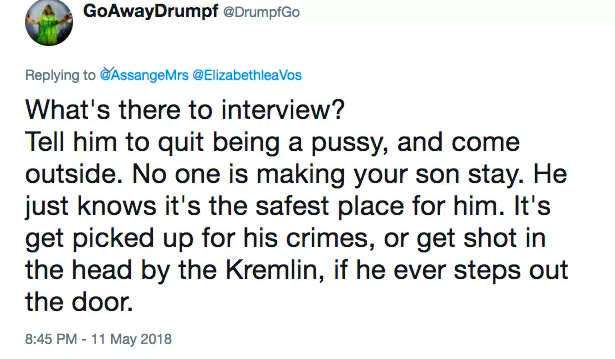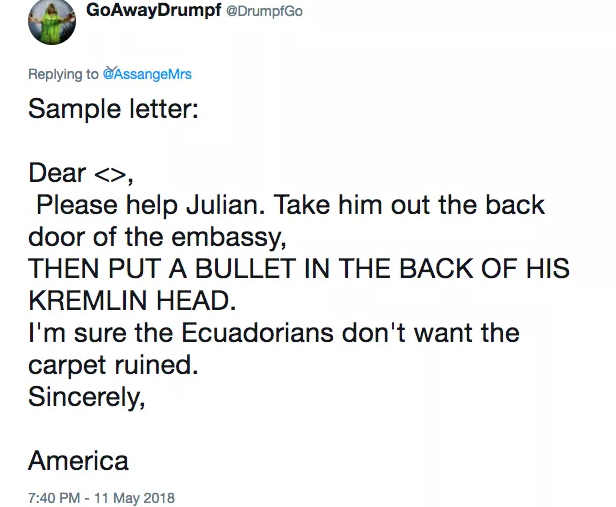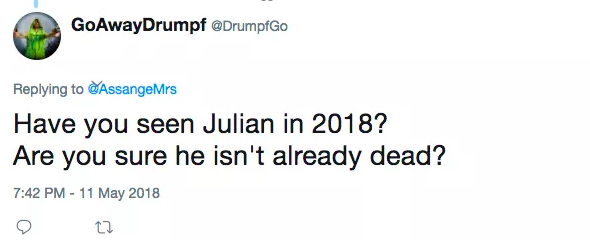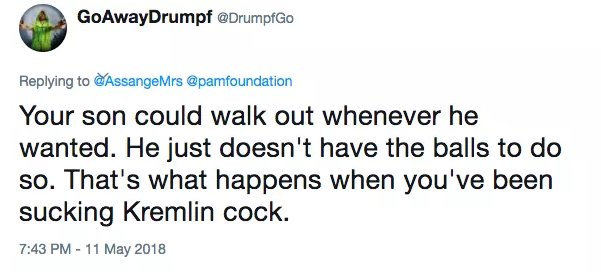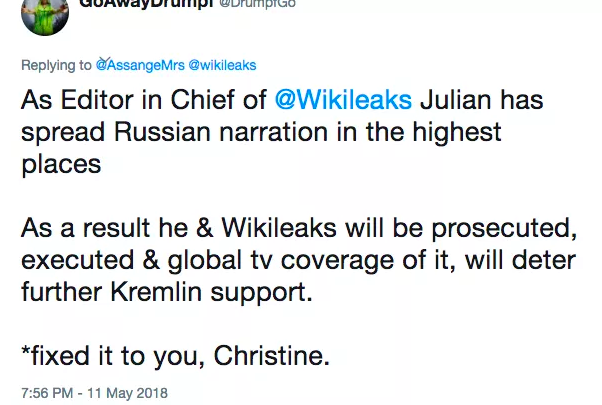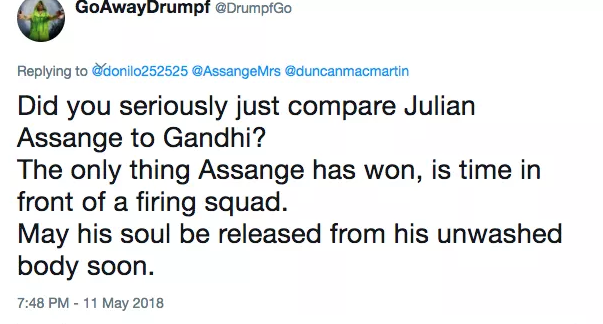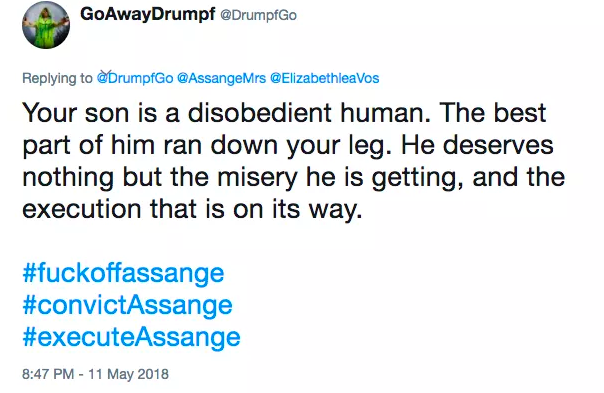 Although the account which Tweeted the invective is anonymous, a Tweet from the same user was 'liked' by the verified account of infamous political operative Claude Taylor. Taylor is a former member of Whitehouse staff during the Clinton administration.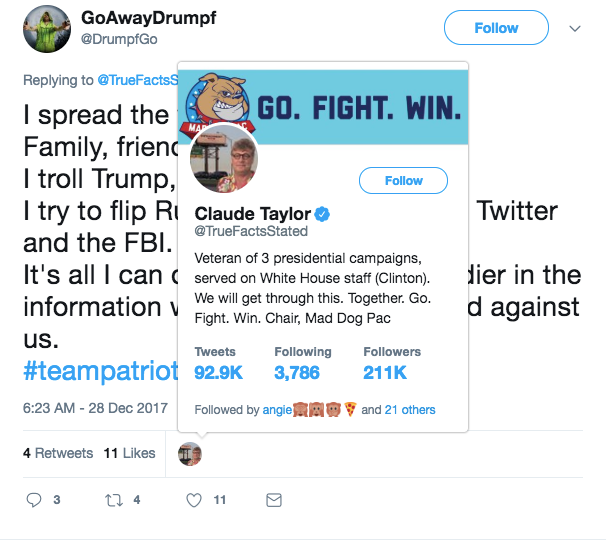 Press reports recount that Taylor has disseminated patently false narratives, alongside Louise Mensch, who also attacked Christine via Twitter:
The latest attacks against Christine Assange from both anonymous and verified Twitter users were far from the first time that serious threats had been aimed at Julian Assange and his immediate circle. Christine Assange recognized this, responding to her online harassers: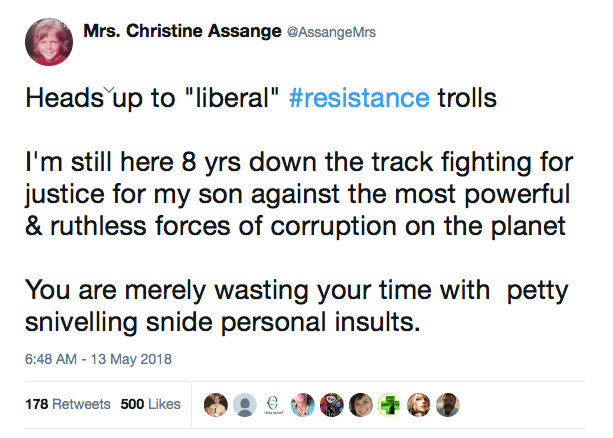 That members of the plutocratic elite and their media standard-bearers would call for the death of a persecuted journalist who has never been publicly charged much less convicted of any crime whatsoever is shocking. That members of that same establishment apparatus would further stoop to insulting that same journalist's mother at a time when he is unable to defend himself is indicative of the degree to which Julian Assange and Wikileaks have terrified the unelected power structure of the Western world.
Disobedient Media previously reported the numerous death-threats made by multiple members of the Democratic Party and US intelligence establishment, which were compiled by Julian Assange last August. Assange Tweeted: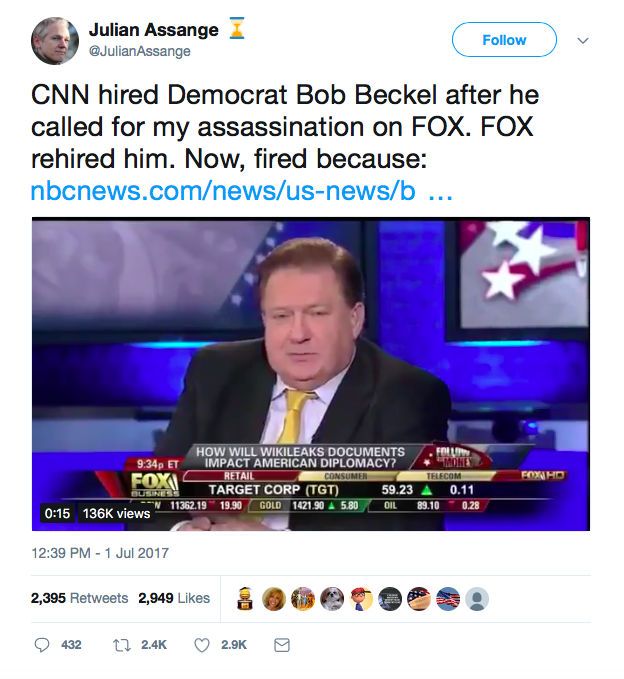 Individuals who had threatened Assange included: Col. Morris Davis, former Guantanamo Bay Chief Prosecutor and a regular legacy press commentator, Democratic pundit Bob Beckel, Reuters contributor Lori Grannis, and Michael Grunwald, a Senior staff writer at Politico, who was a national staff writer for The Washington Post and a 'senior national correspondent' for Time magazine. He had also authored a book on the Obama Presidency.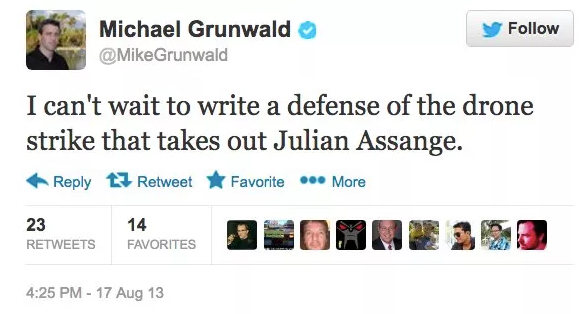 In a recent interview with Sky News Australia, Christine Assange spoke out regarding her son's rapidly deteriorating health and his urgent need for proper medical care. As Christine pointed out, doctors who were able to examine Assange earlier this year spoke out after determining that the Wikileaks Editor-In-Chief requires urgent medical care. They stated:
"While the results of the evaluation are protected by doctor-patient confidentiality, it is our professional opinion that his continued confinement is dangerous physically and mentally to him, and a clear infringement of his human right to healthcare."
This is incredibly compelling because the statements were made before the implementation of severe restrictions on Assange's communications with the outside world which were put into place in March.
Wikileaks states that its publications have been cited by more than 28,000 academic papers and US Court filings. The ongoing effect the organization has had on the Western world, and on journalism, cannot be overstated.
It is important to understand that those who spit venom at Wikileaks, Julian Assange and his mother on social media are almost exclusively members of the plutocratic ruling class.
Donate to Julian Assange's legal defense fund
Sign the petition to end Julian Assange's solitary confinement and arbitrary, unlawful detention.
Follow Christine Assange on Twitter to find out more about the many concrete actions you can take to help Julian Assange.