ITS SATURDAY! AND THAT MEANS NO 'GETTIE' UP EARLY-DAY , NO RUSHING, NO PUSHING AND NO TRAFFIC- HURRAY!!!TIME TO ENJOY A LITTLE BIT OF HEAVEN IN A GLASS.. STRAWBERRY AND GUAVA BLUSH. BOTH FRUITS HAVE AN ABUNDANCE OF HEALTH BENEFITS AS WELL AS BLENDING WELL TO GETHER CREATING A CREAMY SWEETNESS.
If like me you lead a busy lifestyle with family, work and home, not forgetting the dogs! I find it really pleasant to get up on Saturday mornings, not too early, but early enough to have that 'thinking time' and prepare a fruit smoothie to go with some pancakes  a cup of Earl Grey and my gratitude book of quotes; a book I dip in and out of to remind me to be thankful for what I have.

Fresh strawberries have just started to come back into the markets and with guavas overflowing, what better combination could I have this morning.  A known superfood, strawberries are an excellent source of Vitamin C
boosting your immune system. High in anti-oxidents that not only aid your immune system, they are a good source of promoting good eye health, and may help in preventing cataracts( the clouding over of the eye). The antioxidants and phytochemicals found in strawberries can also help to reduce inflammation of the joints, which is known to cause arthritis. They are also good at lowering you cholestrol levels - a bowl of strawberries fresh or frozen a day can really  help in keeping those cholesterol levels lower (source Heart and Stroke Foundation).  And for those of us who like to maintain our 'Youthful Looks" - its been said that strawberries can keep the 'wrinkles at bay'! - the Vitamin C in strawberries is need for the production of collogen; collegen helps to improve skin's elasticity and resilience.  As we age, our skin losses elasticity ( the collegen breaks down) so by eating foods rich in vitamin C  it can often help in  healthier, younger looking
skin...
Guava- a similar looking fruit to a 'pear' , sweet and juicy and again packed with superfood health benefits. Guavas  are  high in manganese and this helps your body to absorb other key  nutrients from the food that you eat.  The potassium in guavas helps normalise  blood pressure levels as well. Drinking Guava juice is  good at this time of year when coughs and colds start to appear.  High in Vitamin C, antixoidents, Guava has one of the highest properties of Vitamin C and iron among fruits, and both are proven to be preventive against colds and viral infections, BUT ONLY THE JUICE  - RIPE GUAVAS eaten raw  are not as effective in prevention, instead it tends to clog up the airways making a cold worse! so if you have a cold avoid eating them...These little superfruits also have weight loss benefits - good for after
your Thanks Giving Dinner and Christmas!- so if you want to shed a few pounds before Christmas arrives eat some raw Guava;  lower in sugar content than apples, grapes, oranges,  guava can help you lose weight by regulating your metabolism.  Guava makes for a very filling snack and satisfies the appetite  very easily.

So the combination of these two fruits will give your body a real superboost of Vitamin C and get your body ready to fight off any infections this winter.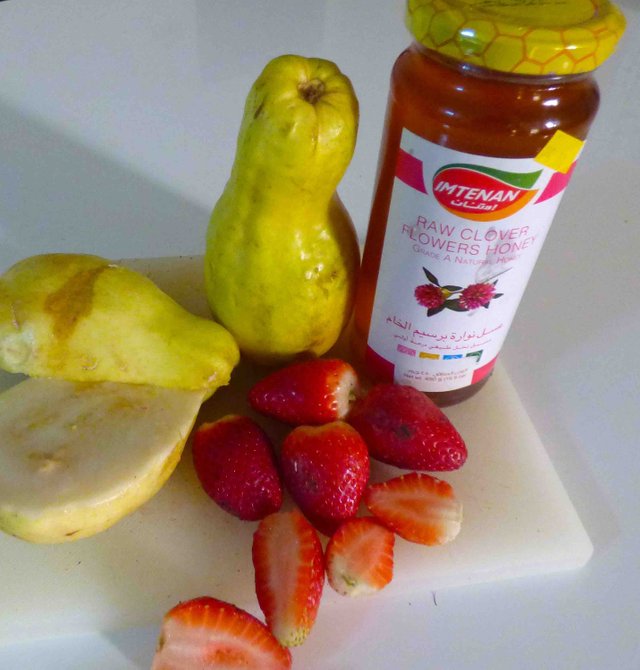 Strawberry and Guava Blush Smoothie
1 cup fresh or frozen strawberris
2 guavas - deseeded or look for Guava Nectar in health food stores
Almond milk/coconut milk/soya milk
organic honey to sweeten to taste -

TO MAKE
Add all ingedients to blender - blend and pour into glasses.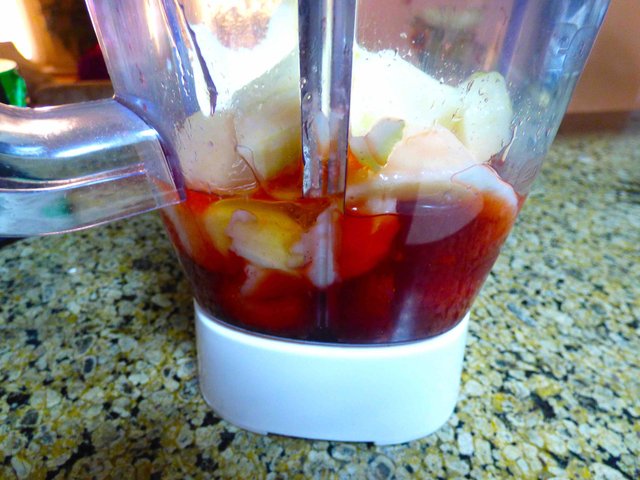 ENJOY :)

Extra's if needed - I have added wheatgerm, chia seeds to my smoothie today
Spinach and a banana could also be added to this combination, but you will get a more 'green colour smoothie' from the spinach- but it tastes great.

Pancakes: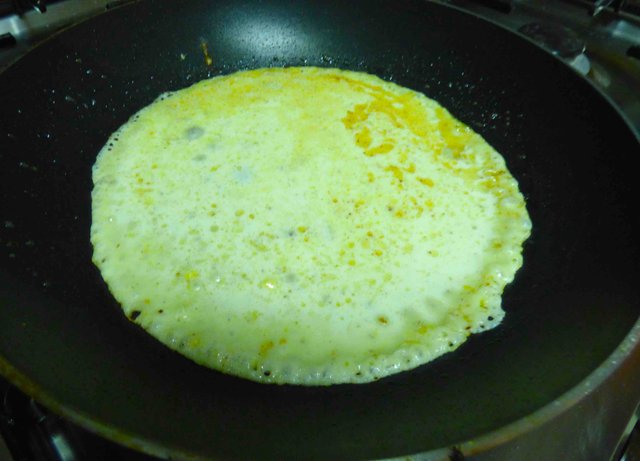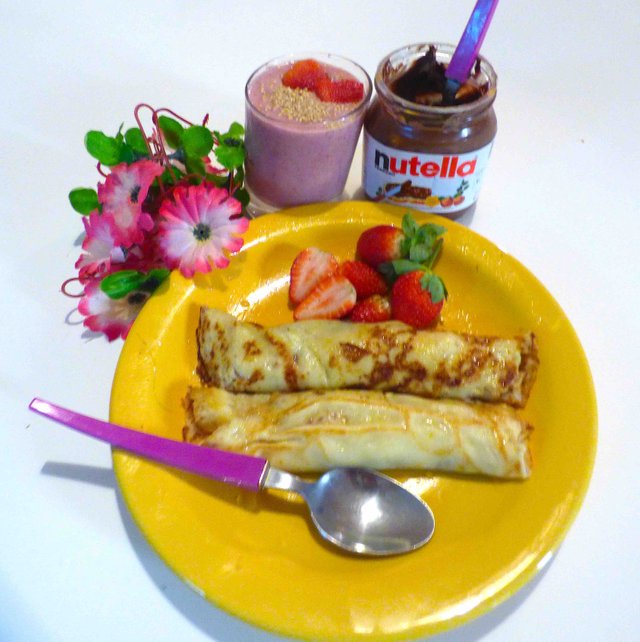 Olivia's has nutella and strawberries inside and honey drizzle ....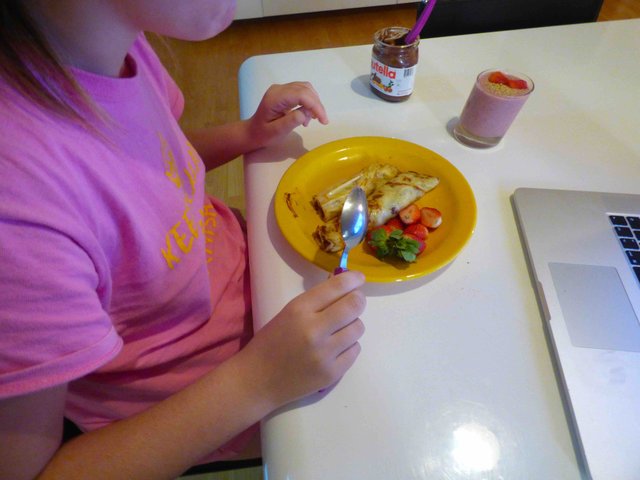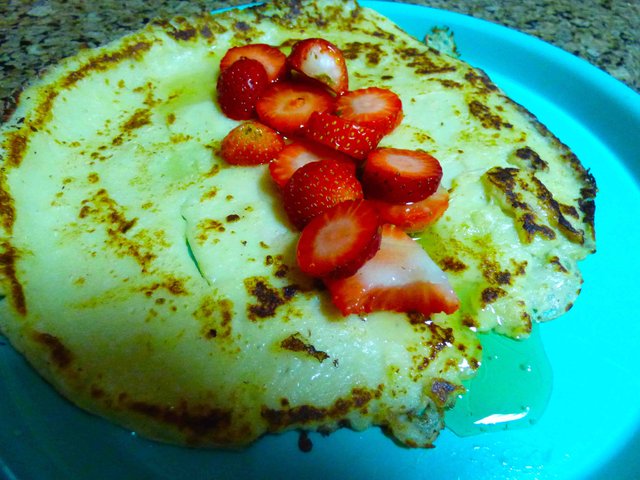 Mine served with Fresh Strawberries, Honey drizzle and Strawberry Guava Booster
And my so English morning cuppa!!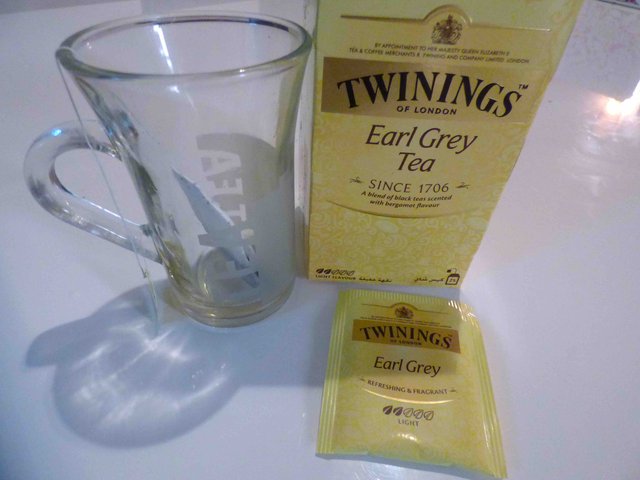 BON APPETITE :)

IF YOU HAVE ENJOYED MY POST TODAY, PLEASE FEEL FREE TO VOTE AND FOLLOW ME IF YOU LIKE  SMOOTHIES/JUICES/HEALTHYCOOKING AND LIVING - NEW FRIENDS ALWAYS WELCOMED AND COMMENTS DEFINATELY APPRECIATED :) All photo's are mine and recipe is one that I have used for years and adapt to various fruits and veg!