RECIPES MAKE KOREAN DELICIOUS FRIED CHICKEN
RECIPES MAKE KOREAN DELICIOUS FRIED CHICKEN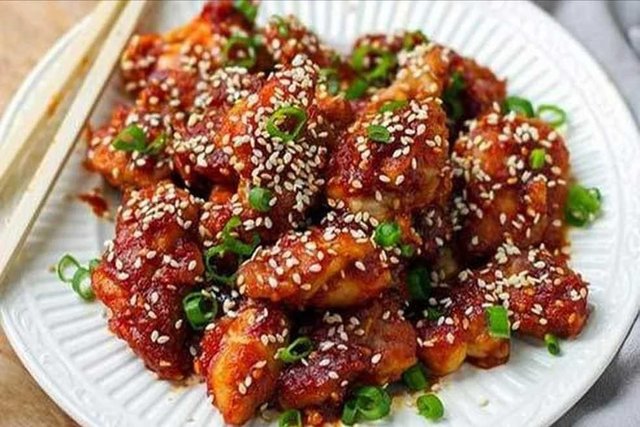 Intrigued by Korean-style sauce fried chicken that you often see in Korean variety dramas or shows? Relax, you can make it yourself at home. This is the recipe.
Ingredients:
2 chicken breast fillets, diced (not too small)
2 eggs
4 tablespoons of flour
4 tablespoons of rice flour
1/2 tsp salt
1/2 tsp pepper powder

Seasoning sauce:
3 cloves of garlic, puree
4 tablespoons chili sauce
1 tbsp tomato sauce
1 tablespoon sweet soy sauce
2 tablespoons of honey
1 tbsp of sugar
1 tablespoon of vinegar
sufficient sesame oil
200 ml of water
sesame seeds that have been roasted to taste

How to make:
Mix flour, rice flour, pepper and salt. Beat the eggs, dip the chicken and roll it with flour. If you want to be rather thick, dip it again in the egg and roll it with flour. Set it aside.

Fry the chicken to yellow and dry. Drain well

Saute garlic until fragrant, add sauce, sweet soy sauce, vinegar, honey and sugar. Mix well, add a little water and stir in low heat so the sauce doesn't burn. Add enough salt, and stir again until it boils and thickens.

Add fried chicken and mix well with the sauce. Serve on a plate with a sprinkling of sesame seeds.
So, Korean fried chicken sauce is ready to serve with rice or serve as a snack watching TV