Marinated Peppers Snacks
The harvest of chili peppers pleased) But when I decided to try their spiciness, it turned out that almost all of them are sweet with a light wit.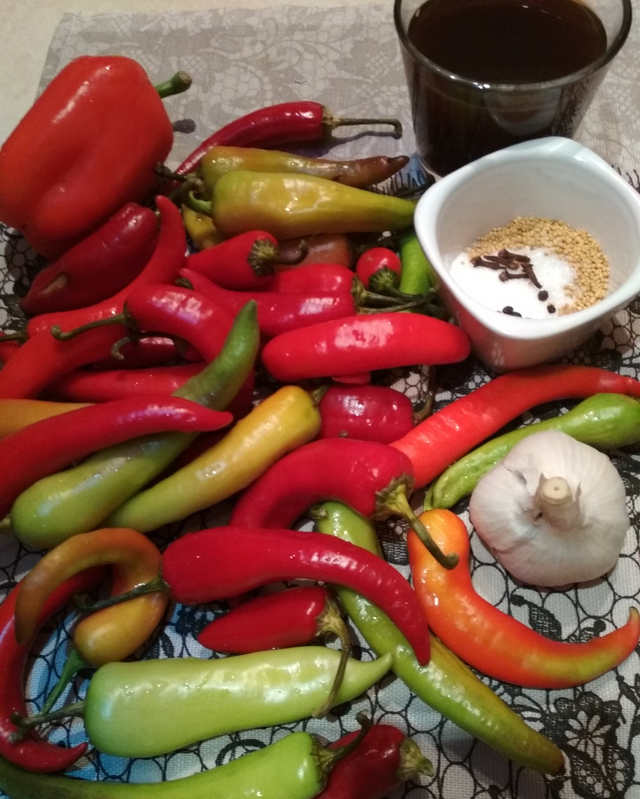 In appearance - this is the correct, brutal hot chili peppers, of which I was going to make an adjika! But their inner content was tender! Well, the expression "appearance is deceptive" once again confirms its correctness!)
I began to try them methodically and of course to eat them: it turned out that there was only one hot and sharp pepper for five sweet peppers, from one piece of which I just caught my breath, a fire started up in my mouth, tears came to my eyes, and smoke came out of my ears !!))
It was decided to marinate them, because even a single hit in a jar of such bitter pepper will do its job)
Marina perfect impromptu:
30 pieces of peppers;
1 head of garlic (6 cloves);
4 bay leaves;
a few sprigs of dill;
2.5 teaspoons of salt;
3.5 teaspoons of sugar;
1 teaspoon mustard seed;
5 buds cloves;
10 black peppercorns;
2 cups hot boiled water;
1 cup (incomplete) of wine vinegar (I had red).
Mix salt, sugar and spices in a separate bowl.
Peel the garlic, wash pepper and herbs.
I wanted to add to jars and strips of Bulgarian pepper, but it was eaten in the process))
In the pre-prepared, sterilized jars (2 half-liter) add garlic, bay leaf, dill sprigs.
In a separate container, peppers need to be slightly cooked: we pierce each pepper near the stem with a knife so that the water goes inside, pour it with hot water and after boiling boil it for a few minutes for 2 minutes and turn it off.
I did it in the microwave, pinning the peppers with a plate so that they would not pop up. After you need to drain the water and cool them slightly.
Cooking marinade:
In a separate bowl, pour two glasses of water, add spices, salt and sugar. We set on fire to bring to a boil.
After boiling, pour in a glass of wine vinegar, stir, bring to a boil again and turn off immediately.
I often use wine vinegar when marinating peppers or plums. It seems to me more gentle, delicate and practically does not interrupt the main flavor and taste.
Spread peppers on banks. I tried to put them vertically and fill the jar as tightly as possible.
And finally, pour the hot marinade completely under the lid, cover and spin.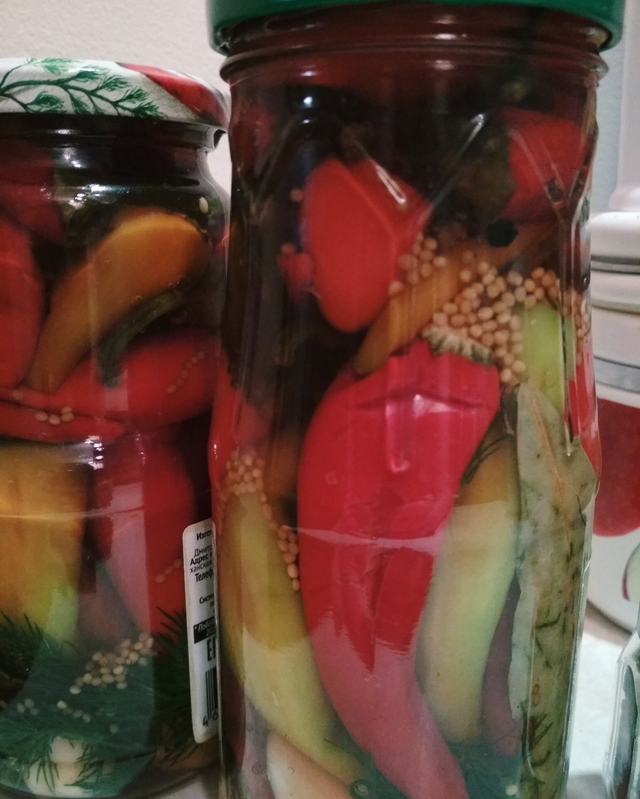 Such a bright and tasty snack will come at an opportune time in the fall and winter) He will warm, chase away a cold, and fit almost any hot meal as an addition)
Why are there to the dish, and under the glass a wonderful snack!))