Lentil Soup with Vegetables and Spinach
Lentil Soup with Vegetables and Spinach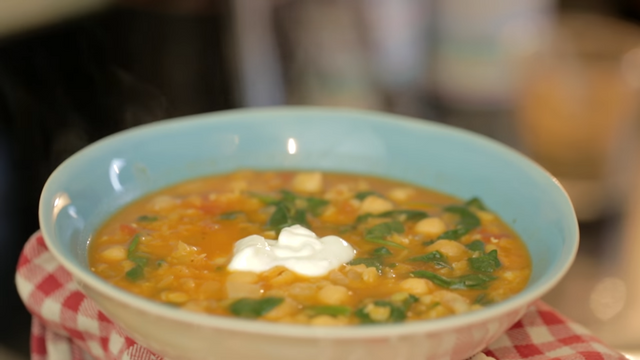 Ingredients
250–300 g of brown or green lentils;
2 medium carrots;
2 celery stalks;
1 onion;
2 tablespoons of vegetable oil;
3 cloves of garlic;
2 teaspoons ground cumin;
1 teaspoon ground coriander;
½ tsp paprika;
salt - to taste;
ground black pepper - to taste;
1 200 ml vegetable broth or water;
400 g sliced ​​tomatoes in their own juice;
2 sprigs of thyme;
2 buns of spinach.


Cooking


Soak the lentils in cold water for 1-2 hours beforehand. Drain and rinse the beans under running water.
Cut carrots, celery and onions into small pieces. Heat oil in a saucepan over medium-high heat, put the vegetables and fry for about 5 minutes.
Throw minced garlic, cumin, coriander and paprika. Stir, fry for 1 minute and season with salt and pepper.
Add lentils and broth or water and bring to a boil. Reduce the heat, cover the pot a little and cook for 40–50 minutes until the beans are soft. In the middle of the preparation, place the tomatoes and thyme.
Add the spinach leaves to the soup and cook for another couple of minutes. Then salt and pepper to taste.


Thanks for a view,
Upvote and Follow @techmax for more.