Lovely Yummy Fruit Pizza!!!!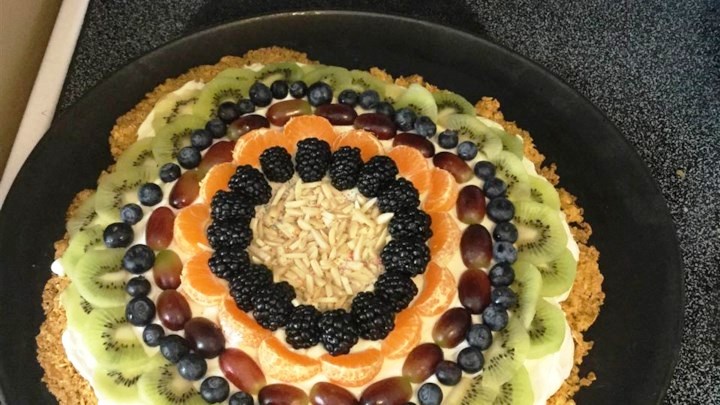 Fixings
Covering:
1 container pounded cornflakes
2 tablespoons spread, diminished
2 tablespoons light corn syrup
2 tablespoons white sugar
1 tablespoon nectar
Icing:
2 (8 ounce) bundles cream cheddar, mellowed
1 (7 ounce) shake marshmallow lighten
Fixings:
1/2 container cut strawberries, or to taste
2 apricots, cut, or to taste
2 kiwi, peeled and cut, or to taste
Bearings
Preheat stove to 350 degrees F (175 degrees C).
Blend cornflakes, spread, corn syrup, and sugar in a bowl until equally consolidated; press onto a heating sheet.
Heat in the preheated stove until the point when outside is brilliant darker, around 5 minutes. Sprinkle hull with nectar and cool in icebox, around 15 minutes.
Blend cream cheddar and marshmallow cushion together in a bowl until smooth and rich; spread over cooled outside layer, keeping a 1/2-inch fringe of covering. Chill hull in fridge until totally cooled, around 15 minutes.
Organize strawberries, apricots, and kiwi over the cream cheddar layer.
Prep
15 m
Cook
5 m
Prepared In
50 m