📸🍷🍏🍄Kitchen Experiments: AMAZING Sausage, Apple, and Herb Stuffing! Recipe with pictures!
Sausage, Apple, and Herb Stuffing! Simply delicious!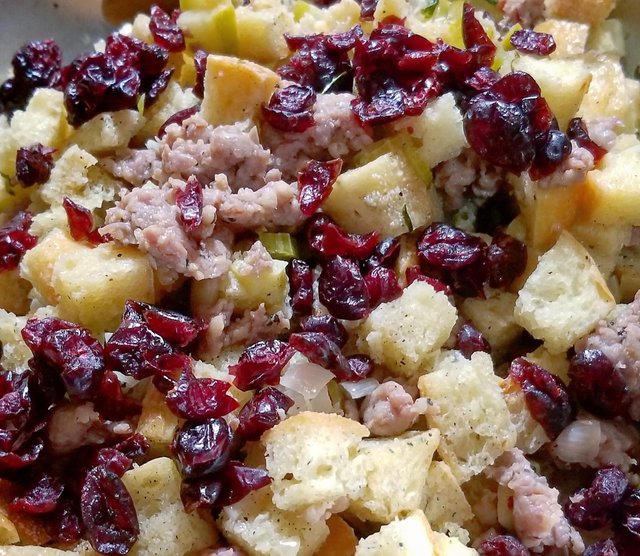 ---
Need a great from scratch, delicious, stuffing recipe for your Christmas table? This Sausage, Apple, and Herb Stuffing is as good as it gets. I get so many compliments and requests for this recipe. You get the savory goodness from the sausage, a nice crunchy texture from the toasted provence bread, and a touch of sweetness from the apples and cranberries.
INGREDIENTS: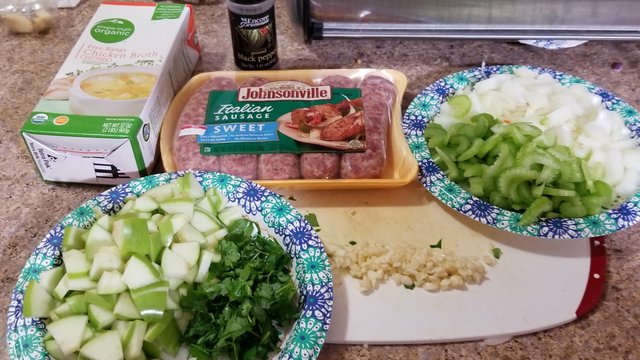 2 pounds Provence bread cut into 1-inch cubes
1 pound sweet Italian sausage with casings removed
2 large green apples
8 tablespoons unsalted butter
2 medium yellow onions
3 stalks celery
3 tablespoons fresh parsley
1 1/2 cup dried cranberries
1 1/2 cup chicken stock
1 Tbs fine sea salt
1 teaspoon freshly ground black pepper
DIRECTIONS:
1. Preheat the oven to 300 degrees F. Cut Provence bread into 1 inch cubes.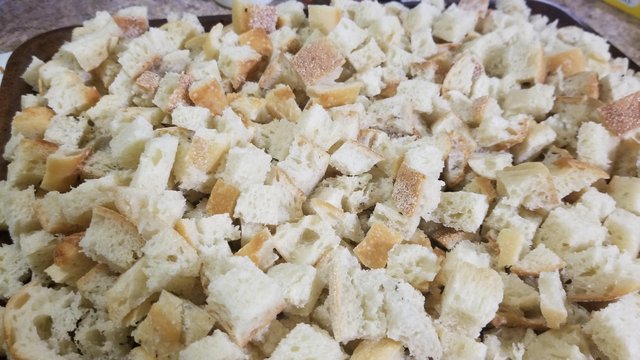 ** 2. Put bread cubes in a single layer on baking sheet and bake for about 8 minutes or until most of the cubes are golden brown. Be careful not to over toast the bread cubes.**
** 3. Raise the oven temperature to 350 degrees F. Place toasted bread into a BIG mixing bowl.**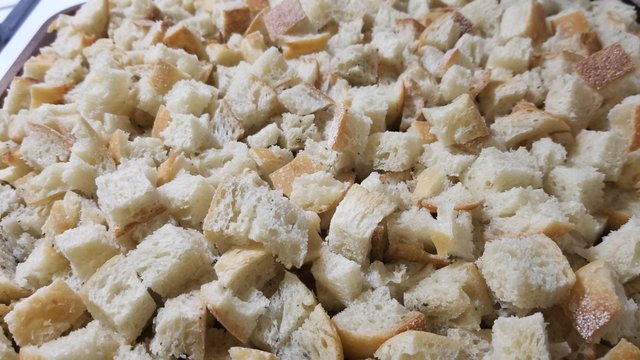 ** 4. In a large pan, melt the butter then add the onions, celery, apples, parsley, salt and pepper. Cook over medium heat until the vegetables are tender but not overcooked. Around 8-10 minutes.**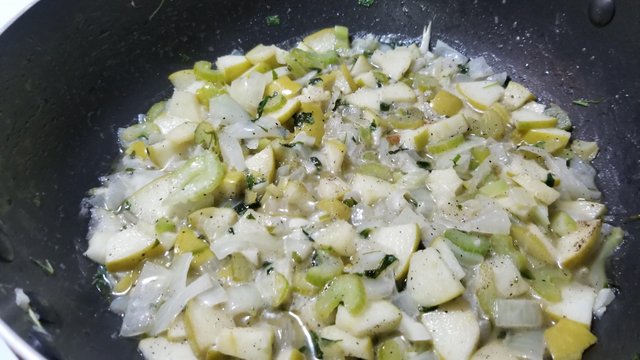 ** 5. Add mixture to the bread cubes.**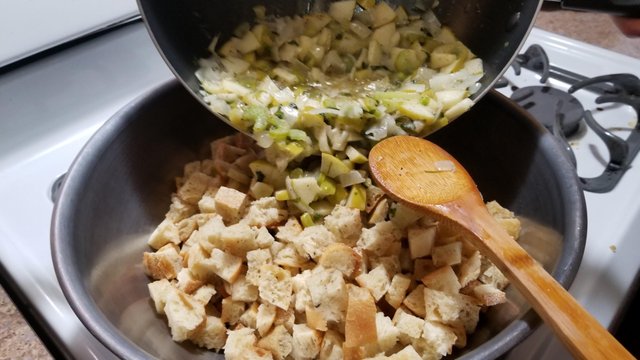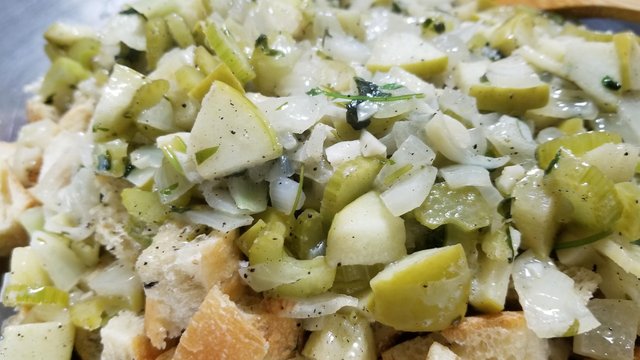 ** 6. If the sausage is in casing, remove meat from casing. Cook the sausage over medium heat until browned. **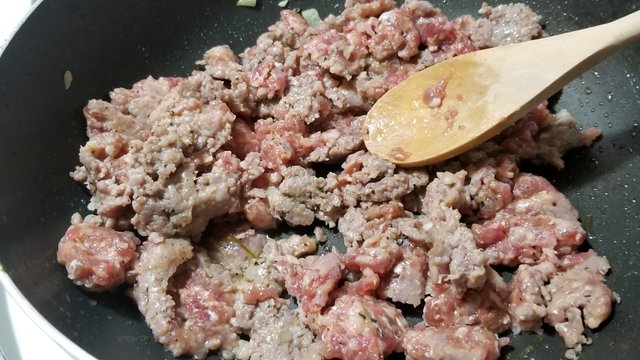 ** 7. Add to the bread and vegetables mixture. Add the dried cranberries and toss to combine and incorporate all ingredients together.**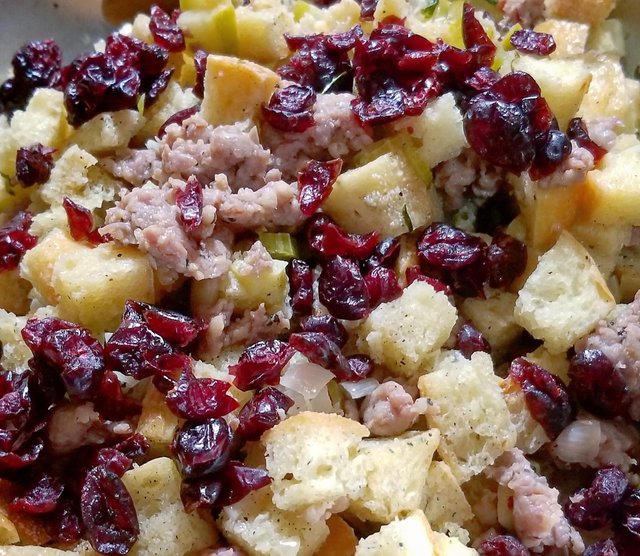 ** 8. Place the stuffing in a chafing or baking dish. Pour the stock over the stuffing. **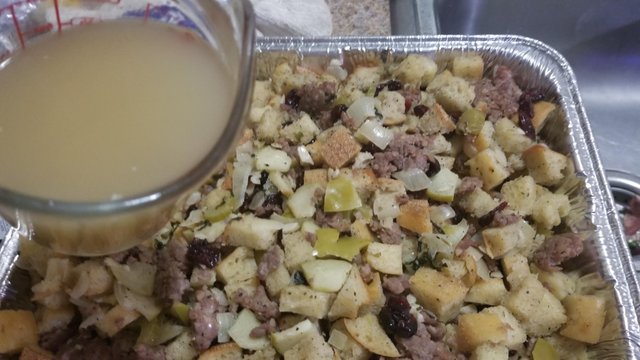 ** 10. Bake for 30 minutes, until browned on top and hot in the middle. Let cool and settle for a few minutes then enjoy!!**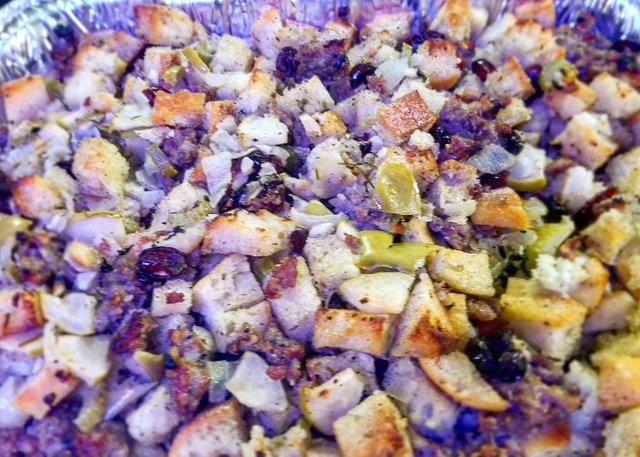 ---
Taken with Samsung Galaxy s8+
All content is original and all photography is mine.
---
Donations in any amount is always appreciated!
For Bitcoin Donations Wallet Address:
1Dj7ZxFwr97mfycS8Bf8H4vmEehAkKXFmW
For Ethereum Donations Wallet Address:
0x88c84933912203bC0A5B6feb32959329579d3A47
---
If you enjoyed this post please upvote, resteem, and of course follow me for future posts. Keep on steeming! 😉
👇👇👇👇👇👇