There are plenty of uses of milk. Milk is a cake component too. Though the main ingredient of cake is usually flour. But now let's take a look at the milk cake recipe. In this recipe milk is used as the main ingredient. We can call it a sweet instead of cake.
Let's take a look a brief info about the recipe first:
Preparation Time: 1h 30min
Cook Time: 30min
Ready Time: 2h 30min
Yield: ! Serving Dish
Servings: 10-12 Persons
Cuisine: Indian, Bengali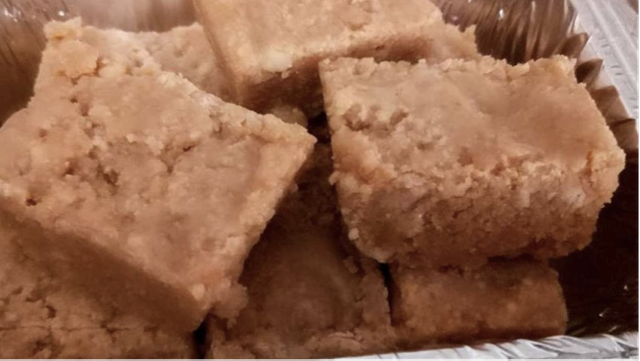 Now let's try this recipe. At first we need some ingredients. Let see the list bellow.
Ingredients List:
Milk Curd: 2 kg
Sugar: 2 cups
Water: 5 cups
Cardamom powder: 1 teaspoon
Steps by stem guide:
Step 1
The milk have curdled and washed by cold water and hung it for an hour so that the water get out.
Step 2
After an hour, the granule should be broken by hand in a bowl. No need to refine.
Step 3
Take a thick bottom pan or pot and boil sugar and water in high heat until it start blowing.
Step 4
After start blowing add the curd and boil it in high heat.
Step 5
When the syrup starts to fall apart, reduce the heat and keep stir it so that the curd could not burn. Add cardamom powders with it.
Step 6
When the curd leaves the pot, remove the pot from stove and smear oil in a bowl, then pour the curd well and keep it in rest for three to four hours.
Step 7
After three to four hours, cut it as a suitable shape and serve it.
Thanks for stopping by. Stay Tuned.