WHITE BEANS WITH VEGETABLES : EASY RECIPE
WHITE BEANS WITH VEGETABLES RECIPE EASY
The beans or white beans with vegetables is one of those healthy, rich, easy and inexpensive to prepare meals. It has all the proteins of the vegetable and the vitamins of the vegetable.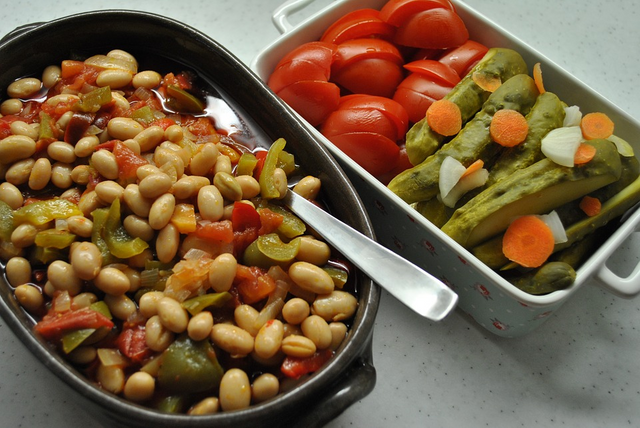 Image source
INGREDIENTS FOR SOME WHITE BEANS WITH VEGETABLES FOR 4 PEOPLE:
400g of white beans
1 red pepper
1 green pepper
2 cloves of garlic
1/2 onion
1/2 leek
salt and pepper
olive oil


Method
1.- The previous night we put the beans to soak. In a large container, cover well with water. The beans will grow and absorb some of the water, so it is important that they are well covered. With these quantities, about 2 or 3 liters of water. We let soak all night.
2.- The next morning, the beans will be much softer. We put them in a pot and put the same water where they were soaking. The exact amount will vary according to taste. So, if you like broths, cover two or three fingers over the beans. If not, with one finger over it is enough.
3.- We add the rest of the ingredients here. The red pepper and the green pepper, the garlic cloves peeled and whole (you can give them a blow so that they are partially crushed), the onion and the leek and half a glass of olive oil. Finally we take a good pinch of salt and a little ground pepper.
4.- Let cook covered and at medium heat. The exact time will vary depending on the variety of beans used, but it will be around 45 or 60 minutes. It is best to go testing, after this time, until they are hard. But do not let us overcook or get rid of it. If you do them in an express pot, which I do not advise if you are a novice, in about 18 minutes they will be ready. Finally do not forget to rectify salt and pepper.
---
Thanks for reading. Stay Healthy.