I'm so done, I quit!
"It's been 20 moons since I joined steem, since when I found it to be really cool platform that could compete with Facebook.
As I am growing older on this platform, I am getting to know about more and more realities of this platform that no one tells when you join.
This platform is no better than Facebook or any centralized shit, infact it's just another centralized shit. Most of the inflation goes to early users, code is open source but not so open to collaborate, CEO is a clueless child, Guy who built it has already left, those who stayed are just milking it like anything in the name of marketing and server costs.
Whales flag without reason, just because they can and want to. The person with highest rep is actually posting useless plagiarized screenshots and noone dares to flag him. Good projects needs to survive on mercy of whales.
I think I had set hopes too high without knowing the reality. It's time to correct the mistake, so I QUIT.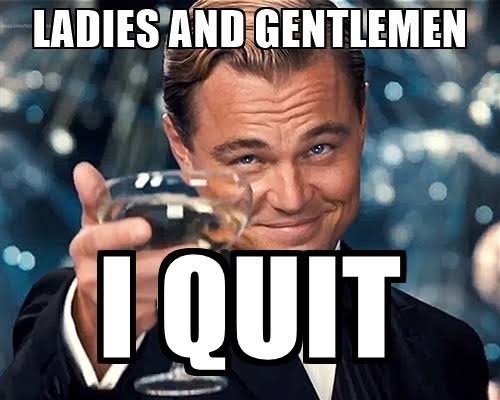 JK, I have some promising projects here and unlike the owners of stinc, I m not going anywhere."