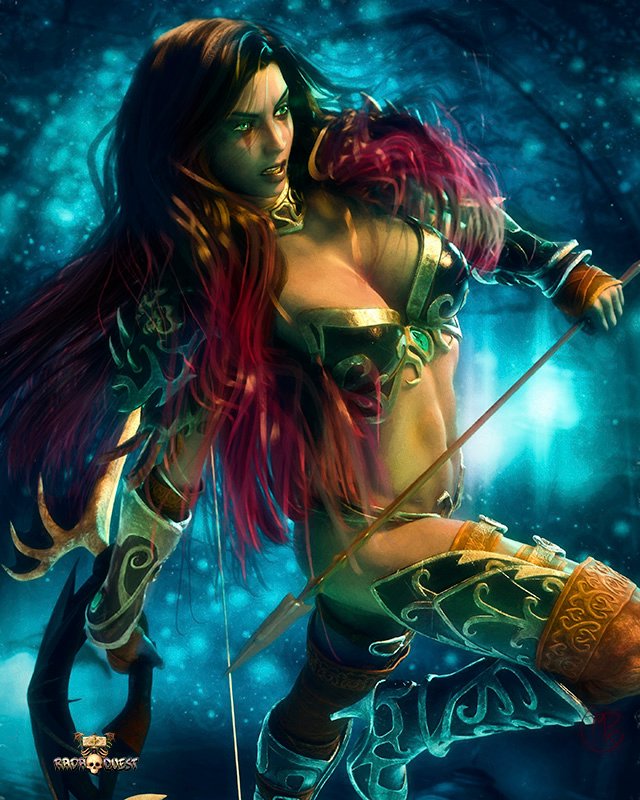 Created by @marcosdk for Rada Quest TCG
A project I have been following for awhile now is a game called Rada Quest. With beautiful artwork from @marcosdk and @axeman this game will have no shortage visually.
I took some time to speak to the creator of Rada Quest @marcosdk about the game. Here is what we spoke about.



I noticed you have been putting a lot of effort into the cards, the artwork is amazing. Have you been working equally as hard on the game play?
Oh, yeah; starting shooting from the hip, haha. But yes, of course. Today I read an article that said Steam is going to erase almost 3,000 games considered "shovelware". The estimate for this year is about 10,000 new games published. It is crazy! Given this perspective, if you want to dedicate yourself professionally to the videogame industry it is necessary to create a product of excellent quality, both in the visual aspect and in the gaming experience. As if that were not enough, Steem is becoming a very attractive platform for video games and we have more and more offer, so the competition is tough. Players will choose quality and entertainment. I must strive to offer what is expected.



Have you got a date set for launch, I don't believe I've seen one yet?
There are some fabulous artists helping me with the creation of the cards, but I am alone in front of the code. Rada Quest is an online multiplayer game that alternates real-time strategy, resource generation and trading card battles. It is a very complex project. In the current state of development I cannot offer a specific date, just an estimate. I would like the game to be released in mid-2020.



What will we be able to do in game ? For example build , fight , trade?
All that! And something else. In Rada Quest TCG you have to create and enhance buildings to generate resources. We have to develop technologies and acquire knowledge to improve productions, increase our attack power and our defense capacity. And, most importantly, we need those resources to strengthen our cards and to face other players, or against the game itself in internal events. I hope that the battles are fun, with our horde of servs plundering the corpses of our enemies and robbing them of resources ... Even though it is not so much fun if we lose and it is we who they plunder.



Your Taruk token sales seem to have gone well , will Taruk become the main in game currency?
No, Taruk will not be currency in the game. Taruk is a token that I created to finance the project. When the game is released, Taruk will no longer be available to sold and the profits generated in the game will be distributed among this token owners (in stake).
The main currency of the game will be the Soul Crystal (SC), which can be traded as a token. This token can be obtained as a reward for events and as a complement to the card packages purchased. Card packs and other consumable items can be purchased with dollars or with Soul Crystal.
Currently I have reached an agreement with Battle Games and also his token, BATTLE, will have utility within the game as a consumable.
The upcoming release of SMT may change some things, but not the essence.



With so many other games out there, why do you feel people will play Rada Quest?
Because the other games are boring. As I have said on other occasions, I would like people to play if only to enjoy the art of cards. That's why I like to have more illustrators. I want Rada Quest to be more than a game; I want it to be a gallery to dream and to imagine the adventures behind each of the characters we see on the cards.



Is there anything else you would like to add?
I would like to add something very important to me. And that is that I would like to thank with all my heart all the support I am receiving from some people; barely a handful, they know it. I want to thank you also for lending me a piece of your wall to talk about my project. I am aware of the difficulty I will face in making this game known in a community where there is already a king. Every day we read messages encouraging to create good content, to create great projects but those who are in the forge, working hard for it, we see how the big boys pass by and they keep betting on the safe and known. Therefore, I repeat, thank you very much to the brave ones who accompany me through the wild lands of Rada.



Thank you @marcosdk for taking time out of your busy day to answer my questions. I hope people will see the passion you have and the vision of what you are trying to build.
Does Rada Quest sound like the game for you? If so here are some ways you can help support it .
You can buy Rada Quest illustrations in a Ultra-High Definition version on the official Rada Quest website
You can also purchase TARUK tokens from SteemEngine.
If you would like to know more about investing in Rada Quest here is a great post from @radaquest about it.
https://Steemit.com/radaquest/@radaquest/500-000-taruk-to-invest-in-rada-quest-trading-card-game?



Also make sure to checkout BattleGames.io for more awesome gaming content!
Battlegames Discord
Battlegames website