Good day Steemers.
---
Entering the Neolithic on the banks of the Euphrates and Tigris rivers in the Middle East, the Ganges in India, the Nile in Africa and the Yangtze in China, began to settle the first cities which met the needs of organization, defense, storage and land of the new agricultural pattern that the humans of that time took mainly in the Fertile Crescent.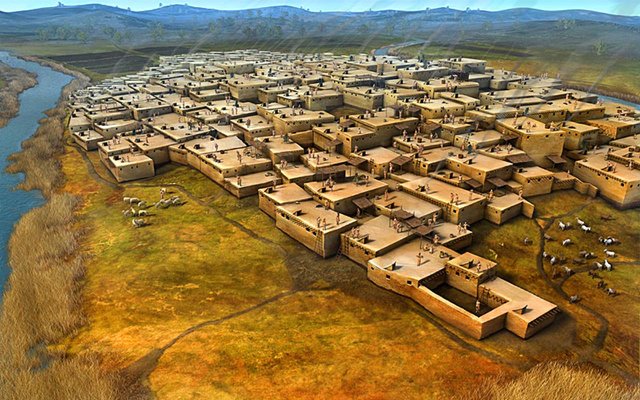 It is estimated that Ain Mallaha was the first organized city in the world with a certain density of constructions and with defensive walls, its foundation is dated to more than 11,000 years old which greatly expands what we thought of our primitive ancestors, their level of organization and capabilities
As I mentioned in the previous publication, the information and transmission of it is fundamental for the development of the first civilizations, which is why these are established on the banks of the great rivers, since in addition to providing irrigation and fishing, they served as communication and distribution channels making trade operations, legislation and mobilization of troops much more efficient.
Around what is called the Fertile Crescent, which is a region of the Mediterranean where the Neolithic revolution originated in the West, where the Euphrates, the Nile and the Tigris flow, was where the first cities and empires were born, a situation very different from Europe with its rivers encased between mountains that did not allow efficient communication and transfer. among the first empires we must highlight the Mesopotamian and Egyptian empires, which were in the west the beacons of civilization for this hemisphere and gave rise to the bronze revolution.
At this time there was a fundamental break around the religious and social, the veneration towards the elements was transformed into deities and properly said and its cult was institutionalized to all sectors of society, in the social area a patriarchal system was created and Nepotistic, we can also point out advances in the arts and in the making of tools, the pottery is much more refined and the use of polished stone is the pattern to follow.
---
---