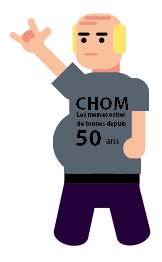 That's why I've created a game about it!
I've been really busy this past, but I might be able to finalize my new game before Xmas.
This time, I've chosen to integrate a song from my punk-rock band called RIPÉ and the whole idea of the game was to create something around it.
At first, I wanted to shoot at some band or singer using real names… After thinking again I thought it might be a little offensive ;-)
I started to work around a 3rd person shooter based on a « Rambo » look. Then, I created enemies that look like ordinary people. Finally, I added a zombie head because I wanted the game to be like the zombie mode in call of duty.
That's it!! You need to kill people that listen to bad music in order to survive.
I've used construct2 instead of construct3 because CloudGames needs a plugin that only exists on C2 as far as I know.
I'll post the game ASAP...