Have You Heard About Publish0x? An Informational Post On What Publish0x Is And How to Use it


(Publish0x Logo from Publish0x.com)
Publish0x is a blogging platform that pays in cryptocurrency a lot like how Steemit blogs do. The way posts get rewards is similar. With Publish0x there is a reward pool that goes to the posts that get tips (tips are basically upvotes) and users who tip posts they enjoy. It is still only in beta with a low amount of users (less than 20 thousand)
Tipping
All of the tips come from the reward pool and the website is completely free to sign up. None of the crypto is coming from your own pocket.
When tipping posts, you have the option of choosing how much of your tip goes to them and how much of it goes to yourself for reading the post.


(Gif Created by me using the website Publish0x)
As you can see from this gif, you can choose to tip the author a minimum of 20% of the tip and a maximum of 100% of it. You can also choose anywhere in between 20% and 100%.
This means that if you tip the minimum, you will get 80% of the tip value yourself. And if you choose the maximum you would get none of the tip but it would all go to the author of the post.


(Screenshot of the tip rewards I received for a tip on Publish0x.com)
This is what it looks like after you tip a post. I chose to tip 80% to the author and 20% to me.
Posts can be tipped in a couple different tokens as shown below.



(Payout of a post on Publish0x)
One interesting thing about Publish0x is that all of the tips instantly will be in your wallet. This means that if someone tips your post, it will instantly be in your account.
This also applies to tipping other posts. If you tip and decide to receive some of the tip yourself, you will instantly have it show up in your Publish0x account.
Every time that you tip a post, you will need to wait 10 minutes or so before you can tip the next one.


(What happens if you try to tip another post in quick succession.)
You can only tip the same author once a day however.



(What happens if you try to tip another post by the same author.)
In a couple of tips, I already have earned about one Steem worth of BAT (Basic Attention Token) and a couple other tokens. While also giving rewards to the content I enjoyed reading.
Blogging
On Publish0x, you can create blog posts for free, you do however have to apply to become an author first which is not difficult though. All that you need to do is explain what you are going to post on the website and what posts you have made in the past on other websites. For me it only took a couple of hours to get accepted.
Once you get accepted to start blogging you can start making posts.
Here is what the post creation looks like: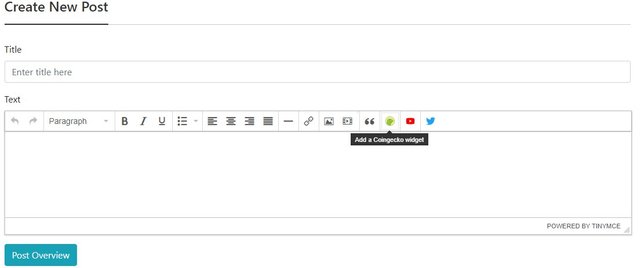 It has many different tools that you would find in almost all blogging websites but also has an option to add a Coingecko widget to your blog. This would be great for talking about a cryptocurrency and being able to show its price very easily without having to use a screenshot or just plain text.
After you submit your post, others can choose to tip it (giving you some tokens). Be careful, if you submit a post that is copy pasted, spam, or low effort content you can get your authorship and rewards taken away.
Posts can always earn rewards. If it is a year old post or a day old post tipping it will still earn rewards if someone decides to tip it.
What are you waiting for? Sign up for free at Publish0x.com and start giving free tips to content you enjoy and get rewarded for it.

All of this post was written by me analyzing Publish0x.com and using it. I got some of the stats from the stats page at publish0x.com