Como compartilhei aqui em posts anteriores, ano passado estive em agências de publicidade, empresas, home offices e escolas de tecnologia e comunicação mostrando os resultados de minha pesquisa sobre a aplicação da tecnologia blockchain e criptomoedas na área de conteúdo, publicidade e redes sociais. Nesse período eu tinha saído da agência que eu trabalhava e com isso estava com tempo para me dedicar a acompanhar o tema e fazer as apresentações. Agora, desde o começo de 2019, estou na agência BERGTOLEDO desta forma não seria correto continuar visitando e mostrando o estudo em empresas concorrentes. Resolvi publicar no Slideshare e assim o material completo fica disponível para quem quiser acessar: https://www.slideshare.net/wtamanaha/blockchain-e-criptomoedas-em-apps-e-sites-de-publicidade-conteudo-e-redes-sociais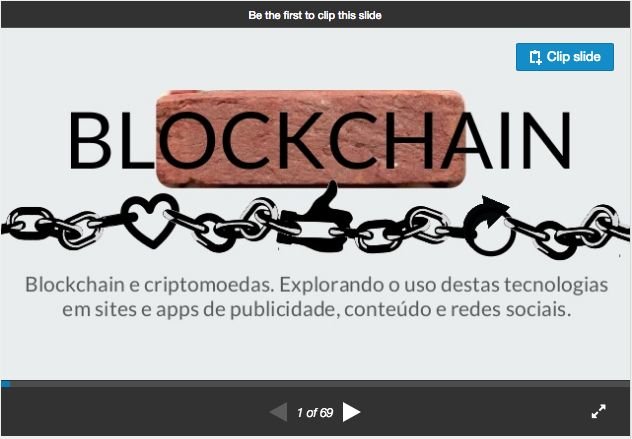 A apresentação está dividida em 5 partes. Na primeira fiz uma introdução ao assunto, descrevendo em linhas gerais como funciona a tecnologia e seus impactos econômicos e organizacionais: blockchain, criptomoedas, contratos inteligentes (smart contracts), descentralização, etc.
Nas partes seguintes apresentei exemplos de aplicativos, projetos e plataformas lançados nas áreas de publicidade digital (49 iniciativas listadas), gestão de dados pessoais (11 iniciativas) conteúdo (29 iniciativas), vídeo (23 iniciativas) e redes sociais (83 iniciativas, incluindo o Steemit), respectivamente. Alguns casos comentei com mais atenção, além do blockchain do Steem (onde publico este post) e do Vibook (onde sou membro do conselho consultivo), destaquei outros projetos que julgo inovadores e que venho experimentando, seja como usuário frequente ou ocasional. Nos últimos slides, um comentário sobre o impacto e potencial da tecnologia criada para revolucionar as finanças mas que vem sendo aplicada em vários outros setores de forma disruptiva.
No meu perfil do Slideshare, rede social de compartilhamento de apresentações, popularmente chamado de powerpoints, tb estão os arquivos que usei em outras palestras e workshops, como o curso de Marketing Viral e Redes Sociais em Brasília/DF de 10 anos atrás e tb a Apresentação sobre Steem e redes sociais em blockchain que mostrei no 1º Fórum Informal da Web Descentralizada em SP em 2017, aliás, a apresentação atual derivou a partir desta.
Mais uma vez muito obrigado para aqueles que me contrataram e para quem pude apresentar pessoalmente! Valeu The Corporate Garage, Digital House, Lucia Freitas, WMcCann e Facens! Como comentei, apesar de não prever novas apresentações em agências de propaganda, continuo a disposição para falar sobre o tema pessoalmente em empresas fora do setor, universidades, escolas, associações e organizações sociais.
Qq dúvida, crítica, sugestão ou comentário fiquem a vontade de deixar um reply aqui ou no Slideshare.
Valeu! Obrigado, sucesso e boa sorte mais uma vez!!

Créditos das imagens: foto disponível no Canva.com, ilustração da corrente por Athalaric (Dreamstime)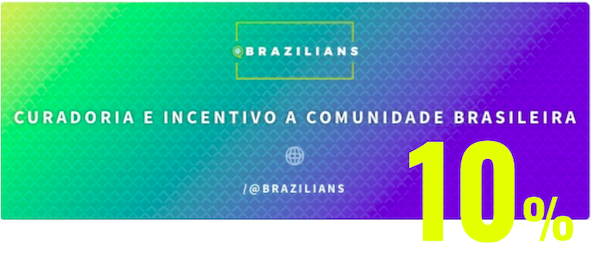 10% das recompensas líquidas deste post serão doadas p/ o projeto Brazilian Power no @brazilians, não foi este o caso mas seria possível automatizar a transferência através da configuração automática do recurso "rewards beneficiary" disponível no @steeveapp
Sigam: @brazilians, @camoes, @msp-brasil, @ptgram-power, @gazetagaleguia, @brazine, @blocosdoigor, @steembrasil, @blockchainbrasil, @estourefugiado
Conheçam tb o projeto https://ptgram.tk
---
Posts sugeridos:
22/2/2019 - @steemcenterwiki: Recent created and updated Steem.center wiki pages in English and Portuguese plus a new registered user
31/12/2018 - @blockchaincat: New Year's Eve party with polar bears (via @dclick)
26/2/2019 - Bike tunada na exposição dos 30 anos do grupo Racionais MCs (via @appics)
23/2/2019 - Um shopping center onde mais de 70% das lojas aceitam Bitcoin existe e fica no Brasil (via @dlike)
15/2/2019 - Sfogliatella da Confeitaria Di Cunto no Itaim (via @letseat)
2/2/2019 - Aceitei o convite para ser membro do conselho do Vibook, plataforma para autores, leitores e resenhistas de livros e e-books (via @dlike)
22/1/2019 - No primeiro dia do ano fui reconhecido como o "amigo" do Satoshi no elevador. Seria isso um bom sinal? (via @steeveapp)
3/3/2018 - O sucesso das fantasias de Bitch Coin e CLT Baleada no carnaval deste ano mostram as duas faces da mesma moeda.
Inscreva-se no Steemit para ganhar recompensas vc tb >>>
Mais recompensas em criptomoedas? Responda emails no Earn.com, faça buscas no Presearch, cursos online no BitDegree, compartilhe links no Refind >, mensagens SMS no Birdchain, opiniões sobre criptos no Crowdholding e imagens no Supload > e Minds >
---
Sponsored ( Powered by dclick )