Imagens: IMDb | Edição: Canva by @LeodeLara


Prepare a Pipoca que lá vem o #BoxdeSeries

---
...e lembre-se, todo dia é dia de ganhar PTG

Como já mencionei na parte 1 sobre a animação O Príncipe Dragão, decidi dividi-lo em partes. Portanto, essa é a parte 2 de três publicações sobre a animação. Aqui continuaremos a conhecer mais alguns personagens e um pouco mais sobre a trama do desenho. Então, lá amos nós!
The Dragon Prince



Há muito tempo atrás, o mundo estava dividido em dois: no oeste, os reinos humanos, e no leste, as terras mágicas de Xadia. Os dois reinos são divididos por um rio quase intransponível de fogo e lava, e foram defendidos pelo próprio Rei dos Dragões, Trovão, até sua morte fatídica...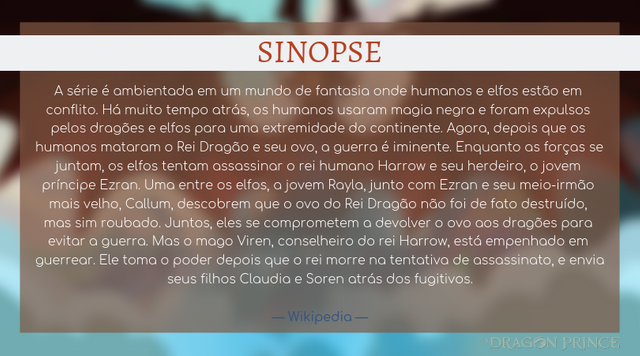 As Personagens

No terceiro e último post estarei abordando um pouco sobre minhas opiniões sobre a animação. Por

Trailer Dublado



Steem.Center



The Dragon Prince Parte 1 (2018-Hoje) | 12#
Titans (2018–hoje) | 11#
Voltron: O Defensor Lendário (2016-2018) | 10#
Os 3 Lá Embaixo: Contos de Arcádia (2018-hoje) | 09#
Juana Inés (2016–hoje) | 08#
(Des)encantado (2017–hoje) | 07#
The Handmaid's Tale (2017–hoje) | 06#
Versailles (2015–hoje) | 05#
Deuses Americanos (2017–hoje) | 04#
The Good Place (2016–hoje) | 03#
Trollhunters: Contos de Arcádia (2016-2018) | 02#
Doctor Who (1963-hoje) | 01#




Imagens: IMDb | Edição: Canva by @LeodeLara

...e lembre-se, todo dia é dia de ganhar PTG


+ Infomações



Obrigado pela leitura.
Aguardo ansiosamente para ler o seu comentário!



Conheça o Projeto Brazilians Power | @Brazilians | Site BraziliansNow.tk
Conheça a curadoria @msp-brasil | Entre em nosso grupo no Discord





---
Sponsored ( Powered by dclick )
Coinbase Is About To Welcome Neutrino Platform To Be...