Nonviolent Communication (NVC)
Not the best name for click-bait, but the content is a whale!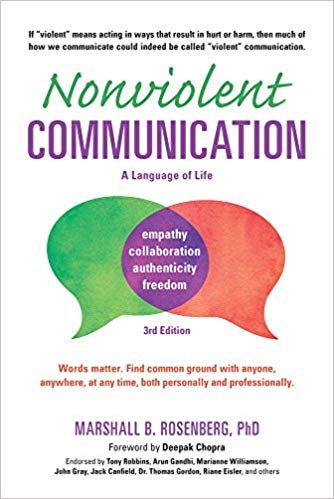 It Started in Graduate School
In 2013, I entered a graduate program at Naropa university to study Transpersonal Psychology. During this process, one of my professors recommended a book to read: Nonviolent Communication: A Language of Life, not the most enticing title. I read about half of it, briefly recognized its value, but - at age 26, its contents weren't high on my queue of interests.
The Next Step Begins Now
It's funny; the wide-length of time that can exist between the first and second step of a journey, regardless, for me it continues. And, I suppose, it now continues as a new series to this Steemit blog, dubbed NVC. At this point in my life, especially after an intense experience with psilocybin mushrooms and almost two years of regular psychotherapy, the message contained with this book (and the practice it describes) are more meaningful to me now then ever. I'd like to document and share my journey with anyone who has an interest to follow it.
What is Nonviolent Communication?
Nonviolent communication, also known as... Dune (I mean... NVC,) is a practice that assist us in replacing our psychological patterns of "defending, withdrawing, or attacking in the face of judgment and criticism [and] a way to train... attention - to shine the light of consciousness - on places that have the potential to yield what [you] are seeking" (Rosenburg 362). In other words, it seems to be a useful tool for growth and getting what we want. Sounds like something worth exploring to me!
About This New Blog Series
While, at the moment, this series is meant to document a potential - overall - future journey with NVC, it will more concretely begin as posts discussing parts of the book I'm re-reading that I find interesting and/or relevant. I'm hoping I'll come up with decent post titles, and simply tag "NVC" at the end so you know it's a part of the series.
Do You Have Any Experience with NVC?
Let me know in the comments below! Even if you think this series sucks! I want to hear about it!!
Other Steemit Posts by Steve Cronin
References
Rosenberg, Marshall B.; Arun Gandhi. Nonviolent Communication: A Language of Life: Life-Changing Tools for Healthy Relationships (Nonviolent Communication Guides) (Kindle Location 362). Puddledancer Press. Kindle Edition. 2003.