Gratitude and announcing first ever STEMng meet-up
Time, even though relative, is an important phenomenon. It's been an awesome 6 months of community building through mentoring, engagement and consistently churning out of quality Science, Technology, Engineering and Mathematics related contents on the steemit blockchain.
---
Who are we?
---
We are a Nigerian community of Science, Technology, Engineering and Mathematics writers/lovers/enthusiasts on the steemit blockchain. We represent a part of a larger community, the steemSTEM; and since our inauguration as shown by this blog, the community has been growing in leaps and bounds despite the bearish trend of the crypto-market.
We now boast of hundreds of quality writers who never get tired of churning out good contents for the consumption of the blockchain users and the world at large. Here is an invitation to join our discord server where we engage one another and have a bit of fun.
---
Gratitude
---
We could not have come this far without the support of a lot of folks. Top of our list is the management of steemSTEM in persons of @justtryme90 @lemouth @anarchyhasnogods @suesa and @mobbs. You guys are the unsung heroes of the steemit blockchain as far as quality content is concerned. A big thanks to @curie, @utopian.io and several innumerable others for their strong support for quality STEM contents on steemit in general. Special thanks also go to steemSTEM curators, steemSTEm honoured members and the entire steemit community for their hard work in ensuring that quality STEM contents get deserved rewards while those that try to cheat the system are taken care of appropriately.
---
Announcing STEMng's first ever meet-up
---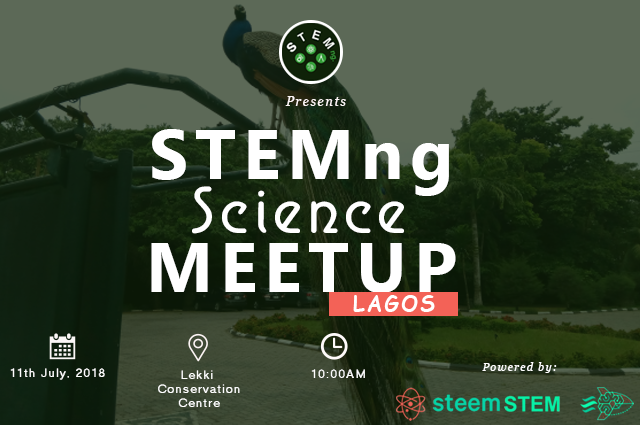 With a view to socialize, learn as well as create more awareness about steem/steemit within the country, we are happy to announce to the public that a meet-up for STEMng authors, readers and enthusiasts has been slated to take place on the 11th of July, 2018. The rendezvous of the meet-up is the Lekki Conservation Center, Lagos Nigeria. The event promises to be both educative and fun in all ramifications. More details about the meet-up would be released as time progresses.
Thank you all!
---
Credits
---
Meet-up banner: @agbona