Introducing the guidelines for the @steem-ambassador guild.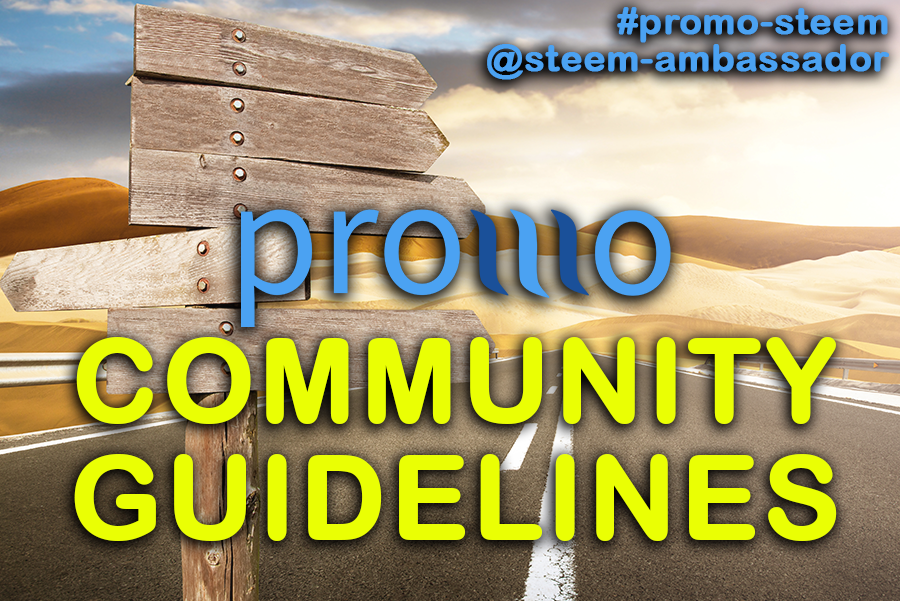 Since the launch of the @steem-ambassador account, the promo-steem.com website and the incredible growth of the #promo-steem tag, we have mostly left it alone as far as guidelines are concerned, mainly just to see how it started to evolve.
Now we are in the next phase, with a thriving community, with Steem Ambassadors coming online, and a guild system supporting promotional work, it's time we set out the community guidelines to ensure fairness, transparency and quality.
---
Promo-steem's core objectives:
• To provide a mechanism for rewarding high quality promotion of Steemit and the STEEM blockchain.
• To create a community within the community, being the worlds first decentralised promotional network made up entirely of voluntaryists
• To support and motivate promoters to not only onboard new users and investors, but to encourage them to stay on the platform.
• To work in a way that grows the price of STEEM
---
Where we are at right now
We already have a huge network of followers, from all around the world, who regularly post to the #promo-steem tag. In the last week alone, over 1100 posts have been created in the #promo-steem category, and we are amazed at how quickly we have grown in just a few short months.
We are currently the 92nd biggest category on the platform by SBD payout, and the 54th biggest in terms of number of posts! These are incredible numbers, and are a testament to how popular the #promo-steem tag really is.
We are seeing promotional work becoming huge in developing nations, as people realise the power of the network effect. The rewards are changing peoples lives, and sometimes transforming communities in these parts of the world.
The positive effect on humankind that we are seeing is truly beautiful. We are humbled that so many people have picked up on this concept, and are making their own ways to grow the platform.
We are starting to be seen as a real force on the platform, and are being noticed by whales, witnesses and some pretty big hitters. This top trending post from @jerrybanfield the other day is one such example.
We have been working behind the scenes to provide support mechanisms to support promoters, and are pleased to be able to tell you that we are very close.
We have been beta testing our guild upvoting mechanism, we will be revamping the beta website into a new funky all bells and whistles system, undergoing a complete marketing and rebranding exercise, and at the same time we've been working on how we encourage sizable delegations of STEEM POWER to support the promoters.
---
Clarity on terminology
We've had the same conversation with people a number of times about the terminology we use. For clarity, and to aid understanding of where everything fits in, here are the main points:
• #promo-steem is a tag which is there to differentiate posts which are related to any form of promotional activity which brings new people, investors, business cases etc into the community.
• Promo-steem.com is a website which is not affiliated to Steemit Inc. It's purpose is to provide resources for promoters.
• @steem-ambassador is the central account we use to communicate with the promo-steem Community. It is maintained by @starkerz and @anarcotech.
• Steem Ambassadors are individual users who are approved by the community (through a transparent process) as being trusted individuals who will be the eyes and ears of the promo-steem world. Their main job is to curate and filter out high quality promotional work for upvoting by @steem-ambassador and our curation trail. Find out more about the application process and guidelines for Steem Ambassadors
• @promo-steem is an account we have recently taken possession of, which will be used to resteem all posts which have been upvoted by the @steem-ambassador account. If you want to see high quality promotion, curated by the Steem Ambassadors, this is the account to follow.
At the time of writing this post, not one single person has been approved as a Steem Ambassador. It is only over the next few days and weeks that they will come online, and as they do, their names will be added to the code which runs the upvoting guild. A full list of approved Steem Ambassadors will be available on the Promo-steem.com website.
---
Next Steps
Over the next few days the vast numbers of Steem Ambassador applications will be released to the community for approval. Once this is done, the guild system will be launched, and now it's absolutely imperative that we make it clear what the guidelines are for the
#promo-steem
tag.
These guidelines are there to provide clarity for both authors and curators (including Steem Ambassadors) about what will be upvoted by the @steem-ambassador guild.
These guidelines are there to reduce the amount of Spammy content which we are finding on the #promo-steem tag. It is not our wish, nor that of the dedicated promoters who we support, for #promo-steem to be a tag that rewards any old rubbish. We want to reward great quality promoters who effectively are growing the platforms attractiveness, adding value to the blockchain and raising the price of STEEM, and doing it in a positively focussed way.
By maintaining exceptionally high standards, and holding ourselves accountable, we are much more likely to attract delegated STEEM which will always be used to reward top notch promoters.

---
How the guild works
The guild system is fairly simple, and works on the principle of having multiple trusted curators ensuring that posts we support are ones which are adding value to the blockchain through promotional related activities.
Community appointed Steem Ambassadors will curate on #promo-steem posts. If a threshold of them upvotes a post (at the moment, that number is 3, but it may change in the future), then @steem-ambassador will automatically give an upvote to that post too, usually about 24 hours later. This gives us time to work out the proportion of voting power the @steem-ambassador account will use every day.
By having a delay, it also gives an opportunity to flag any abuse or attempt to game the system.
Once @steem-ambassador has upvoted, the community upvoting trail will also upvote that post too. You can join the community trail by choosing @steem-ambassador as a trail to follow on SteemAuto, and we encourage everyone who supports #promo-steem to join.
---
Promo-Steem posting guidelines
If you are producing a blog which is about promoting STEEM or Steemit, you are free to use the #promo-steem tag.
Only high quality posts which are related to promotional activities will be upvoted by Steem Ambassadors, who will use their judgment and discretion to ensure that any post they upvote is of a sufficiently high quality. Low quality posts are unlikely to be upvoted.
Examples of High quality posts to the tag which are likely to be accepted:
• A post which contains information about a promotional event, including pictures or video as evidence.
• A post which contains useful information or resources that may help or assist another promoter.
• A post which is advertising an upcoming event or activity, or calling for supporters to come and join in.
• A post which contains information which is of direct benefit to the
#promo-steem
community. This could (for example) be statistical, technical info, related to promoter mentoring, a promoter business opportunity, bounty for promotional work, proposal for funding for a promotional initiative, a meetup, workshop or community project (etc).
• Introducing new Steemians who you have brought into the platform.
• Telling a story, or giving advice or information that inspires and motivates promoters.
• Recommendations or suggestions to the whole
#promo-steem
community
Examples of Low quality posts to the tag which will not be accepted:
• Holding up a steem banner, or a mobile phone showing E-Steem app, with no context or information about a specific promotional activity being carried out.
• A post saying why Steemit is great, without evidence of some form of promotional activity.
• A post which is clearly plagiarised from another users post and passed off as the authors own work.
• Upvote begging or attempting to game the system
• A post which has absolutely no relation to any form of promoting STEEM or the Steemit platform
• Severe violations of intellectual property belonging to Steemit Inc or any other STEEM related company.
---
Handling of abuse of the system
In order to maintain the integrity of the system, the following guidelines are now in place:
Authors who attempt to abuse the #promo-steem tag will be warned and educated on proper use. If they persist in abusing the tag, they run the risk of being blacklisted from being able to receive rewards from @steem-ambassador in the future.
This includes plagiarism, spam or any use of the promo-steem tag for non-promotional related activities.

Steem Ambassadors must maintain a high degree of integrity in their curating. They must not be members of automatic curation trails other than the @steem-ambassador curation trail on SteemAuto.
Steem Ambassadors should not be upvoting content which has the #promo-steem tag unless they believe it fits with the community guidelines.
A mechanism for reporting and removing Steem Ambassadors who misuse their position will be made available. See here for more information about Steem Ambassador Responsibilities
---
About these Community Guidelines
Ultimately, Steem Ambassador are responsible for curating on content. They will be held to account for their actions to the rest of the community, and are responsible for ensuring that only high quality promotional content is rewarded. We have attempted to make the system as incorruptible as possible, without making it too complicated.
Steem Ambassadors will be the ones who maintain the integrity of the @steem-ambassador account and the #promo-steem tag. They will be the ones who flag up spammy/plagiarising authors, and who ultimately decide if someone needs to be blacklisted from receiving a @steem-ambassador upvote.
In having this power, the Steem Ambassadors themselves have put their reputations up as a high benchmark, and will be under scrutiny to ensure that their behaviour is in line with the general guidelines of the Promo-Steem community (who can elect to remove them if they so choose).
---
What the success of promo-steem means
If we can prove to the wider community that we have developed a system that has a benefit to the STEEM blockchain, they are going to support us, with delegated STEEM POWER.
We will be in a position to ask for it ONLY if we can prove that we have a built in, decentralised solution that filters out the spam, and has a level of integrity built into it that is in line with the general ethos of the majority of the community, and that adds real value to them…because what we are doing is growing the price of STEEM, and that in itself is worth supporting!
It's absolutely vital that everyone who posts to the #promo-steem tag understands these guidelines, and realises that the it is not there for a guaranteed upvote, nor is it a quick way to make a buck!
Promotional work takes time and energy. We want to reward that. We don't want to be rewarding people who are trying to get something out without putting something in first, as this is not what voluntaryism is all about.
Thank you for reading. Your comments are welcome, and we appreciate very much all the amazing promotional work that is being carried out around the world.
Please help reach everyone by Resteeming this post. Any rewards earned from it will be going to support the entire promo-steem community
STEEM AMBASSADOR