EXACTLY THREE MONTHS ON STEEMIT TODAY: Meet my steemit children( The journey so far)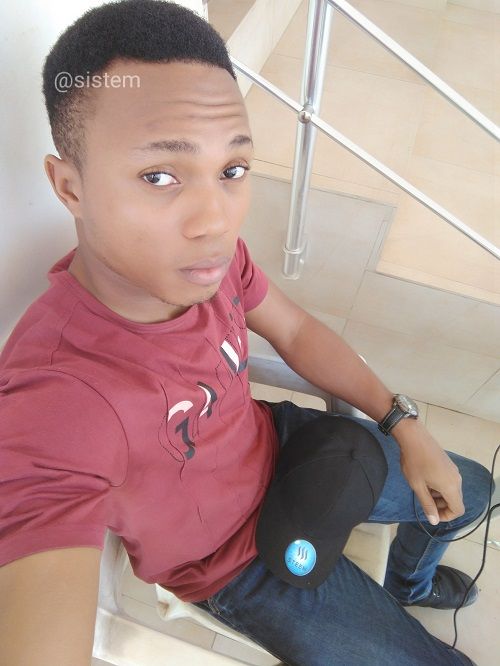 Happy steemit birthday to me
Hello my esteemed steemians. I am grateful to God for giving me the life and privilege of typing this hale and hearty. I am most especially grateful for the wonderful people who has helped me through on this platform and I will be appreciating each and every one of them today just as they have impacted my life.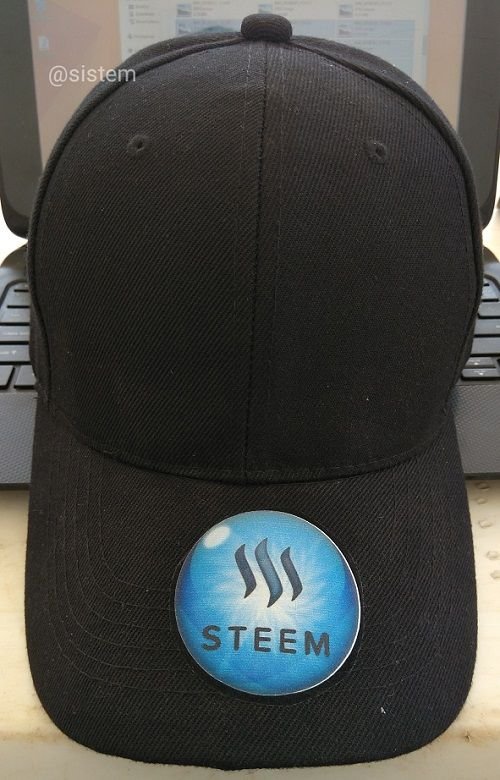 Promoting steemit with my steem cap
I got into steemit on the 5th of December 2017 and it has been a wonderful experience so far with me having over
600 followers and 20 steemit children ( people who I have invited into steemit)
. Three months isn't much of a time but to be honest, steemit changed my life in just three months. At this point I would proudly say
" I don't know what I would have done without steemit"
. Steemit came into my life like a game changer and turned my entire being around. It made me discover myself in ways I never imagined and made me do things I never thought I would have been able to.
I have been able to achieve things I never imagined I would achieve and have met with great minds I never imagined I would meet. Steemit right now has become my life and I never let a day pass without steeming.
I consider the day I got registered on steemit my birthday because that was the day my life changed for the better.
After gaining so much from steemit, I couldn't keep it to myself and so had to invite several others who I have tutored and still tutoring on the best practices on steemit.
I pledge to work harder and to continue putting out my best so as to aid the development of this platform and to uphold the integrity of this great platform…so help me God.
Today I will be showing you some of those I have been able to on-board. Those I call my steemit children. You will get to know their profile and so will be able to relate with them through their blogs and probably through steemit chat.
Meet my younger brother Udekwu Chinedu ( @desmoniac)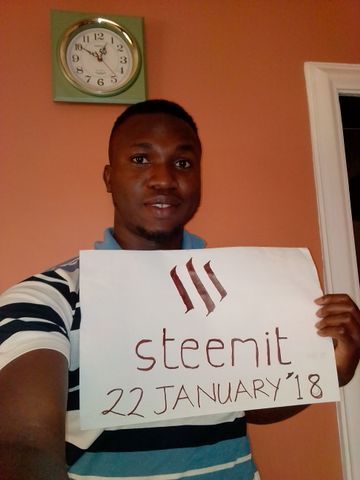 He is a talented young man who loves to read and write. He can write virtually on any topic but prefers the LOVE niche. He was born on the 2nd day of the month of August and is a graduate of Biochemistry from the University of Agriculture, Umudike, Abia State, Nigeria.
He grew up t\in the Federal Capital Territory (FCT), Abuja and according to him, he can't do without jollof rice as that happens to be his best food. His best colour is green and he loves swimming. His philosophy about life is Nothing good comes easy.
Bringing this young lad on steemit wasn't a difficult one as I have always known him to be a smart dude. I was far away from him at the time so I got to tell him about steemit through whatsapp chat. When I told him about it, he was very interested as he had nothing doing with his time and needed some extra cash but was limited by time. I told him to just register and have his account ready as it was often difficult getting the steemit password. He did and in two days he got his password. Being the smart boy that he is, when he got his password, I didn't hear anything from hi again until the day he asked me to go check out his introductory post. I was amazed at how fast he found his way around steemit without much hassle and at the same time impressed.
Since then, he has been dishing out high quality contents even though he hasn't been making much, but I always tell him that the two keys to success on steemit is patience and persistence and he has been abiding by those two rules.
Meet Ajewole Bamidele Eniola ( @jayfamous)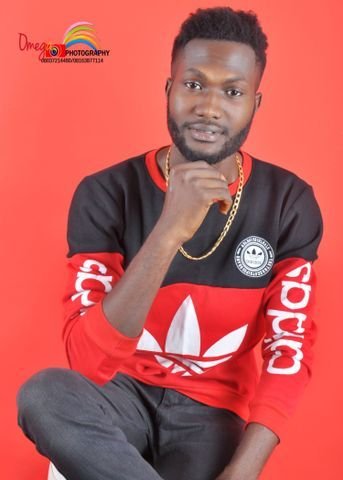 He is a very wonderful guy and happened to be the very first person I introduced to steemit. Before I came on steemit, I had always known him as someone who loved writing and at the time, he was writing for a blog. I saw his passion and enthusiasm towards what he was doing and felt he shouldn't be wasting away.
He was born on the 17th day of December and is a graduate of Music Technology from the Ibadan Polytechnic. He loves to sing a lot and infact, also raps. His best food is pounded yam and ewedu soup and his best colours are Black and red. I guess we have something in common here…lolzzz. He is from Ekiti State but grew up in Ibadan.
His philosophy about life is " There are lots of things you are into, nut they seem not to be going through. Your best friend can't help you, only God can see you through."
Meet Ogunjimi Oluwatobi ( @ayoplenty)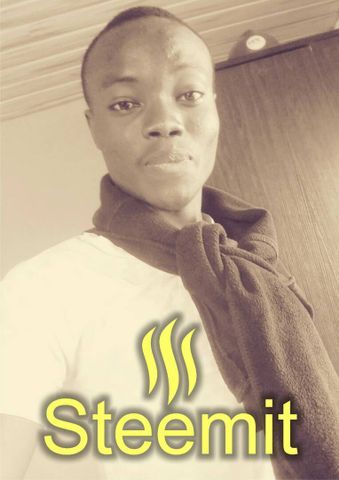 He is a really cool and nice guy, doesn't talk much and always keeps a smiling face. He was born on the 5t day in the month of January and is still schooling. He is currently studying Civil Engineering in one of the Federal Universities in Nigeria and is an indigene of Ogun State located in the western part of Nigeria.
Oluwatobi loves food a lot and can't do without his beans and spaghetti ( what a combination). Black is his best colour and his hobbies are reading, writing and solving complex mathematical problems. He is indeed a very brilliant young man.
His philosophy about life is love the life you live and love the life you live
He is still pretty new to steemit and has only made his first introductory post which didn't yield him much but I have told him not to feel discouraged as I also started up like that. So far he has made my job quite easy as he doesn't get to ask so much unnecessary questions but rather preferred finding out things himself. With his zeal and enthusiasm, I know he would go very far on steemit.
Meet Odigie Daniel (@danny042)
I call him the richest. He is one of the most unserious people I have recruited so far (lolzz). He got his account approved and also got his password but since then, hasn't posted anything. Actually, he says he is still studying the system to know how best to approach it when he finally decides to start . I have tried persuading him to start and learn on the job but he wouldn't listen.
Daniel was born on the 31st day in the month of May and is an indigene of Edo State. He is currently a corp member serving his father land in Ogun State. He graduated from the department of Civil Engineering from Ambrose Ali University located in Edo State.
He grew up in Warri, Delta state and so speaks the Nigerian pigin English very fluently . His best food is fufu and any soup and his best colour is Black.
His philosophy about life is simple ...Trust no one.
He is quite a very funny young man and I love being around him.
Meet Suleiman Oladayo Sodiq (@oladahayo)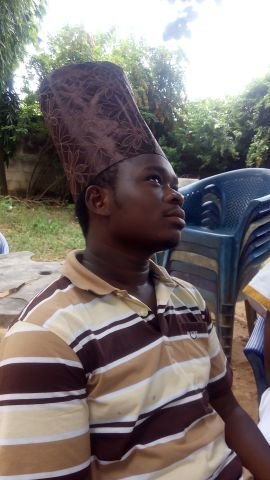 He is a serious minded young man but very free minded. He is a tech Guru and works perfectly with any software tool.
He was born on the 23rd of May and is an indigene of Ogun State. He graduated from the department of Electrical Engineering in one the Federal schools in Nigeria.
He is a big fan of beans and plantain as that is his best dish and his best colour is White.
Oladayo's philosophy about life also very simple ..." Be sugar and ant will follow you".
Inviting him to steemit has been worth the while even though he complains from time to time about low payouts and because of that, hasn't been extremely active online. I also try my best to console him and give his few posts some upvotes when I can.
This guy is one of my favourites. He is calm, collected and very smart. He has a lot of enthusiasm for writing and majors in writing poems. At his leisure, he gets to write songs too but doesn't do that as much as he loves to write poems. His role model is an Italian poet called
Alighieri Dante
.
He is a young man who was born on the 27th day of the month of January. He was born in Kwara State located in the North western part of Nigerian but grew up in the Federal Capital Territory (FCT) with his parents. He graduated from the department of Electrical and Electronics Engineering from Kwara State University. According to him, his best food is beans and rice, a food he never jokes with and his best colour is lemon green.
He has a poetic philosophy about life and that is …"Rise and rise again until the docile lambs become the conquering lions".
Trust me you will like this dude if you get to know him…LOLZZ
Meet Joseph Obinero (@obinero)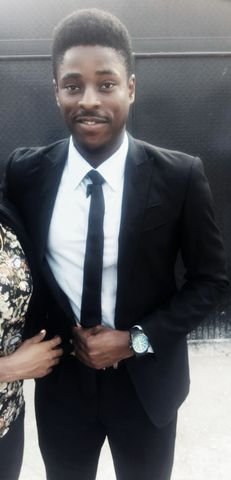 He is a brother from another mother. a very intelligent guy and a funny one at that. He isn't much of a writer but was motivated to join steemit when I told him about the benefits I have gained from joining steemit. he loves cooking and has made a few posts showing him in the kitchen. Perhaps he loves cooking because of his love for food. He never plays with his stomach.
He was born on the 6th of june and hails from Imo State located in the Eastern part of Nigeria. He grew up with his parents in the Federal Capital territory where he acquired his First School Leaving Certificate and his Senior Secondary Certificate Examination (SSCE) before he went to Niger State where he graduated from the department of Environmental Biology from the federal Polytechnic BIDA.
His best food is beans and his best colour is red.
His philosophy about life is …" Life is a theatre of dreams and great dreams face great distractions".
Meet Albert Samuel (@samal)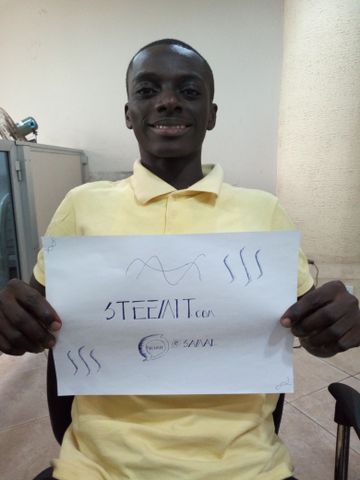 I call him
The Black
. He is a friend of mine and a colleague at work. From the very first day he heard about steemit, he became very interested and wanted to join but his phone had issues and so he couldn't. in no time, he was able to get a phone and as soon as he did, he asked me to put him through steemit and he was able to register and acquired his password. Since then he has made several posts on his blog. His hobbies are playing table tennis, exploring and taking photographs.
Samuel was born on the 22nd of August in Lagos State (the former federal capital territory of Nigeria) but grew up there with his parents. He is an Architect and currently running his Industrial Training(IT) Program in my organisation. He loves pounded yam a lot with egusi soup and his best colour is blue.
His philosophy about life is infact the simplest of the rest …" Always keep it simple".
These are just a few of my steemit children, perhaps you will get to see others get featured in my subsequent posts.
APPRECIATING THE WONDERFUL PEOPLE I HAVE HAD PERSONAL ENCOUNTERS WITH ON STEEMIT IN THE LAST 3 MONTHS
The first of them all would be @acidyo. He has been a wonderful friend and game mentor on steemit. I watch him play games every night on dlive and gradually fell in love with him. I was never a gamer but my interest grew watching him play. I want to sat a very big thank you to him for his support to me on steemit.
The second on the list would be @thejohalfiles . I know absolutely nothing about him but his name would continue to ring in my head because he is the reason I am still here on steemit. I remember when I wanted to quit steemit out of the frustration of not getting any upvotes on my post. I made my very last upvote that day and when I woke up the next morning, I realised that he had upvoted my post and that was how I got motivated to continue and here I am today. A very big thank you to him.
I also want to send a shout out to @tarazkp who has also been a motivation to me on steemit. just recently he delegated 250sp to me on steemit and I was very excited about it. For the first time, I felt like a mini whale. I could upvote others and add value to others on steemit. It's been fun and it was possible all because of him and so I want to say a very big thank you to him.
I won't be forgetting my very close pal and steemit brother @humanearl. The man who is full of motivation and inspirational words. He is soft spoken and has a way of making everyone on steemit feel among. He never discriminates and responds to everyone who comments on his posts as if he had known them for ages.
How can I forget my second steemit brother and pal @surpassingoogle. This young man inspires me every single day. I always look forward to his posts because he would always say something that would either motivate me or push me to greater heights. he is very hardworking and treats everyone like a sibling. He is loved by many and I can never forget him.
If I continue with this list, it's going to be unending and so I will mention other wonderful steemians who I have had personal encounters with. A very big shout out to @greenrun, @anomadsoul, @strawhat, @infovore, @vcelier, @swissclive, @abh12345, @aggroed, @teamstem, @stephenkendal, @dragosroua, @soundlegion, @ashe-oro, @karenmckersie, @taskmaster4450, @pinacle, @asmolokalo, @arbitraraykitten, @dimimp, @kevinwong, @surfyogi and @donkeypong.
These are all wonderful people I have encountered on steemit and they all have, in one way or the other, made my stay on steemit worthwhile. A big shout out to each and every one of them.
THANKS FOR READING…