FIRST-POST-PROMO (A CALL OUT TO NEWBIES) UPDATE!!!
I have decided to pay it forward by Launching a Promo tagged "First-post-promo"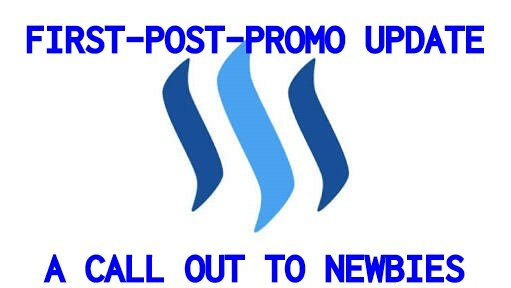 I made a post yesterday about the promo and its aim.
I was glad it was welcomed and accepted by most steemians. Suggestions made in the comment section was highly appreciated.
I tried posting on the first post of newbies, to see if they will notice the post and read it, but I observed that most newbies don't read posts.
I got comments of "thanks" instead of actually taking an advantage of the First-post-promo.
And also I don't want to be seen as spamming the community, so I decided to stop.
I am however, determined to promote the First-post-promo tag as I know this will encourage the newbies.
However, as at the time of this post, no link has been posted by a newbie.
CONCLUSION

I have decided to keep rolling over the prize money if no newbie comments with a link after the promo runtime until the promo gets noticed eventually.
If you know a newbie that will benefit from this, kindly inform the newbie.
To know more about the First-post-promo, you can look up the link below: