Blown Glass Pitcher Shoot - Randomly Changing My Angles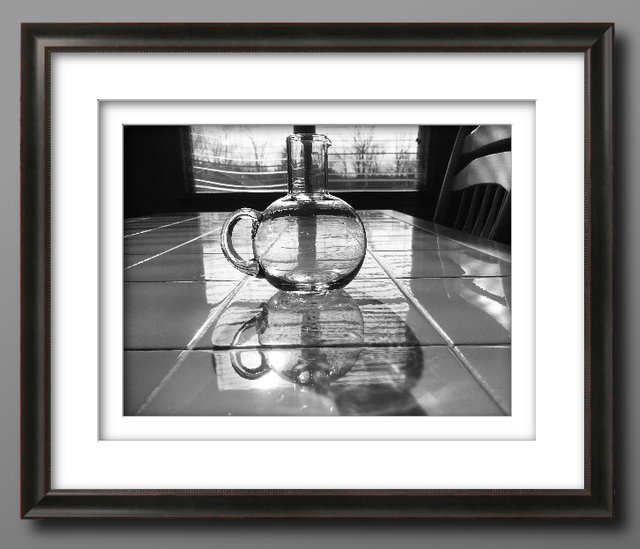 This Weekend's Challenge..
Besides de-decorating from the Christmas season, was to pick one object and shoot it with my Cannon Rebel T1i. I won't list all of the settings because there were just to many adjustments for each photo, as I changed my angle to the sun. If your interested in them for any particular shot, I can look it up for you.
So I chose this antique blown glass pitcher..
That I happen to keep in our buffet closet in the dining room. I decided to shoot it there as well, due to the high amount of sunlight entering the windows on the South side of our home. The sun was washing across the white tile table, creating a bit of a challenge for me as far as settings go. I used an ISO setting of.. I think approx at 100 for most of the photographs. After I got a few test shots out of the way, I randomly and rather quickly changed my angle to the subject. I rattled off about 15 or so frames and then took a look at them on the PC. Some of them I gently cropped and even added a boarder if I so desired. Others are as they were shot. I tried not to spend more than 15 to 20 seconds lining up the frame before hitting the shutter release.
Besides the sun ..
There were a few other competing characteristics that came into play, and may have ruined a few of the shots, but these were just for practice and fun, so I am not too worried about them. For instance, the lines from the white tile table were competing with how the edge of the spout lined up with them. Sometimes I would catch a bit of the edge of the table in the frame. Reflections as compared to my camera angle were noticeable. This was practice, but say if I were shooting a wedding, or something I was unable to re shoot, these details could make or break the pictures. For the purposes of this session, I am going to call them details of interest! haha ;-)
I am not going to Blah Blah Blah ..
Forever about what is wrong or right, I'll let you decide what you think is cool or not. I won't go into too much detail, if any, on all of the shots. I'll lay them all out for you to enjoy. This first shot is my favorite out of the bunch. It has nice tonal values, simple yet incredible shadowing and even reflection! All three items including how the lines of the tile played in, seemed to give this photo a nice balance. (minus of course the corner of the table and the broken shade iv'e been meaning to fix.. cough cough.. ummm yeah)The rest are just okay in my mind.. but this one stood out. Sometimes there is only one keeper in a bunch. Lesson here, always take more pictures than you think you need.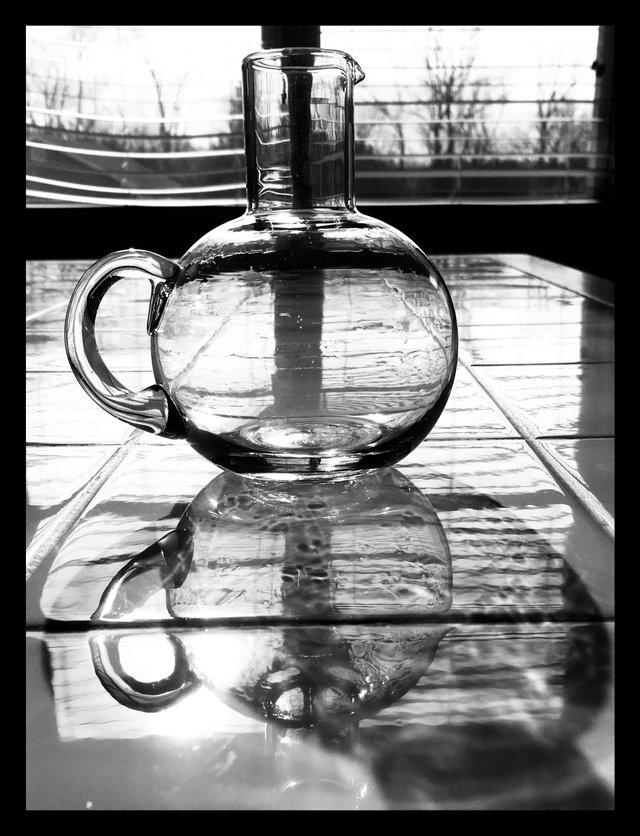 This next one has some merit, even though a bit under exposed. I am loving the gloss of the tile that really seems to compliment the shine off the glass.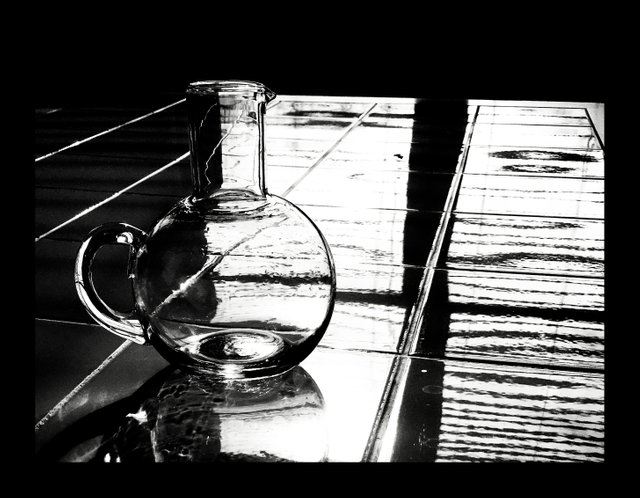 Okay, now that I got my favorites out of the way, I am going to roll out a few different angles of perspective. You will notice a few over exposed shots in these. I am not 100 percent fixated that they are a wash. There is still interest in most of the frames.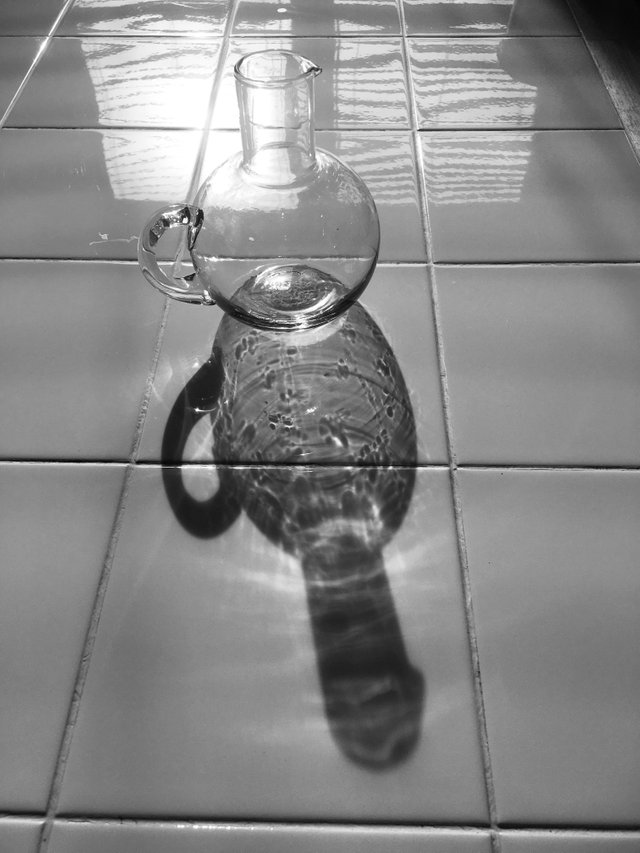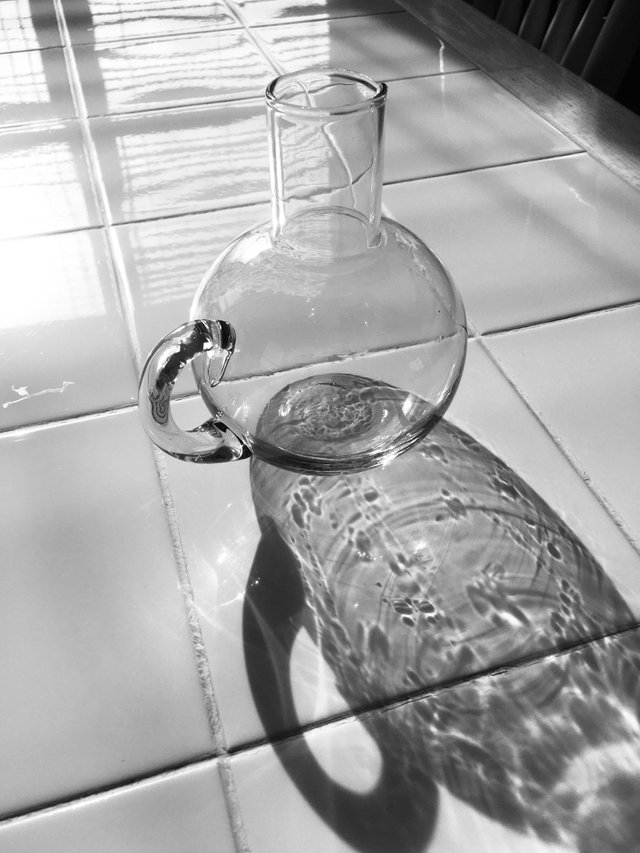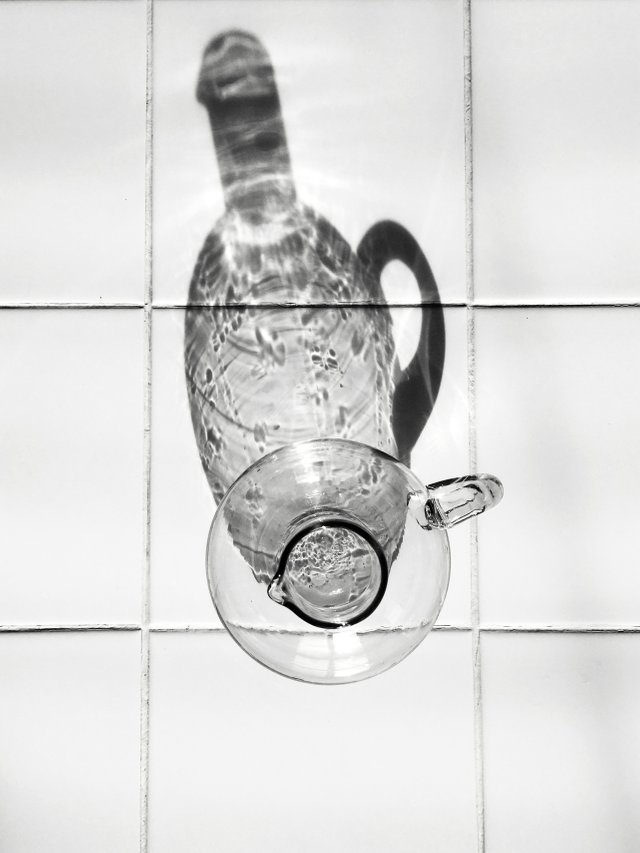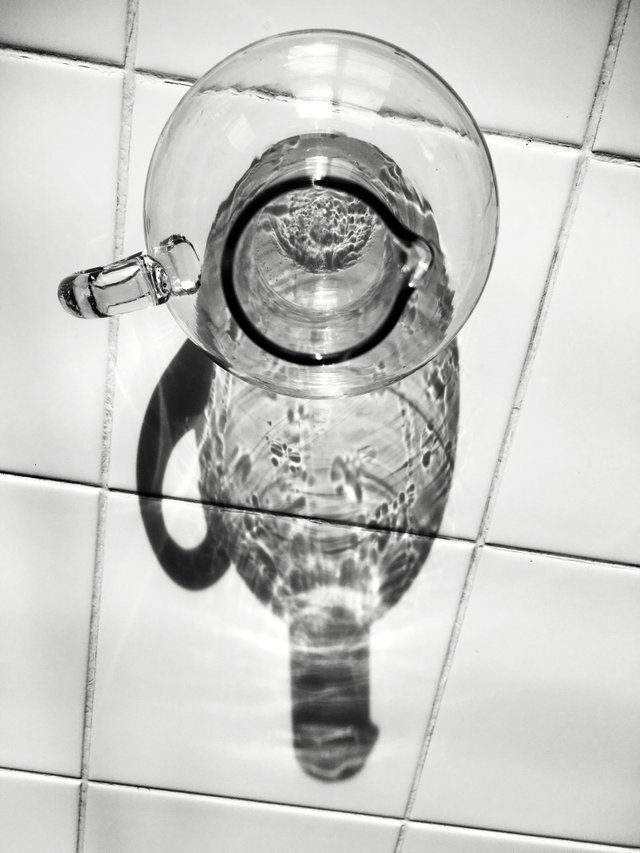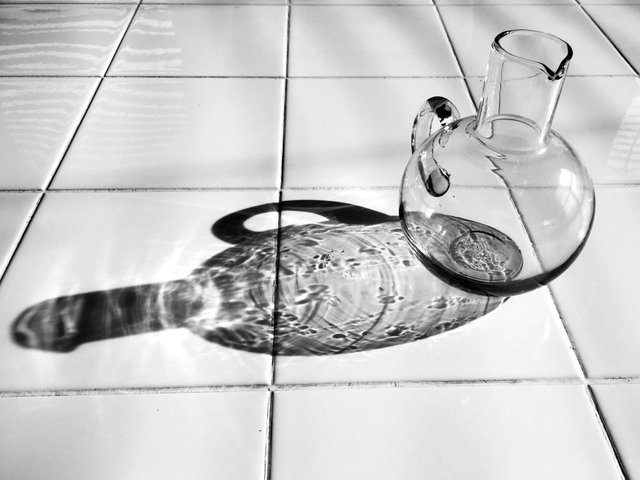 These next several are crops and alters. I didn't do anything drastic to them, just some simple cropping and maybe one with some grain added in. Again, some of them I like and others are so so. A few I deleted already and am not sharing, otherwise this post would be way to long.. as its becoming already ;-}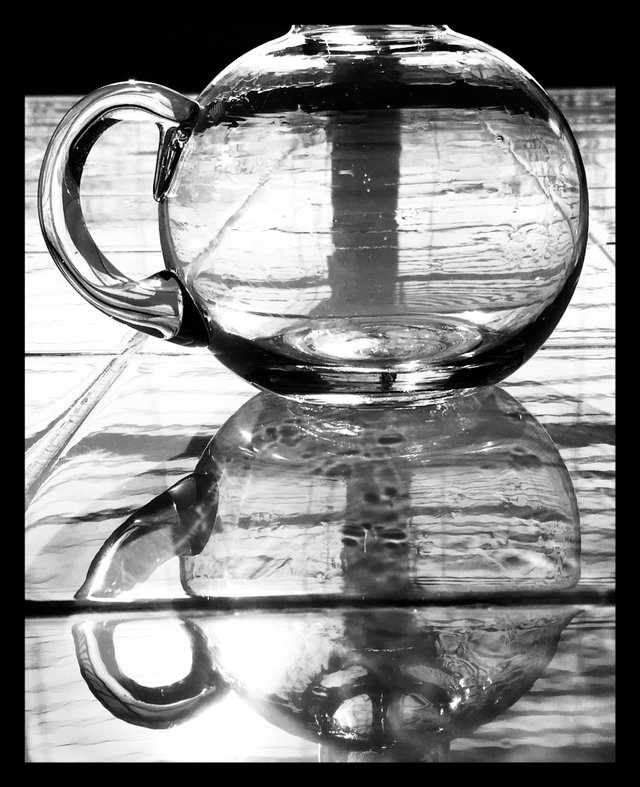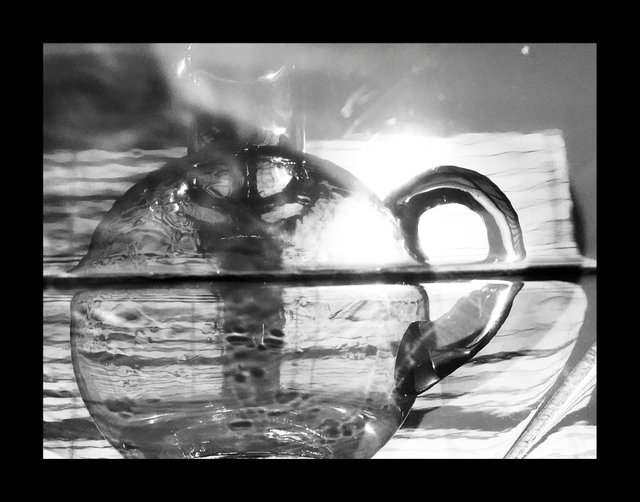 It's kind of neat that you can see the air bubbles and small imperfections in the blown glass, being displayed in the shadow. It's pretty inherent in this next photo.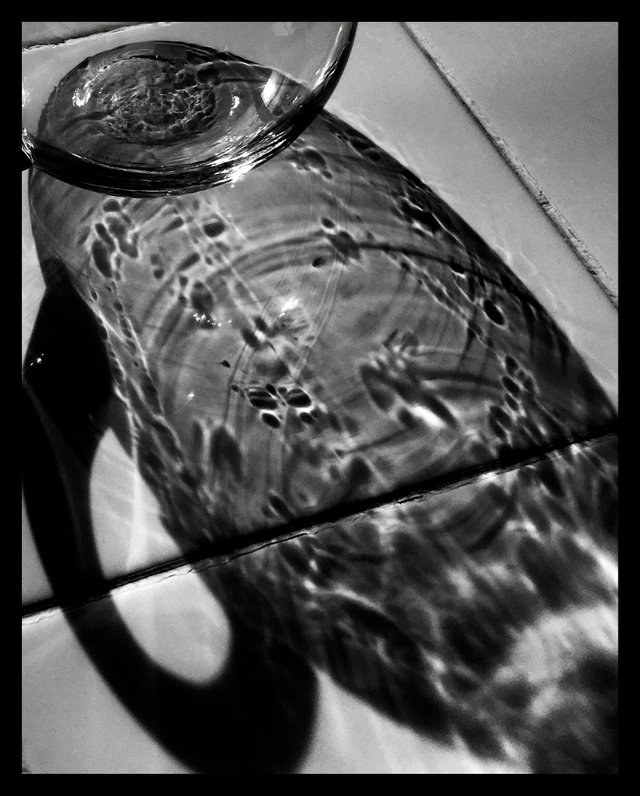 Then I wanted to play with it by adding a little grain into the shot. Something a little different.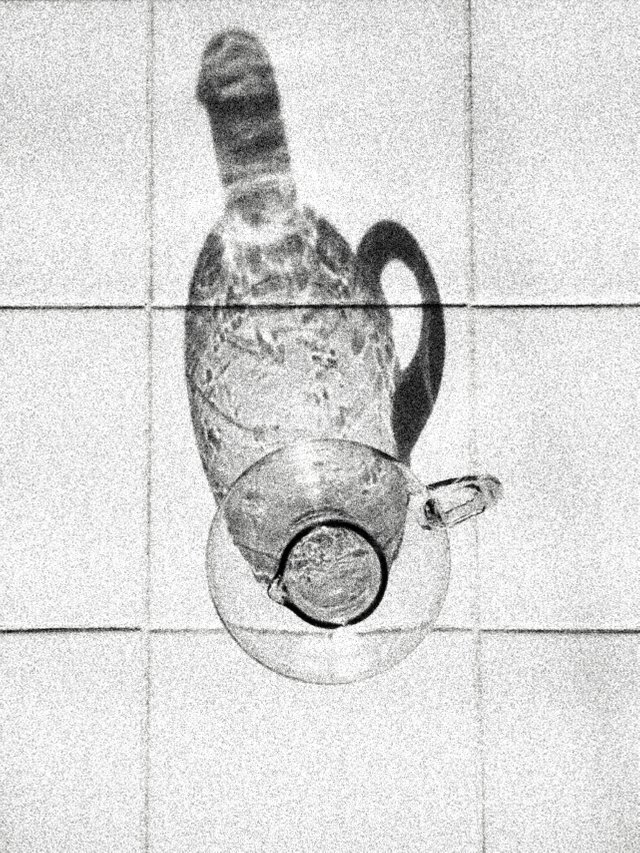 Why not?! Lets invert the tones and see what we get..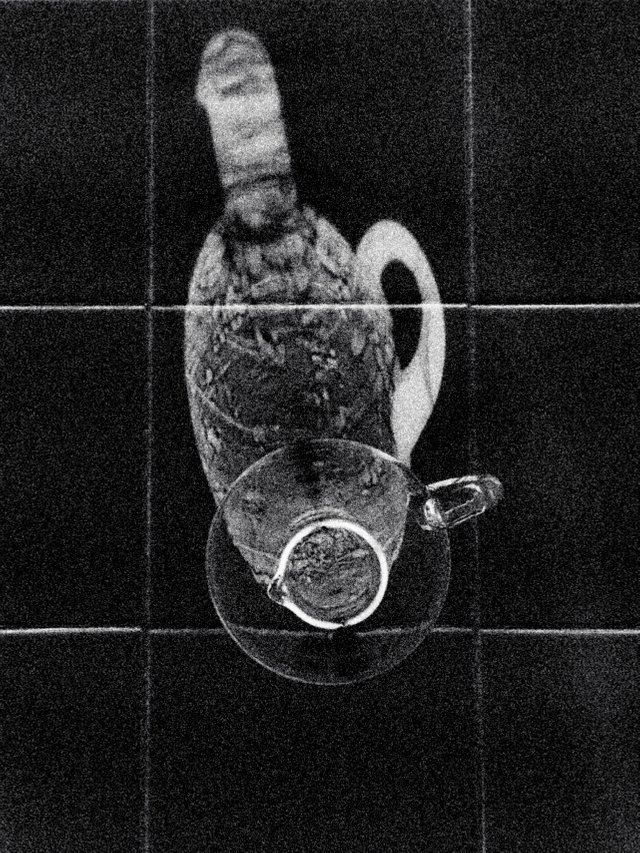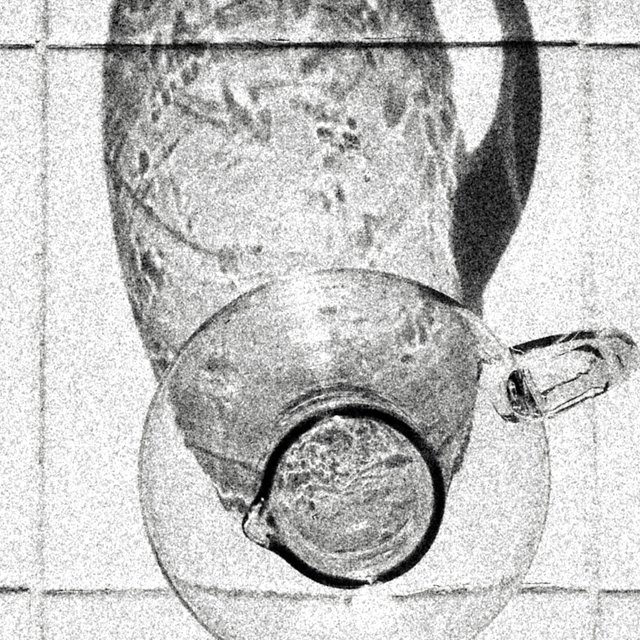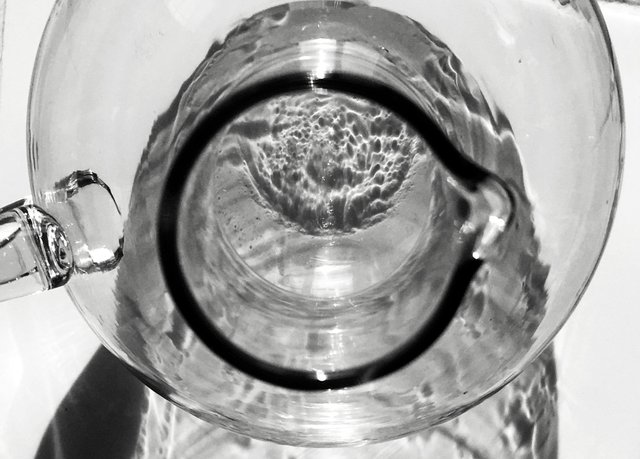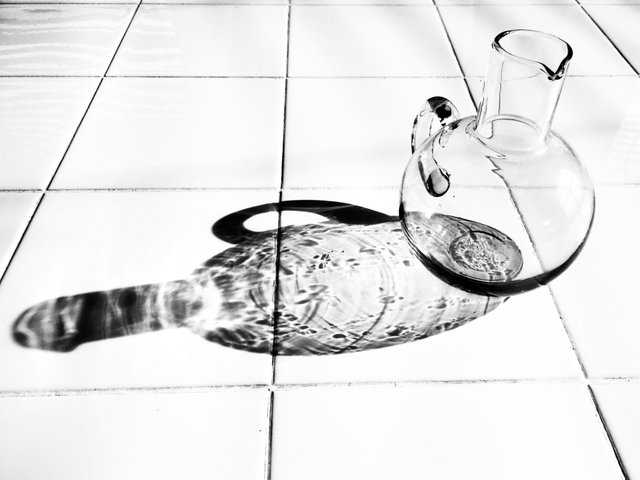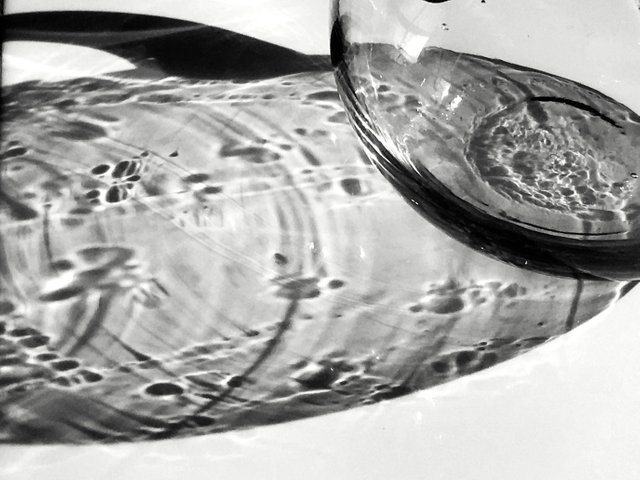 That is about it folks! ..
I set out to accomplish a random photo shoot of one object in bright sunlight, and succeeded in completing it. I'm happy with one or two of the shots. I think that just that is success enough for me. Reach out and critique away! If you think their crap.. so be it. No hard feelings. I appreciate all feed back. It's always fun to take a little time for some nonsense that I call practice.. Right?!
Have a great rest of your day/night!!!! Thank you for taking this journey with me. It's always fun to share my blibber-blabber about photography with you :-)
---
If Your Interested In Purchasing Any Of My Work:
They can be found for sale in
OR
My Etsy Store
If you don't see the piece in either shop, It may still be drying. Let me know and I can upload it as soon as possible to be available. Or you can always make me an offer (in SBD or STEEM) in the comments section of this post. If we agree on a price, I will then ship the painting to you. (shipping costs will be determined by your location).
---
Thank you for swinging by my blog and checking out the post. Have a great day!

---
All words, pictures and art pieces are the sole property of B D Miller Gallery, unless otherwise noted and credited, and are not to be reproduced or copied without the prior written consent of B D Miller Gallery.
---
About Me ~ The Artist
My art work incorporates a wide variety of subject matter, including landscape, seascape, cityscape, and still life images. My works are the product of a continuing process of exploration through which I seek to portray personal and visionary interpretations of my surroundings. My paintings are impressions of places and events from everyday life, an interpretation of my imagination, and personal responses to what I see and feel on a daily basis. More recently I have invested generous amounts of time into my landscape painting. I am surrounded by natural and man made beauty, which inherently presents itself in the tri-state area, and almost demands that I paint it.
Not everything is art. Art is not everything, but it comes close. Art is everywhere and all the time. Art makes you experience the beauty of the world, the people in it, and the places we call home. Art itself is so influential that it can tell stories, show feelings, and express passion or fury. Art exists in addition to language; expression of sensations and thoughts, revealing a way of thinking too subtle and delicate for words.
For me art requires love, honesty and perseverance. In return, it reveals some personal, non-analyzable, and creative untamed passion. For the public, art with its magnificent beauty, improves mood and health and builds better human beings and communities. It engages the intellect, softens the heart, strengthens the soul and frees the spirit.
---