Open Secrets: Which US Politicians Receive the Most from the Defense Industry?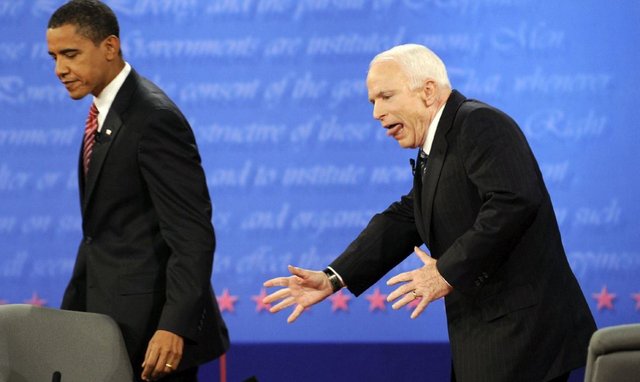 strategic-culture.org


In my previous post, we explored the shady trade in international arms and how politicians act as high priced escorts for the industry brokering deals and receiving 'commissions' in the process. While doing research for this post I decided to do some basic searches to try and find out which members of the US political machine receive the most funding from the 'Defense' industry.
One of the most obvious ways politicians in the US are bribed is through campaign contributions. It's possible to track and tie a congressional member's or a senator's voting history directly to their campaign contributions. This can easily be done using resources such as OpenSecrets.org.
Here's a breakdown of 'Defense' sector spending on both Demo-craps and Repugnicans.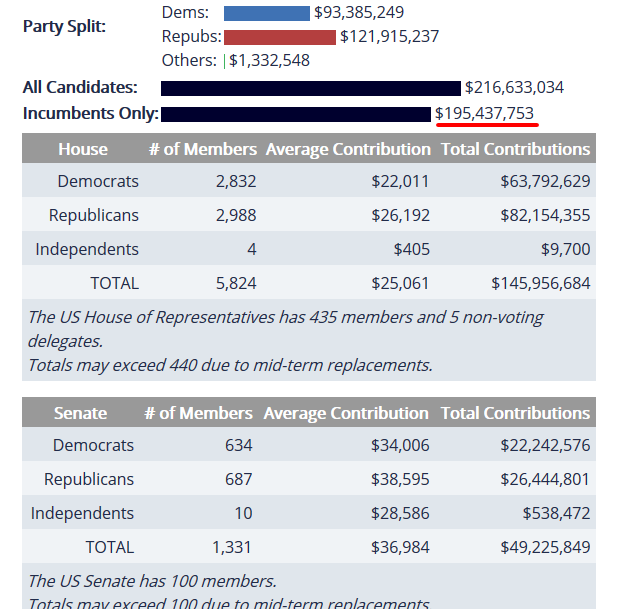 On average, whether Dem or Rep, members of the House receive about $24,000 each from the industry in campaign contributions while Senators fair a little better garnering $36,500 per member. While Republicans enjoy a slight edge members of both major parties are taken care of.
Of special note, from the total of $216,633,034 the lion's share of contributions are made to Incumbent candidates who receive 90% of all donations totaling $195,437,753.
To keep the flow of bombs, bullets and profits flowing smoothly it seems reasonable, and cost-effective, to have your favorite political pawns lined up to receive their stipend. Incumbents know the deal, they know they're place and they don't need to have the finer points of DC deal making spelled out for them.
Who are the Top 20 Beltway Prostitutes turning Arms Industry Tricks?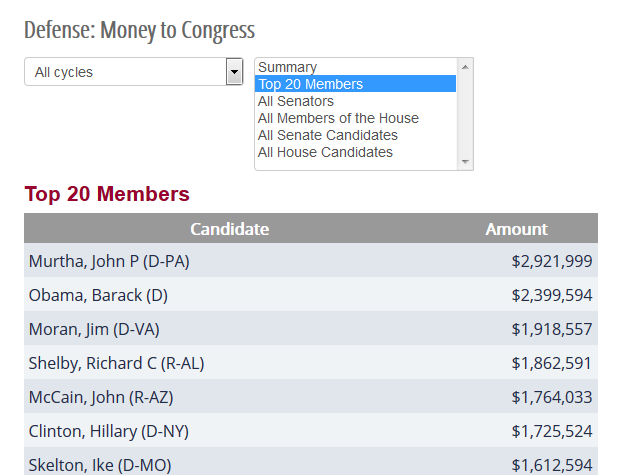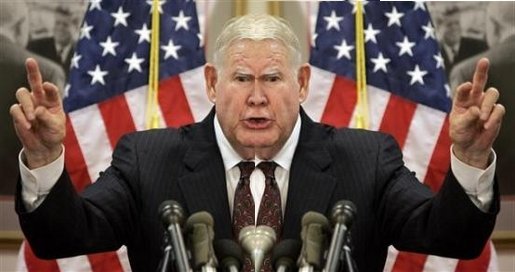 [John Murtha]
thecitytroll.blogspot.kr


It comes as little surprise that empirical and military intervention cheerleaders John McCain and Hillary Clinton rank high on the list, but it's perhaps more surprising to some that 2009 Nobel Peace Prize Winner Barrack Obama ranks second with over $2 million in contributions from the weapons industry.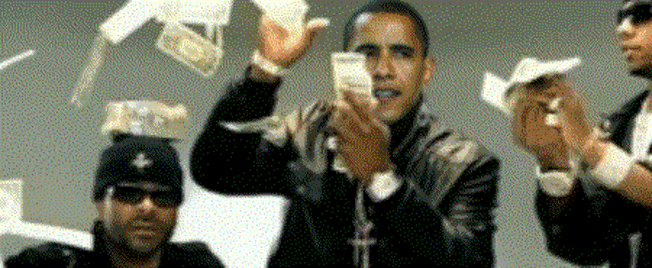 Cashing in on the Nobel Peace Prize = Cha'Ching!!!
Well done CIA-Barry, it's no small feat beating out McBane and Killary.
---
2016 Senators and Presidential Candidates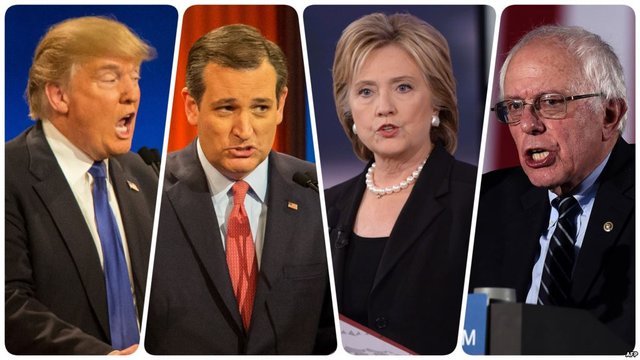 rferl.org


From all cycles on record, the busiest prostitutes on Capitol Hill may or may not surprise you.

Now let's have a closer look at the 2016 election year and the group of Senators who were campaigning for the 2016 presidential nominations who figure prominently.

The results here are striking and provide some food for thought in regards to how the US empire functions in reality.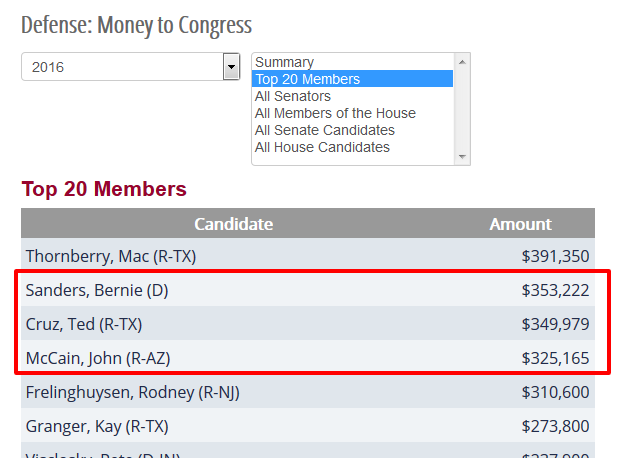 Feel the Bern!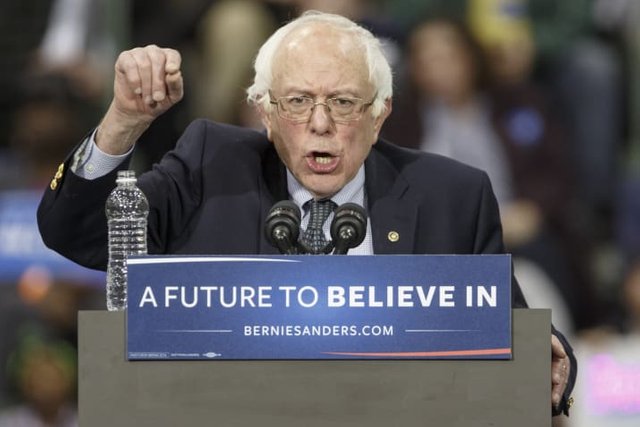 Buzzfeed


Who would have thought that "progressive" Senator Bernie Sanders would rank higher than the Mr. Intervention"Maverick" John McCain and Ted "Carpet Bomb" Cruz for the 2016 fiscal year?

This may come as a shock to many of you and I have to say I was also a little surprised to see this. Obviously, there's a spike in 'Defense' related donations during the presidential campaigns but it's still an eye opening statistic.

Pulitzer Prize winning reporter Chris Hedges had some harsh criticism of Sanders during the 2016 campaign here's what he had to say about the Vermont Senator:
"Bernie has also not confronted the military industrial complex at all," Hedges said. "On a personal level, having spent seven years in the Middle East, I'm just not willing to forgive him for abandoning the Palestinians and giving carte blanche to Israel. He was one of 100 Senators who stood up like AIPAC wind up dolls and approved Israel's 51-day slaughter last summer of Palestinians in Gaza — the Palestinians who have no army, no navy, artillery, mechanized units, command and control."
Counterpunch.org

The Sanders campaign resonated strongly with a large number of Americans especially in regards to domestic policy, yet on the issue of US foreign policy Senator Sanders' views differed little from the entire spectrum of candidates in 2016. This fact should not be overlooked as it sheds light on how any candidate who stands against the defense industry will never be permitted to be nominated as a candidate for president by the establishment two party system.
Although a growing number of Americans voters now know that the DNC and Hillary Clinton rigged the primaries against the Sanders campaign, Sanders himself is in denial about this fact. Emails released by Wikileaks prove that there was a conspiracy within the DNC to steal the nomination from Bernie.
https://www.huffingtonpost.com/entry/wikileaks-dnc-bernie-sanders_us_579381fbe4b02d5d5ed1d157
In this increasingly perplexing political climate, it's hard to comprehend how Sanders is now towing the Democratic party line about how the Russians interfered in the US elections.
This piece by @caitlinjohnstone, illustrates the Russia, Russia, Russia pivot taken by Bernie Sanders.
Bernie Keeps Promoting the New Cold War, And Yes We Need To Talk About It
As Sanders looks ahead to a 2020 run for president, it's important that Sanders addresses his support for the status quo and business as usual relationship between politicians and the military industrial complex.
---

I'll end this post here with a quote from Arms Dealer, Riccardo Privitera,
in the doc Shadow World.

The politics is dictated by the whims of the arms industry.
Politicians are nothings more than sales reps my dear friend.
They have as much power as a middle ranking executive in Lockheed Martin.
At the end of the day they do what they're told.
- Riccardo Privitera
---